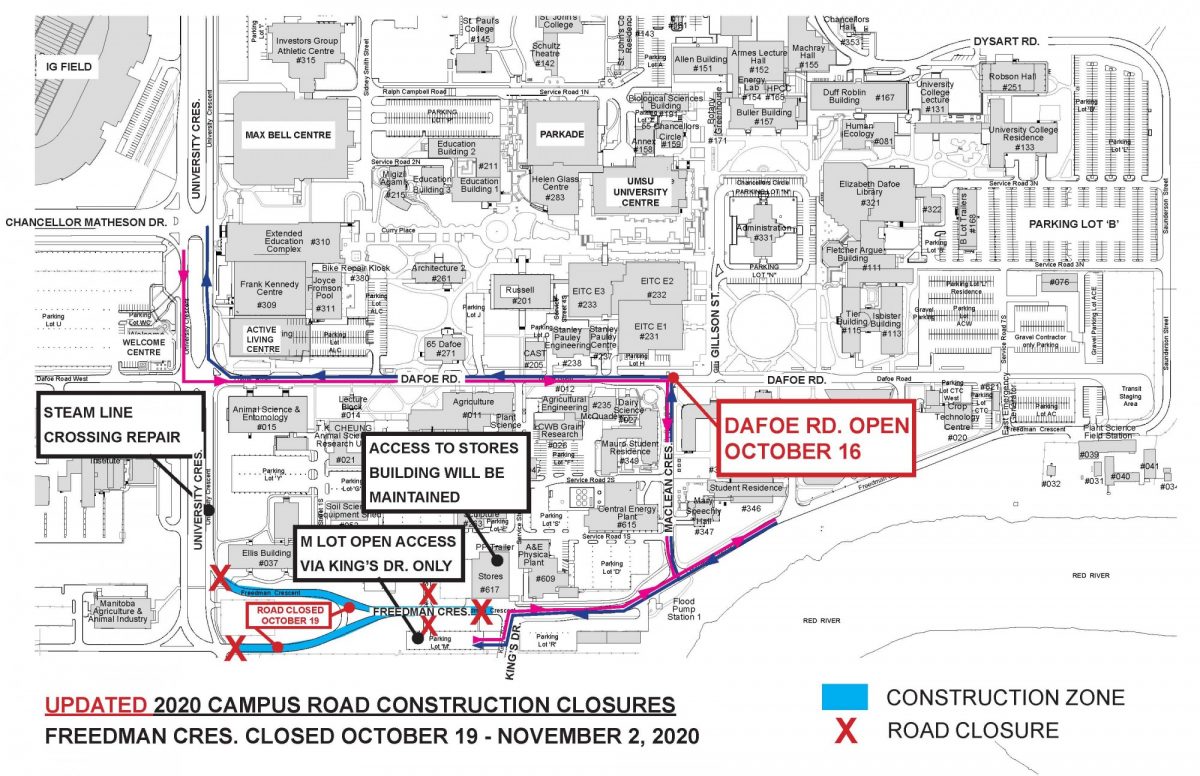 An update on UM road construction
Including Transit and parking changes
September 23, 2020 —
Updated Oct. 14, 2020
Read on for updates on the construction on Dafoe Road, including Transit and parking updates. Also included is an update on construction beginning Monday, Oct. 19 for Freedman Crescent road repairs and the steam line crossing road repair on northbound University Crescent.
WHAT TO KNOW for Dafoe Road and Freedman Crescent:
Barricades and safety signage will be clearly posted to safely direct pedestrians, cyclists and vehicles as required. Caution should be taken at all times during construction to ensure everyone's safety.
VEHICULAR ACCESS
Road construction is complete on Dafoe Road. Dafoe Road reopens to all vehicular traffic on or before October 16.
Freedman Crecent will be closed from University Cres. to King's Drive. All traffic rerouted down Dafoe Road.
Road repair at steam line crossing on northbound University Crescent will be completed lane at a time.
Emergency vehicle access will be maintained throughout construction.
Map below.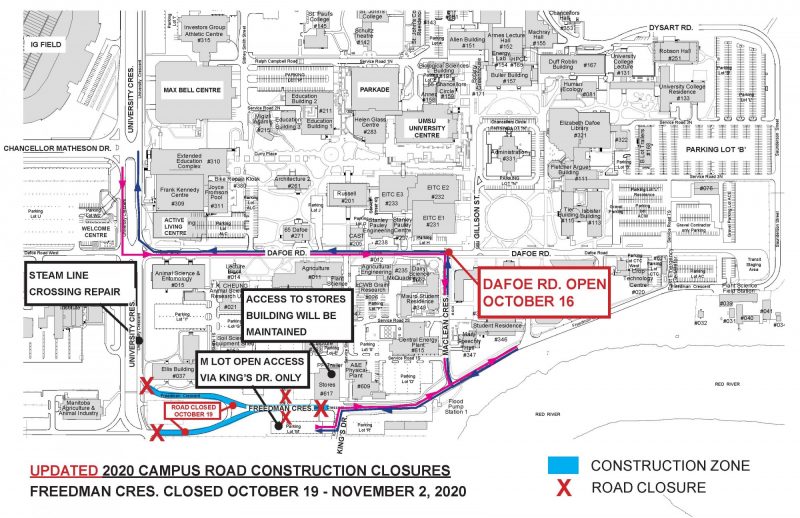 PEDESTRIAN ACCESS – Dafoe Road
The north sidewalk from University Crescent to Service Street 3s is closed; use the south sidewalk for access.
The south sidewalk from University Crescent to Service Street 3s is open.
Crosswalks open at the bus stop – Westbound Dafoe at Agriculture and at Service Street 3s.
The north sidewalk from Service Street 3s to Gillson Street is open; the south sidewalk is closed.
Map below.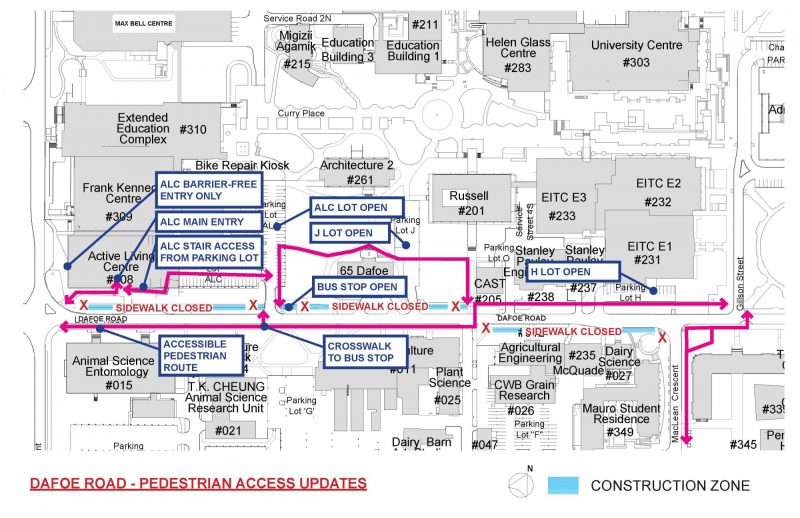 TRANSIT ACCESS
Transit service resumes in full on Dafoe Road.
PARKING LOT ACCESS
All parking lots off Dafoe Road are open.
M Lot (located off Freedman Crescent) can only be accessed via King's Drive during construction.
Please refer to the access maps and service disruptions page for all detour information. See also our previous story about construction.
To stay informed about traffic impacts for vehicles, pedestrians and cyclists, visit the service disruption webpage.
For any questions, contact Vanessa Jukes, MALA, CSLA, PMP, Project Manager, Architectural & Engineering Services, Physical Plant, at Vanessa [dot] Jukes [at] umanitoba [dot] ca