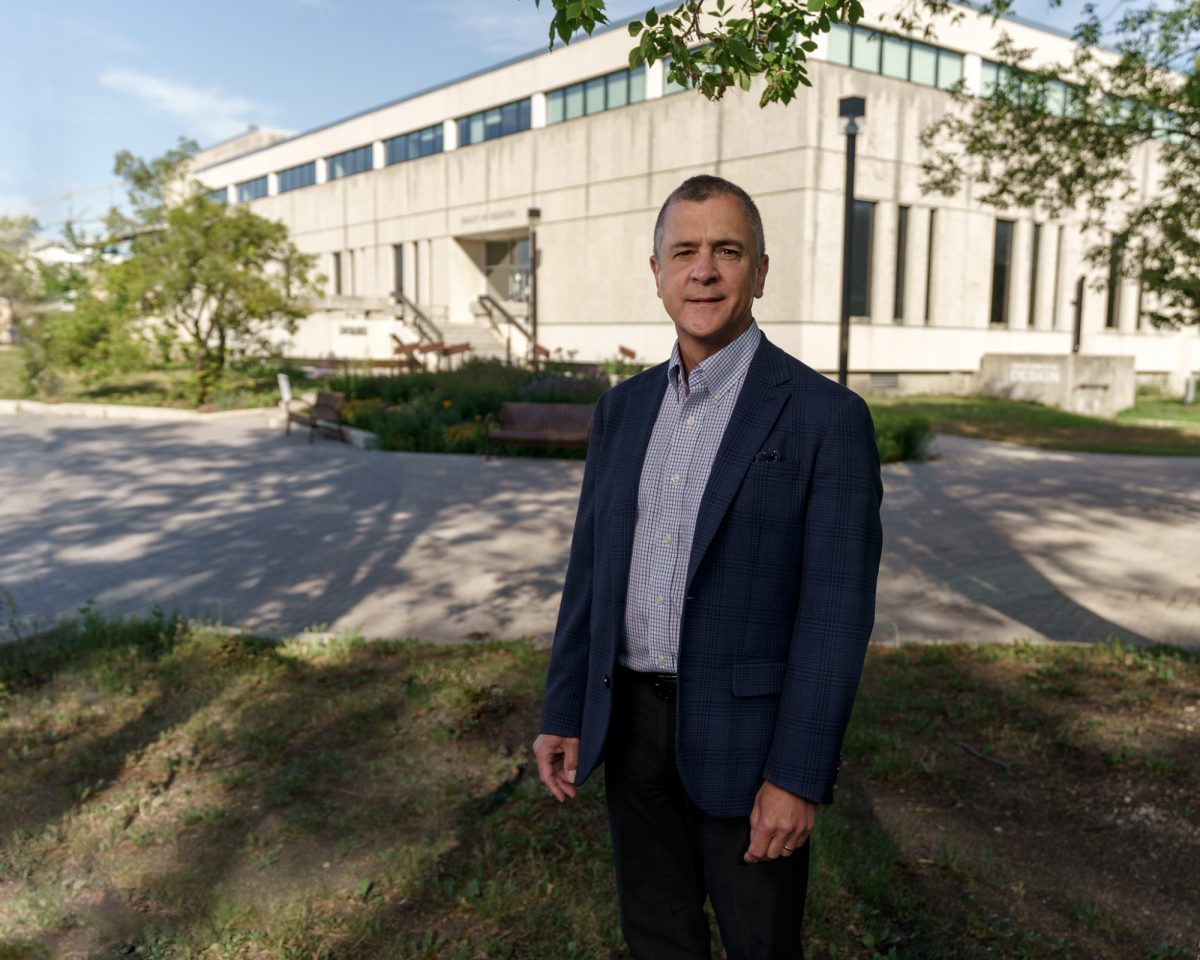 Adventure of a lifetime
Mandzuk moving on after 45 years with Faculty of Education
September 14, 2020 —
Maybe he should have worn a wide-brimmed sable fedora. After all, this daunting task seemed an archaeological dig worthy of Indiana Jones.
Was it his third visit to the site or his fourth? At this point, he'd lost count.
In this case, the site was the dean's office and the treasure hunter in question was David Mandzuk, whose latest crusade found him packing up his belongings after eight years of service to the Faculty of Education.
Digging down far enough, you would surely find an artifact from 1975, the year he embarked on his first adventure, a four-year BEd-degree at the University of Manitoba. A master's degree would follow. Then, raising a family, completing a PhD and teaching full time—all at the same time.
You want harrowing adventure? Eat your heart out, Harrison Ford.
Starting as a part-time sessional instructor, Mandzuk rose through the ranks to serve as dean. After eight years, Mandzuk has decided to hang his hat as dean of education and make a change.
45 years at Faculty of Education
"There's been a connection here for … 45 years. I can't believe it!" he says.
Inspired by his own teachers who boosted his confidence, Mandzuk set his career path in education.
"They drew me out of my shell," Mandzuk says, recalling early on that he enjoyed working with both children and adults as a swimming instructor. "Those were the formative experiences that pushed me in this direction."
'I thought I could make a difference in improving the quality of the student experience. … I felt that I had something to contribute to our common conversations about how to make education better in the province.'
When the offer came, he reluctantly assumed the mantle of dean, however, assured by the conviction that he could make life better for students—both in the faculty, and across Manitoba.
"I thought I could make a difference in improving the quality of the student experience. That was one thing," Mandzuk said. "I also felt that after being in education—at that point for 32 years—that I had a good understanding of K-12 education in the province. I felt that I had something to contribute to our common conversations about how to make education better in the province."
Reflecting on his eight years as dean, Mandzuk is proud to have overseen the completion of two strategic plans and significant development of learning spaces at the faculty, notably the Indigenous Community Space, a space devoted to the Truth and Reconciliation process, as well as a Learning Commons, redevelopment of the science labs, and the new student council offices among others.
"I learned early on that the spaces where people live and work really have an effect on how they feel and how they value their work or their education," Mandzuk said.
The faculty has also seen increased success in research, including the appointment of two Canada Research Chairs.
To provide additional research supports for faculty, Mandzuk oversaw the hiring of research-grants facilitator Eric Magnuson, and established the faculty strategic research fund that supports small-scale research and scholarly projects.
Significant cultural changes
Moreover, Mandzuk is proud of significant cultural changes at the Faculty of Education.
"We have a lot of new hires with exciting, new ideas that help us continue to be educational leaders in the province and across the country," he said, noting that in just the past five years, 15 faculty have been hired into tenure-track positions.
And in 2015, when the TRC report tabled several calls to action highlighting the need for reform in education, the faculty heeded the call.
Professors Melanie Janzen and Jerome Cranston organized TRC sessions for BEd students. This was followed by the implementation of the BEd diversity-admissions policy that has since seen the number of minorities double since the policy's implementation in 2017.
"We've seen our numbers of Indigenous students increase. We've now got Indigenous student representation on our student council committees. We've hired a number of Indigenous scholars in the last few years and we have created the Indigenous community space," Mandzuk said, adding that theme of diversity throughout the faculty is pervasive.
"It really is one of the major threads that binds us all together in the faculty: Our commitment to diversity and preparing our students for all the complexities of working in a diverse learning and work environment," Mandzuk said,
Looking forward, Mandzuk plans to continue as acting dean for Extended Education over the next year while continuing in his role as professor in the department of Educational Administration, Foundations and Psychology.
In the meantime, he has just completed contributions to two collaborative writing projects—both COVID-19 related. One of those projects, a chapter for an e-book on the effects of COVID-19 on K-12 education in Manitoba and co-written with Cameron Hauseman is expected to be published by UM Press in October. The other, a journal article on the effects of COVID-19 on teacher education in Ontario and co-written with Shirley Van Nuland, Krista Tucker Petrick and Terri Cooper has already been published in a special issue of the British journal, Journal of Education for Teaching.
After a year of administrative leave, he plans to retire in 2021-2022, the year the last Indiana Jones movie is set hit the silver screen.
No doubt Mandzuk plans to close his career franchise with a more relaxed approach. How about more time at the lake?
"That would be nice," he says.
-30-