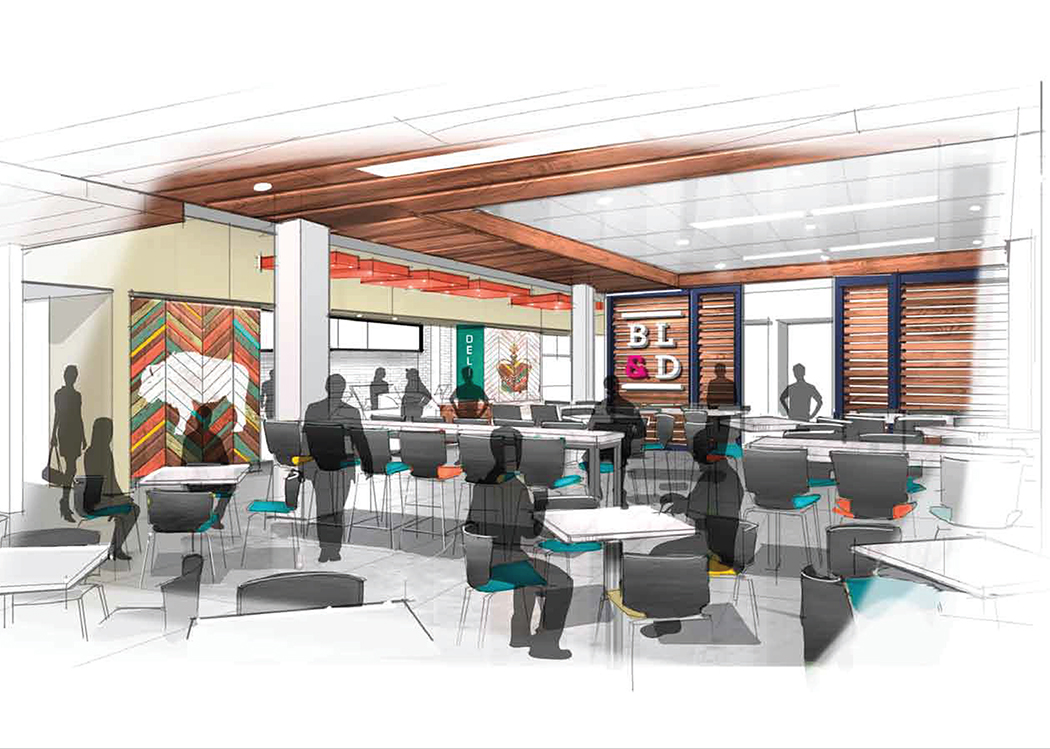 A sneak peek at the brand new food experience in University Centre
October 1, 2014 —
It will be a whole new food experience when the renovated food court in University Centre opens in early December. The new food court will boast a bright new design, a completely revised layout and new food concepts — including a pop-up food kiosk with revolving options offered by different local restaurants and voted on by students.
UM Today got a behind-the-scenes tour last week from dining services general manager Dean Duff. Read on for your special sneak peek at the exciting changes coming.
First of all, as is obvious from both all of the construction going on and the design plans (more below), the look of the food court will change dramatically. New lighting, flooring, tiling and seating will transform the space, which will feature a bright, contemporary aesthetic and improved flow. The food prep areas will be well-lit and refurbished with bright white tile, new storage areas and dedicated hand-washing stations at each location.
But the proof of the pudding is in the eating, as they say. All of the new food concepts, with the exception of the new Starbucks and Subway (the only national chain to remain in the U Centre food court), will be in-house, homemade-style food offerings. Stations are designated as Asian, Middle Eastern, pizza, a traditional grill and a healthy kitchen concept, with individual cooking centres equipped with full fanhoods linking to an improved ventilation system that allows flexibility for better energy conservation. Pizza Pizza will be moved to University College and starting next September, will feature dorm delivery Thursdays through Saturday nights until about 2:00 a.m.
For Duff, who previously owned Brio restaurant at the Winnipeg Art Gallery, the motivation is to offer delicious, healthy and homemade-style food, with as much local sourcing as possible. He's also thrilled about the long-needed upgrade to the food court.
(See illustrations below for an overview. These are are the original designs and so may be subject to slight changes.)
The upgrade will improve both aesthetic appeal and efficiency. "In addition to it being a low, dark space," he says, "before we had the problem that you'd have to stand in a busy line multiple times, once to get your food and then another time, to pay for your food. Now, with the seven cash registers at each location, you stand in line once. It's about using the space a little more effectively."
Seating will also be a vast improvement, with a mix of different options from rail seating to low leather club seating to high-top and low cocktail tables. The Fireplace Lounge will be converted to seating but remain a flex space, with moveable (and removeable) furniture.
The various food concepts will be separated geographically by bulkhead walls built with planking reclaimed from the old ceiling. The food preparation area will be more open and where possible, food prep will be visible so that you can see your food being prepared before your eyes — for instance, pizzas being made and baked in the new pizza ovens.
Another exciting feature is the "flex kitchen," which will showcase local restaurants, likely on a semester-by-semester basis, says Duff. "We'll have student vote on which restaurants they most want [in the food court]. The restaurants will customize their menus and bring in one or two items to showcase to students," he explains.
The in-house food includes Middle Eastern and Asian sections, the latter of which will feature three gas-fired woks for made-to-order dishes. During peak lunch hours, a take-away system will allow customers to fill boxes with freshly-prepared Asian dishes of their choice; Duff says that different specials, such as Pad Thai, will be featured daily on a rotating basis. The Shawarma section will feature both halal beef and chicken options daily. Additional features will be a sushi case that features fresh sushi, a build-your-own salad section with high-end toppings such as quinoa or smoked salmon and Get the Good Stuff soups and chili — made fresh daily. Vegetarian and vegan options will be available and clearly indicated. Each cash station will have have fridges with grab-and-go, fresh-composed salads and fruit.
At the moment, says Duff, things are progressing as planned, with a December 1 construction completion date and an opening scheduled for December 8.
>> Click through below for some behind-the-scenes photos of construction in progress.
[rev_slider food_court_reno]