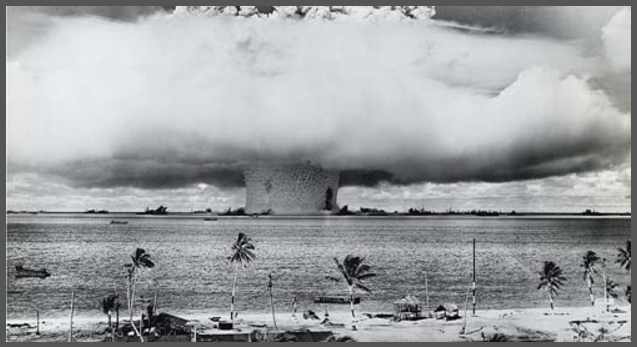 A Nuclear Conundrum
International Conference Focuses on Human Dimensions and Perspectives in a Nuclear World
November 9, 2017 —
Never was a conference timelier than the Human Dimensions and Perspectives in a Nuclear World conference organized by Dr. Jonathan Black-Branch, Dean of the Faculty of Law, in conjunction with the International Law Association's Committee on Nuclear Weapons, Non-Proliferation and Contemporary International Law, and the Round Table Strategic Forum on Nuclear Non-Proliferation in International Law. The conference was held at the Canadian Museum for Human Rights (October 12 – 13, 2017). Black-Branch welcomed presenters from around the world by highlighting the importance of disarmament and nuclear non-proliferation to military security and protecting human rights, stating: "Nuclear weapons pose the greatest threat to humans today. One device could destroy an entire city or region, potentially killing millions of people, causing devastating effects for survivors and leaving long-term consequences on the natural environment. More than 2,000 nuclear tests have been conducted to date and some 22,000 nuclear devices exist today."
At a time when some nations are threatening nuclear destruction, others are dealing with the aftermath of nuclear accidents and testing, and still others are considering developing nuclear energy to address growing energy needs, some of the world's most knowledgeable legal minds came together in Winnipeg to discuss Legal Issues of Non-Proliferation, Disarmament and the Right to Nuclear Energy. Speakers came from as far away as Norway, Germany, Italy, Isle of Jersey, Hong Kong, New York, California, Switzerland, Oklahoma, Wisconsin, Saskatoon and Manitoba to exchange ideas on a wide range of legal issues regarding nuclear developments that affect social, political and economic matters.
The conference began with an Opening Ceremony shared by Elders from Turtle Lodge, beginning with a sacred song by the Red Shadow Singers and the drumming group. Elder Dave Courchene of the Anishinaabe Nation and Elder Katherine Whitecloud of the Dakota Nation, provided Indigenous perspectives on nuclear issues highlighting the risks associated with mining and nuclear releases in the environment. Grandmother Elder Mary Maytwayashing engaged all participants in a Water Ceremony and Water Song.
Sessions included Uranium Mining and the Energy Sector, Legal Issues and Perspectives (Environmental, Liability to Responders, Defence of Legitimate Civil Resistance, Human Rights and Disability, and Gender Perspectives), and a Keynote address from The Honourable Marilou McPhedran, Independent Senator assessing Canada's role in nuclear negotiations.
Robson Hall JD (Juris Doctor) students from Black-Branch's Human Rights class presented research projects on Emerging Perspectives in a Nuclear World. The invited experts in the room who specialize in the area of international and nuclear weapons law, took the opportunity to ask questions and congratulate the students on their "powerful contribution" and taking the first steps into legal research in this challenging area of law.
Other sessions examined the History, Background and Development leading to the newly agreed Treaty on the Prohibition of Nuclear Weapons (July 2017), followed by A New Era in Disarmament and Non-Proliferation, and finally a look at The Implementation and Significance of the Treaty. The conference's full program remains on the conference website.
Members of the International Law Association in attendance included Dr. Daniel Rietiker (Switzerland), Dr. Gabriella Venturini (Italy), Dr. Dieter Fleck (Germany & Committee Rapporteur), and Dr. Jonathan Black-Branch (Committee Chair). Many other illustrious speakers and scholars present represented organizations including the Lawyers Committee on Nuclear Policy, Partnership for a Secure America, Post Road Foundation, Non-violent Peaceforce Rotarian Action Group for Peace, World Future Council, Canadian Coalition for Nuclear Responsibility, and the Canadian Environmental Law Association, many of whom were directly involved in the landmark Treaty banning nuclear weapons. Members of the University of Manitoba Faculty of Law who gave presentations included Professor Darcy MacPherson, Dr. Amar Khoday, and Dr. Bruce Curran, applying their respective areas of research to nuclear topics.
The Faculty of Law, the International Law Association, and the Round Table Strategic Forum on Nuclear Non-Proliferation in International Law are deeply thankful for the support of David Newman, QC who generously sponsored this conference in memory of his late father Walter Newman, QC, and The Marcel A. Desautels Centre for Private Enterprise and the Law.
Dr. Black-Branch closed the conference by highlighting the importance of conferences of this nature in underlining the outstanding legal and diplomatic issues and sharing a wide range of perspectives on these important concerns. He stated that, "Now more than ever we need leadership in this area, with decisive voices and to inspire a new generation engaging in these matters." Noting the challenges, he commented that, "what is decided in the next few years may well determine the next 100 years of legal, political and military development in our current nuclear world…. The technology that possibly advances human progress also threatens our very survival."
A photo album from the conference may be viewed on the Robson Hall Facebook page.