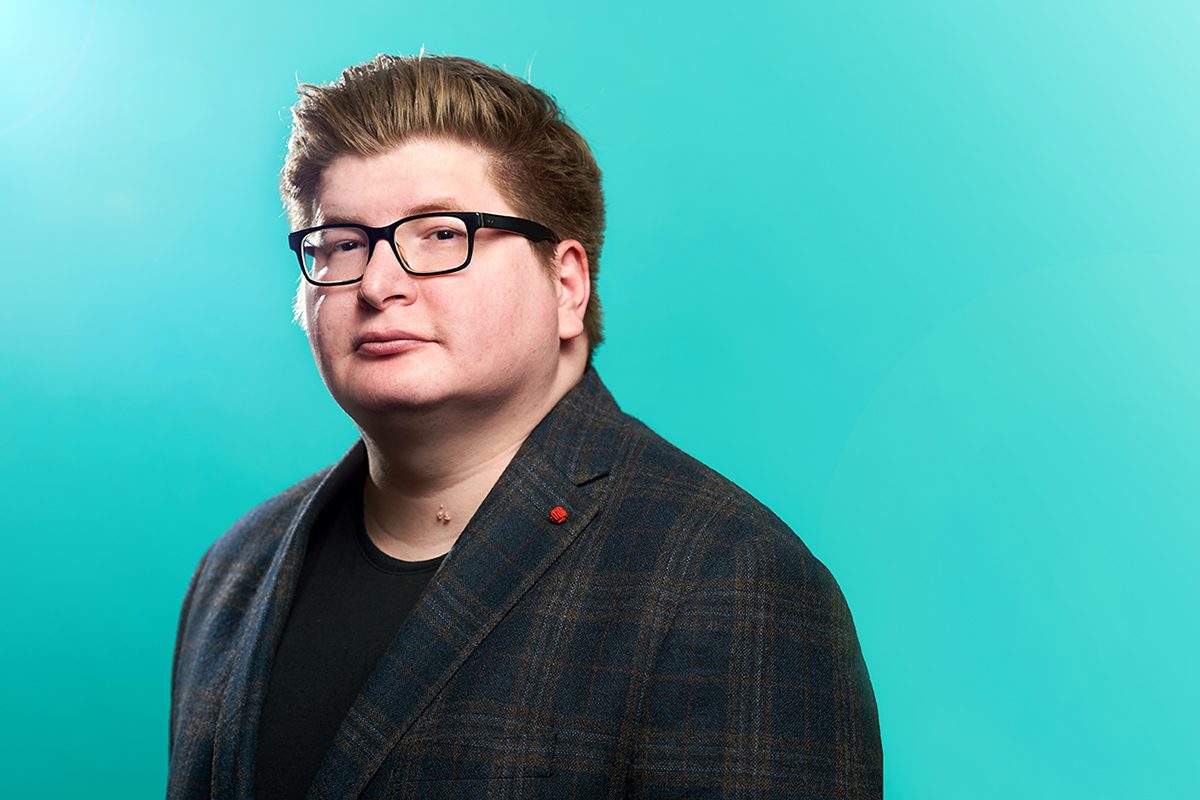 A lifelong learner of the Cree language, Indigenous scholar publishes his first book
First to obtain a PhD from his nation, Dr. Dallas Hunt also welcomes his first book, Awâsis and the World-Famous Bannock.
January 17, 2019 —
Two neatly stacked rows of Indigenous literature line Dr. Dallas Hunt's office, located in the Native Studies department in the Faculty of Arts building. There is no question that Indigenous literature has profoundly shaped Hunt's view, both personally and professionally.
"Indigenous literature does things that other texts may not do," he told UM Today. "It has an ability to present particular imaginaries and ways of being that you don't necessarily get in a social science text or academic journal."
That isn't to say that Hunt steers clear of academic publishing. His critical work has been published in Settler Colonial Studies and Decolonization: Indigeneity, Education & Society and the American Indian Culture and Research Journal. Also a poet, Hunt's creative work has appeared in The Fieldstone Review, Arc Poetry Magazine and Prairie Fire.
In fall 2018, Hunt launched his first book, Awâsis and the World-Famous Bannock (HighWater Press), illustrated by Amanda Strong. The children's book is interwoven with Cree language, and follows a main character as they interact with nature while retrieving the necessary ingredients to create a version of Kôhkum's world-famous bannock.
Hunt believes there are numerous ways of knowledge production and transmission, and a children's book felt like the right choice for an introduction to language. "I wanted to produce something affordable, and something that worked as an entry point into the Cree language and its retention."
Hunt is not fluent in Cree, and instead refers to himself as a lifelong learner of language. He acknowledges the ways in which Indigenous language revitalization has radical and liberatory potential, particularly in relationships to one another or beings. "This is not to instrumentalize our languages, but rather, to focus on falling in love with them," he says. "What kind of love can we radiate out from our language? That's something I aspire to do in my academic work."
Hunt obtained his undergraduate degree in English from the University of Alberta. Growing up in Treaty 8 territory, Hunt left the Prairies to pursue his master's degree at McMaster University. As of fall 2018, he successfully defended his PhD dissertation in English literature through the University of British Columbia, making him the first doctoral graduate from his reserve, Swan River First Nation.
When asked what brought him to the U of M for work as an assistant professor, Hunt expressed a combination of both his personal desire for the Prairies and a commitment to research. "Some of my research is on urban Indigeneity," he says. "Winnipeg has the largest Indigenous urban population in Canada, [and the] vibrant Indigenous culture and milieu here is inspiring and interesting."
As a junior faculty member, Hunt describes the current academic climate as exciting and creative. "While it's important to acknowledge the academic aunties and uncles who have opened many doors for us, young Indigenous voices are opening up particular avenues and asking questions that haven't been asked before." Hunt says this offers a new and fresh vantage point, particularly through logics, grammars or disavowals that fail to hold space for all of our relatives.
His optimism is not without concern for young and emerging Indigenous scholarship. "There has been an increased desire to see Indigenous faculty in these spaces, and while that's great, I would say that it's happening at such a rapid pace that there are still far too few of us who are in the institution and are met with far too many demands from the institution." Citing the extracurricular work expected of Indigenous scholarship, such as sitting on boards and committees, Hunt warns that at times, the projection one may see themselves in can greatly differ from the position the academy envisions.
In order to navigate these spaces, Hunt relies on community. "It is important to find your people in these spaces. These institutions can be inhospitable to Indigenous presence, so what I found personally comforting is the interaction with Indigenous faculty, staff and students."
Hunt's work towards expanding community is evident in the coordination and effort that goes into organizing and hosting the U of M's Native Studies Department Winter Colloquium. The list boasts some of Winnipeg's most promising scholars, such as Leslie Sabiston and Tasha Spillet, and invites guests from across Canada and North America like Dian Million and Arielle Twist. "I am very excited for this term," Hunt says. "We have a strong bunch of credible artists, scholars, organizers and activists."
Follow the Colloquium series here.
To attend a campus launch of Awâsis and the World-Famous Bannock, click here.
To attend the McNally Robinson book launch, click here.