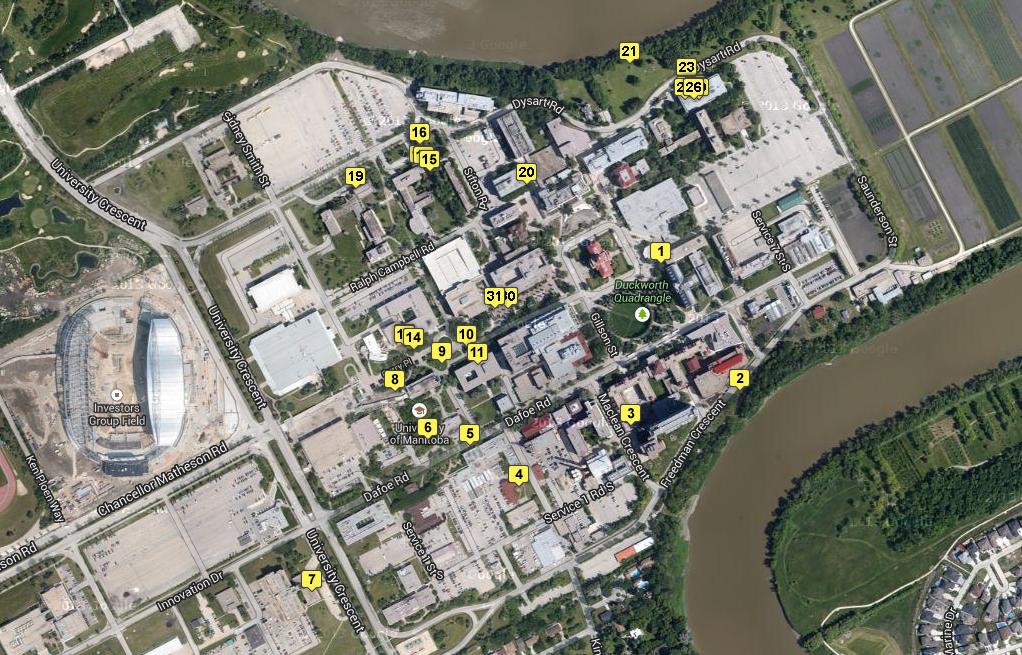 A librarian with an iPhone
Making noise by documenting public art
November 15, 2013 —
Art Librarian Liv Valmestad began telling this story in 2011 when she wrote an article for the Journal of the Art Libraries Society of North America. The University of Chicago Press hosts the article online and for the past three years it has been the most accessed link on the press' website.  Librarians from around the world are excited by her work; she was most recently invited to Berlin and Cologne to present.
"This project is a convergence of many technologies and professions," Valmestad says, "allowing me to put on my art historian cap again. Being an Art Librarian affords many possibilities such as this and I couldn't think of a better job!"
How it began
In December of 2009, 25 U of M librarians were given a smart-phone and told to be creative. The simple yet bold concept was the idea of Karen Keiller, then head of Libraries Electronic Technologies and Services. That summer Valmestad , using new tools, revisited a 10-year-old project she had put on hiatus – documenting public art on the Fort Garry campus. Originally budgetless, but far from passionless, she created the Public Art Project.
This campus is awash in public art and thus far Valmestad has documented 42 works with more to come. Where are all these works? To help you answer this, Valmestad has used technologies such as Google Earth, Wikitude and QR codes to educate people on the art that surrounds them.
Using her iPhone, she began posting images of campus art to her Flickr Photostream "University of Manitoba Public Art Images" . Each art work was assigned a GPS location and loaded into Google Earth.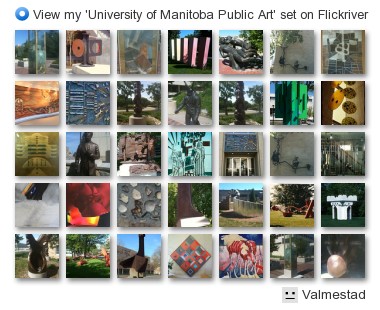 Then, she created an interactive Google Map, featuring place markers that open with details about the art work, an image of the art work, a link to the Public Art website, and a link to the University of Manitoba Libraries resources, the Winnipeg art Gallery and the National Gallery of Canada.
All of this information is also housed on her blog:  Public Art at the University of Manitoba, Fort Garry Campus. And in the near future she will launch a new website that documents, with librarian quality, the murals throughout the campus tunnels.
As a reference librarian in public services, Valmestad is unable to work on this project during the academic year, so every summer she resumes documenting our surroundings. She hopes to expand her work to include artworks in the collections at St. John's, the Faculty of Law and Gallery 111. And she is underway in documenting the artwork of the tunnels.
The project has had an impact on our community and beyond:  Students have created assignments from it and many universities in the United States are creating similar projects based on hers.  It is also an excellent resource for scholarly research.
A big break happened for her in March of this year. She successfully applied to have the images stored in the (DAM) Libraries Digital Archives Management System, headed by Lisa Hansen O'Hara.  Here, one can search by artist, title, medium, location, date, bibliography and images.  Each art work includes a thumbnail, detail and full screen image, video clips and, perhaps one day, the capability to view sculptures in the three dimensions. To aid this project, Valmestad  received a Teaching & Learning with Technology Grant from the U of M, enabling her to hire Simrath Diocee,   a student who took over 2,500 images this past summer.
"This is the first project to give University of Manitoba students, staff, faculty and the general public, virtual access to the University of Manitoba's public art collection," Valmestad wrote in a grant application.   "This online gallery is a dynamic gateway to the arts at the University of Manitoba community and provides an opportunity for people everywhere to see and learn more about the artists who have created these art works."