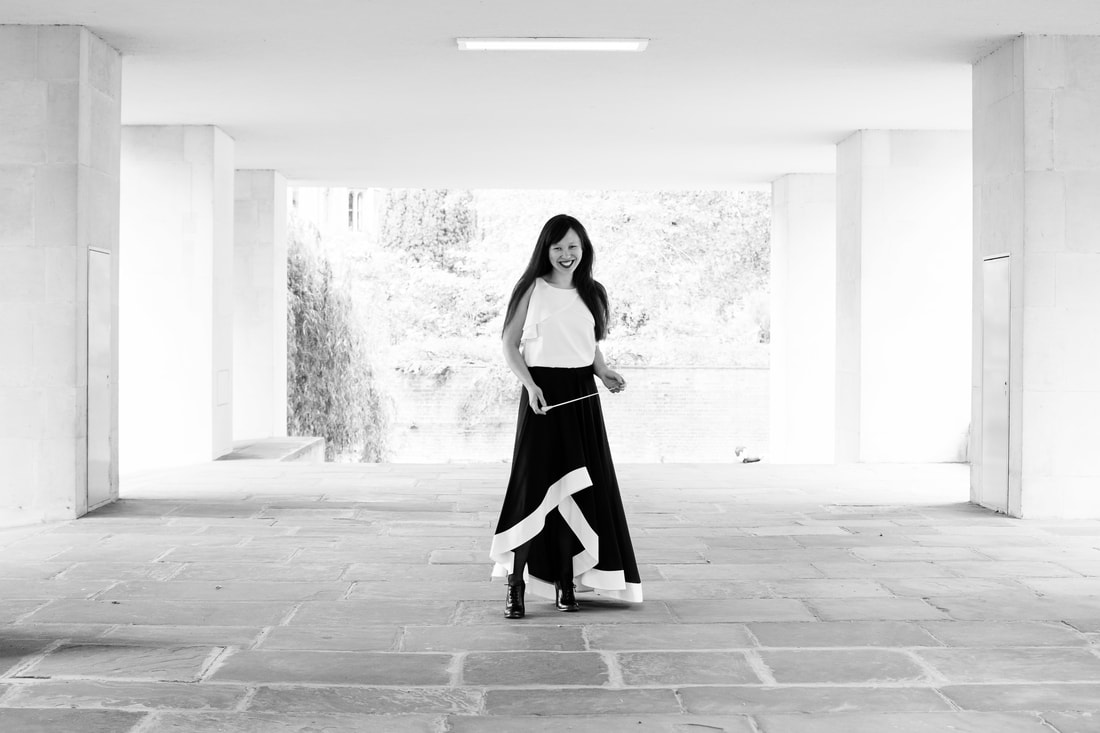 A conversation with new UMSO conductor Naomi Woo
The WSO's new assistant conductor will also serve as the University of Manitoba Symphony Orchestra conductor. We asked her a few questions about her new roles
June 15, 2019 —
On May 29, 2019, The Winnipeg Symphony Orchestra (WSO) announced the hiring of new assistant conductor Naomi Woo. One of Ms. Woo's responsibilities will be to serve as the conductor for the University of Manitoba Symphony Orchestra (UMSO). We asked Ms. Woo a few questions about her big move and new roles, and, whilst in the midst of her move from England to Canada, she very generously obliged!
First of all, congratulations on your new appointment with the WSO! We are absolutely thrilled that you will be working with our University of Manitoba Symphony Orchestra, and I know the entire Faculty looks forward to meeting you. You've already had an amazing conducting career, and we can't wait to see what you'll contribute to our students' musical lives, and what they'll hopefully contribute to yours!
Regarding your move to Winnipeg, what are you most looking forward to, and what are you least looking forward to?
Definitely what I'm most looking forward to is the work I'll be doing with the WSO, UofM Symphony Orchestra, and Sistema Winnipeg. This year I'll be conducting a lot of the educational concerts put on by the WSO, for example, including a concert in June with the Aboriginal School of Dance! I always love the way that children's reactions to music are so immediate: kids will laugh and show delight and amazement on occasions in which adults are often too embarrased or constrained by their assumptions about what classical music is and should be. This is one of the reasons I'm excited to work with Sistema Winnipeg, too: to experience music, and the process of learning, afresh through young peoples' eyes.
In addition to the work, I'm excited to get to know all of the other arts organisations in the city, whether that's musical events like Cluster Festival and GroundSwell, or dance groups, or visual arts…. Winnipeg has such a rich cultural history and support for the arts, and I can't wait to be part of that community.
Embarrassingly, I'm also really looking forward to the snow! (Perhaps I'll change my mind about that once I actually have to deal with it). I was born in Newfoundland, but after growing up in Vancouver and living in England for the past five years, it's been a long time since I've had a real white Christmas, or been able to put on my skates regularly…
It seems you were quite an underachiever in university. Only THREE degrees from Yale University? It does seem like conducting would be an ideal way to bring the fields of math, philosophy, and music together into a single, cohesive career. With so many career paths, and elite degrees to choose from, what made you choose music?
Haha! (Not quite three degrees! I was a double major in my BA at Yale: in "Mathematics & Philosophy", which was its own major, and in "Music". After that, I got an M.Mus at Yale in Piano Performance, as part of their five-year BA/MM programme. It's really not as extensive as it sounds….!)
Something all of my creative and academic pursuits have in common is the desire to solve problems in a way that uses many facets of my brain. This was true in my undergraduate degree in mathematics & philosophy, in which I was usually working on logic puzzles; it has been equally true in my academic research, which has always used interdisciplinary methods to answer the questions that I've posed.
This is something that conducting also has. In many ways, conducting is simply problem solving how to work together to create a vision of a piece of music as a large group. And likewise, it is also truly interdisciplinary, and keeps many parts of my mind active: the many challenges and joys of learning scores, understanding composers, collaborating with others, communicating effectively, etc.,
In that sense, I see these disparate pursuits as somehow cohesive—as you picked up on in your question.
I read that you have a particular affinity for contemporary music. What is it that draws you towards contemporary pieces?
One thing is the way that the music of today allows us to hear the music of the past in new ways. This is partly because it reminds us that now-familiar music by Beethoven, or Liszt, or Stravinsky, was once not only new, but also sometimes scandalous. Likewise, it offers us a new way of thinking that causes us to reframe our assumptions, and hear the familiar as strange. I can never listen to Bach the same way after working on Sofia Gubaidulina's Chaconne,for example.
Another is the way that working on contemporary music creates unique working environments. For example, so many of the contemporary pieces that I have had the pleasure of performing have involved working with the composers themselves in the process of performance. This creates such a special relationship, where there is room for flexibility and collaboration! Additionally, there is so much freedom in working on a piece of music that has never been performed or recorded before. When the music is brand new to everyone—performers, composer, conductor—every moment of rehearsal can be very exciting and unexpected. It is different from performing a piece that everyone already knows!
What are you most looking forward to in working with the Desautels Faculty of Music's students?
As an undergraduate, my experiences in orchestra (I sat at the very back of the second violins, when I wasn't playing piano…) were some of my most formative experiences, not only musically, but also socially and personally, and orchestra was where I formed some of my lifelong friends. This was definitely largely due to the supportive, enriching, and rigorous environment created by our conductor Toshiyuki Shimada (we called him "Toshi"). I hope to create a similar atmosphere with the University of Manitoba Symphony Orchestra, in which learning and growing together as part of a community—learning to make music collectively and collaboratively—is a fulfilling and challenging experience.
Not everyone who studies music at university will go on to play in an orchestra, or even to work as a musician—but everyone will eventually find themselves in situations which require interacting with a group, collaborating on a shared vision, working together…. I think these are some of the many skills that we learn and develop as orchestral players. I'd love to work with the orchestra on performing works of different scales and sizes, including smaller chamber orchestra pieces, in order to fully explore these possibilities.
Obviously, something I am very much looking forward to is to getting to know the students, and to choosing a programme for the year that includes both favourites and some things that might be a bit more new and unfamiliar!