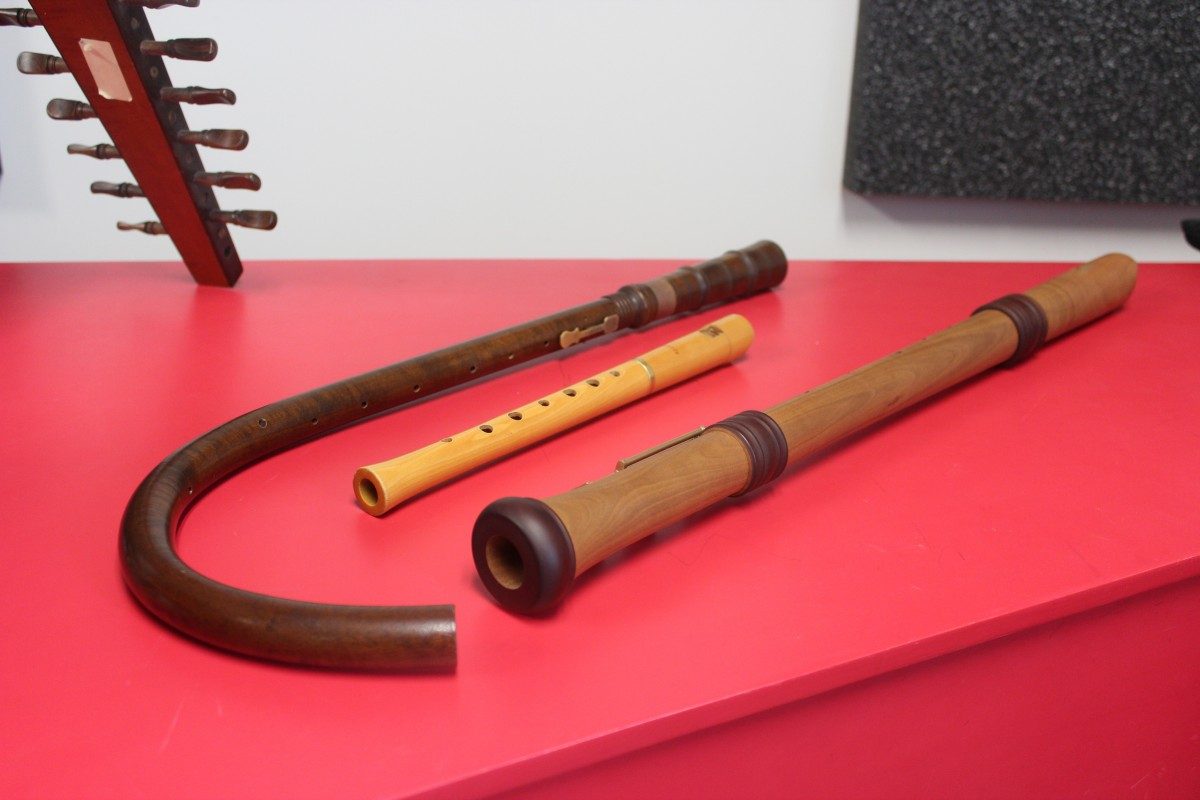 A Collegium Musicum
Step back in time with the Desautels Faculty of Music
March 29, 2017 —
The Desautels Faculty of Music is set to take you back to medieval and renaissance times with War and Peace.
The Collegium Musicum is a small ensemble made up of students at the University of Manitoba which focuses on early music. This gives the performers a chance to play period instruments like a crumhorn (a woodwind instrument common in the Renaissance period) or sackbut (a Renaissance-era trombone).
Student director Monica Hultin says the nine-member ensemble will perform a selection of Medieval, Renaissance and Baroque pieces, both sacred and secular.
"Our performance includes the Agincourt Carol, written to commemorate the victory of the Henry V English forces over the French in the Battle of Agincourt, 1415," said Hultin. "Our highlight is Ecclesiae Militantis, an isorhythmic motet by Guillaume Dufay. It's a difficult piece to put together, but completely worth the effort!"
War and Peace takes place at St. John's Chapel (92 Dysart Road) on April 2, 2017 at 3:00 p.m. Tickets are available at the Music General Office (T319, Tache Arts Complex) and are $10 for adults and $5 for students.
Several other performances from the Desautels Faculty of Music are taking place in April:
8th Annual Horace Patterson Foundation Fundraiser
Several small jazz ensembles will be performing.
April 2, 2017
5:00 p.m.
Caboto Centre, 1055 Wilkes Avenue
$20 adults, $10 students
Zita Bernstein Competition: Final
Full time Voice Majors in the Bachelor of Music degree compete in solo performance of German Lieder for cash prizes.
April 5, 2017
7:00 p.m.
Eva Clare Hall, 65 Dafoe Road
Open to the public; Admission is free
UM Jazz Orchestra performance
The University of Manitoba Jazz Orchestra present an evening of entertainment directed by Derrick Gardner.
April 11, 2017
8:00 p.m.
The John J. Conklin Theatre at the Gail Asper Performing Arts Hall, Third level, 162 Dafoe Road
Advanced tickets: $20, Tickets purchased at the door: $25
UM Symphony Orchestra
The University of Manitoba Symphony Orchestra presents Shostakovich's Cello Concerto No. 1, featuring Concerto Competition Co-winner Yaxin Sun (cello), along with a new work by a composition major.
April 12, 20217
7:30 p.m.
Westminster United Church, 745 Westminster Avenue
$15 adults, $5 students