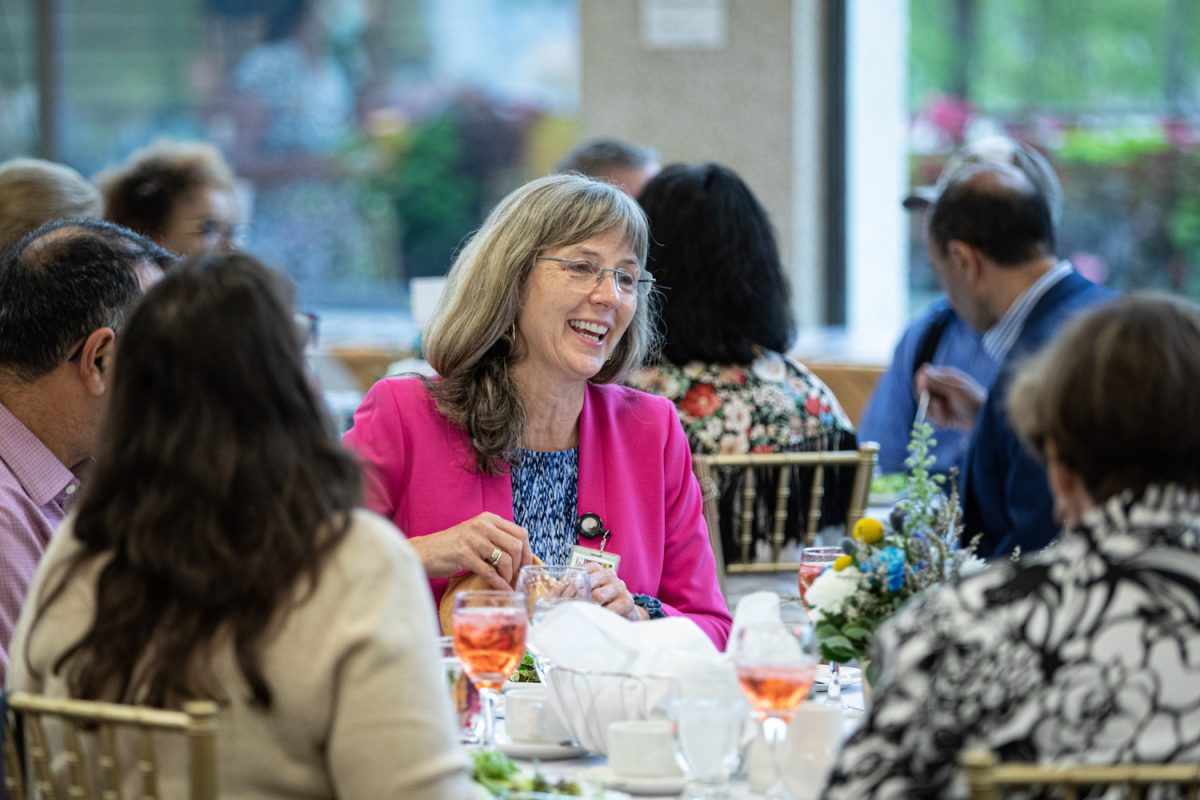 A celebratory night marks a milestone 
Faculty and staff recognized for 25 years of service 
October 4, 2022 —
On the evening of September 15 in Marshall McLuhan Hall, faculty and staff finally got the opportunity to be recognized for their 25-year milestone in 2020, 2021 and 2022 at the Long Service Awards event. It was a celebratory night, with attendees sharing their own histories and stories.
More than 120 academic and support staff reached this 25-year milestone in 2020, 2021 and 2022, and over 50 individuals attended the formal event, celebrated in person for the first time since 2019.
Guests enjoyed the sit-down dinner with entertainment by Desautels Faculty of Music trio Daniel Keding, Mari Padeanau and Liam Allan.
President Michael Benarroch also attended, and spoke at the event. "Dedicated employees like you make our University possible," he told the honourees.
"We could not advance the mission and vision of UM without you — and that's why we honour our long-serving faculty and staff here today. UM is committed to providing an outstanding work environment and is incredibly proud to have been repeatedly named one of Canada's top Diversity Employers and to be listed among Manitoba's top employers year after year."
Honourees: Milestone recognition 'gratifying and energizing'
"I have had a wide range of experiences all within the support staff realm," notes Tanis Woodland from Disability Studies, who was one of the evening's honourees.
Over her years at UM, Woodland has worked with Student Accessibility Services, Architecture and Graduate Studies, and currently works as an office assistant with Disability Studies in the Faculty of Education. She said that the variety of people and different perspectives made the work fascinating on a daily basis.
"Working with people who have different perspectives allows for a wider range of possibilities and opportunities for professional and personal growth," added Woodland. "I am grateful every day to be working. The unemployment rate among persons with disabilities, especially those who have no vision, is extremely high and the fact that not only am I employed but within the same organization for the past 25 years is extraordinary".    
Another honouree, Cynthia Karpan, currently a professor in the Faculty of Architecture and head of the department of interior design, said that in some ways it felt like she had been at the University of Manitoba for more than 25 years.
"Starting in the 1980s, I completed three degrees at UM, and I spent six years in the old Tache Hall dormitory. My sister Stephanie and brother Vaughn both attended UM, as did my father John. So I have strong ties to the university both as a student and as a faculty member.
"I have always viewed working at the University of Manitoba as a privilege," she continued.
"It has been a privilege to be exposed to a wide range of viewpoints, disciplines and ways of thinking. It has been a privilege to be able to continue learning. And it has been a privilege to be associated with such a well-known institution."
She added that the milestone recognition was both gratifying and energizing. 
"Gratifying in that the University recognized my contributions and commitment over the past quarter century. Energizing in that I feel a renewed commitment to the university, students, and colleagues," she said.  "I look forward to the next milestone."