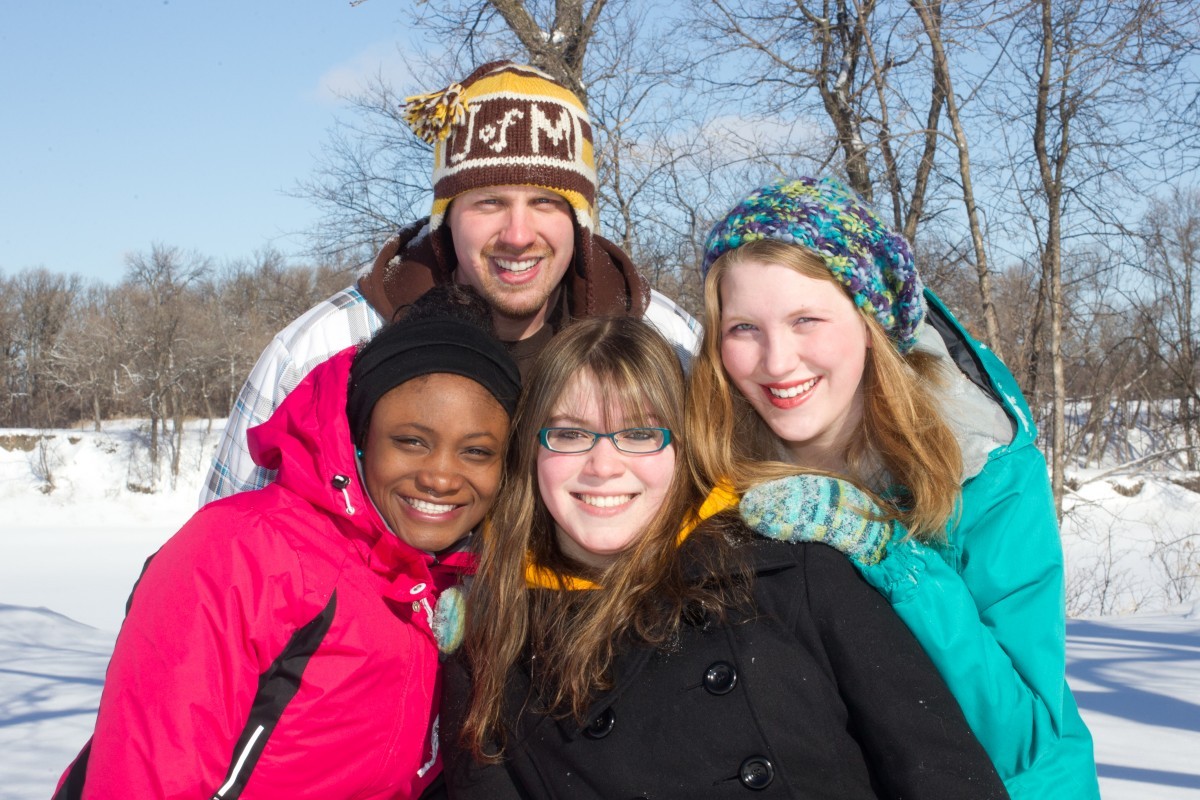 A balanced approach to good health
New online tool provides the greater U of M community with resources for healthy living
January 6, 2016 —
The weight of schoolwork and ongoing exam schedules will seem heavy to some – even with the start of a new year and as a new semester begins. Some will take advantage of the flip of the calendar to try to realign priorities, possibly by setting fitness and studying goals.
As the new year begins to unravel however, those well-intentioned goals can become frayed. Finishing assignments, studying and regular exercise will help to keep goals tethered to success; a number of other factors can untie one's overall health.
A balanced approach to good health focuses on a number of areas, including mental, spiritual, environmental, social and cultural, and physical health. With so much to keep a grip on, dealing with any aspect of poor health can be difficult and perhaps, even confusing. Strategies, resources and information on keeping a balanced lifestyle are often separated.
Until now.
Bridging the interconnected themes of active living, mental wellness, and environmental responsibility, the University of Manitoba has created a new online tool, organized into five domains that should help to orient the U of M community through the aspects of positive health. The intent is to provide quick and easy access to information and services that promote personal health and wellness and help the U of M community contribute to ecological, social, and economic sustainability.
Live Well was established on campus in August 2015 as a partnership among Active Living, Human Resources, Student Affairs, and the Office of Sustainability.
"It's been exciting to be a part of the Live Well group, and to have a chance to work with the many great folks that came together to support healthy living within our community," says Learning and Organizational Development director Mark O'Riley.
This portal opens the door to a tremendous range of activities, opportunities, and resources that U of M students, staff and faculty can access in each of the five areas.
Arlana Vadnais, an employee wellness specialist, in the U of M's Human Resources department agrees.
"Live Well is an exciting new tool for the entire university community that provides quick and efficient access to the wellness related initiatives and supports available on campus. Our hope is that Live Well will facilitate the ability of students, staff and faculty at the U of M to learn about, enhance and maintain their wellness."
Aligned closely with the university's campus mental health strategy, Success through Wellness, and Wellness Works, a partnership among the university, the government of Manitoba, and Manitoba Chambers of Commerce, Live Well is devoted to building personal and community health
"Our campus mental health strategy, Success Through Wellness, takes a holistic approach that acknowledges the interconnections among students, staff, and faculty," says Don Stewart, executive director, Student Support. "It also emphasizes the importance of having a healthy and supportive campus environment in which to study, live, and work."
Since physical activity is integral to health, and even plays a huge role in individuals' mental health, it was imperative that active living be brought into the overall strategy.
Gene Muller is the director of Active Living in the Faculty of Kinesiology & Recreation Management. "Active Living is excited to be part of the Live Well group. With our partners, the hope was to create a resource that informs the U of M community about all we are doing to support healthy living," says Muller.