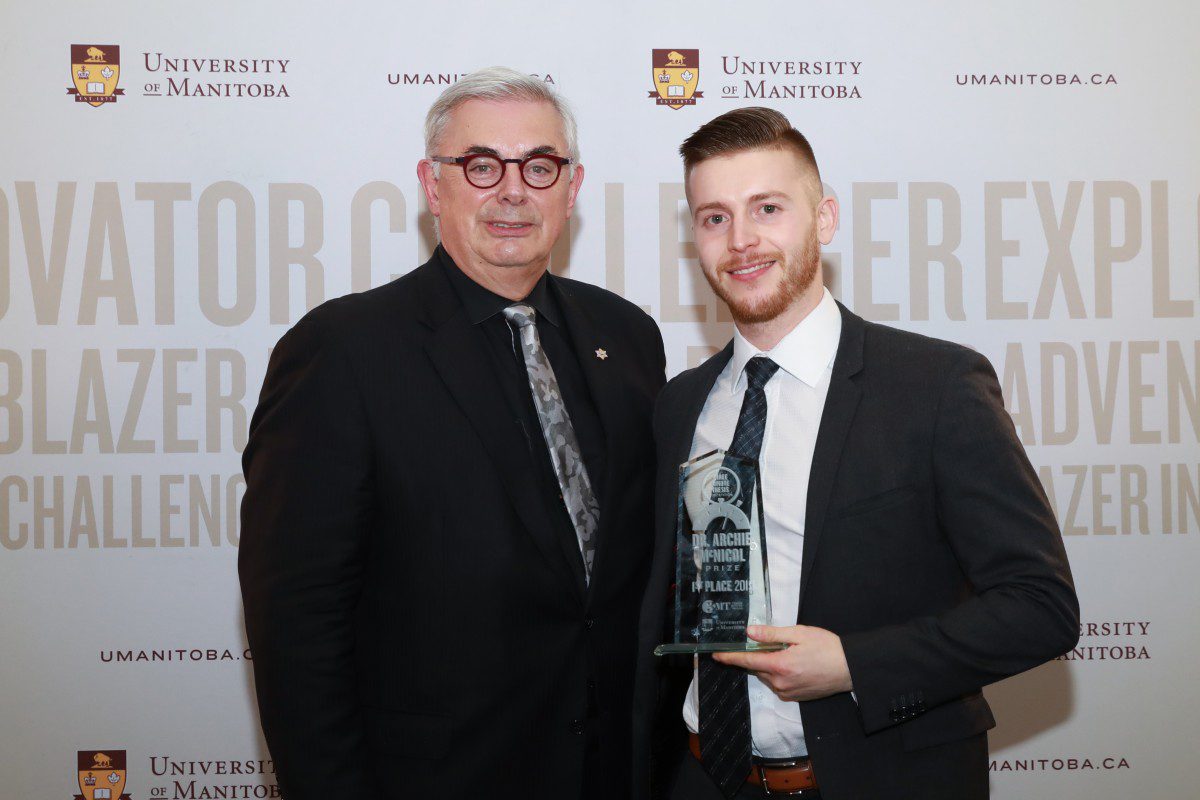 3MT champ heads to Western Regional Competition
Vote for Kevin!
April 16, 2019 —
We caught up with University of Manitoba Three Minute Thesis winner, Kevin Boreskie, before he heads to Western Regionals on April 17. Boreskie impressed the judges with his presentation titled Exaggerated blood pressure response to exercise: A simple solution. Competitors were asked to present their complex research in language aimed at non-experts in less than three minutes. They were judged on three categories: comprehension, engagement and communication style.

Was it difficult condensing your research in three minutes?
Definitely tough. Luckily I have some experience because it wasn't my first time at 3MT. I found it a little bit easier, but it is really hard trying to get a cohesive story in such a short amount of time while still trying to brag about the results you found.
What did you do differently this time, as it was your fourth time at 3MT and your third time making the finals?
The main difference was the way I went about writing the script. I remember the first time around I had finished what I thought was the final product for my script and I tried reading it and it took six minutes. While this time I knew I didn't have a lot to work with and I knew the general structure I wanted, having a good hook at the beginning and then painting a good picture with an analogy.
What I end up doing is practicing with the radio going on. With all the distractions going on, and if you get your script okay, it usually ends up working out at the actual event itself.
When I first went into grad studies I hated doing public speaking. That's why I signed up for Three Minute Thesis in the first place. With my research I've had to do quite a bit more public speaking and I really enjoy it.
I realized pretty early in my grad studies that you could be doing the coolest research, but if you aren't able to disseminate it and tell people about it, it's not going to go anywhere. So, this (3MT) made me want to practice more at public speaking.
Have you been doing more prep with Western Regionals ahead of you?
I'm definitely starting to do a lot more prep as I get closer to it, but I've been starting up a new project so it's been busy. I'll likely keep my script pretty similar as the last time around. I won't have it totally memorized because I want to leave some wiggle room for freestyling. Otherwise if you get off script you can end up blanking. If you do end up accidentally changing something on the day of it's not a huge road block in your speech.
Do you think it's your last year competing at 3MT, or is there more ahead of you?
I'll have to see next year. It's nice having won it this year and the past years gave me drive to try again. I'm not sure, I'll have more data as my next project starts and look at the different tests we do.
Tune in April 17 from 3:30 – 5:30 p.m. to watch the Western Regionals via live stream and vote for Kevin as People's Choice! The top three competitors will move on to 3MT Nationals in June.