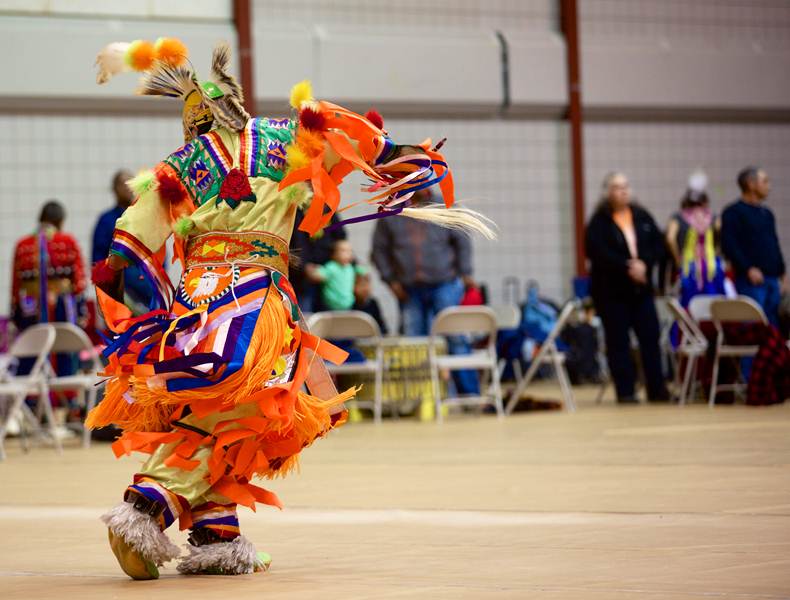 25th anniversary Powwow honours both grads and alumni
May 2, 2014 —
The 25th Annual Traditional Graduation Powwow for Indigenous students will be held on Saturday, May 3. In celebrating 25 years, it will for the first time, bring together and celebrate both new graduates and Indigenous alumni. The ceremony will take place in the Investors Group Athletic Centre on the Fort Garry Campus.
The Powwow honours and commemorates the academic achievement of Indigenous post-secondary students from the University of Manitoba. This year, over 230 Indigenous students are expected to graduate. Alumni from the past 25 years and more will also be in attendance and will be recognized and honoured during the evening ceremony.
The Grand Entry will start at 11:00 a.m.
At about 1:30 p.m. a presentation of a certificate and for the first time a specially designed scarf will take place; the Migizii Award will be presented, and an Honour song will be sung, during which time all the graduands will enter the circle, then the entire audience will be invited to greet and congratulate the honourees.
At 3:30 p.m., as part of this year's special 25th anniversary celebration there will be a Metis Specials hour, featuring the Metis University Students' Association, the Ivan Flett Memorial Dancers and Ray St. Germain.
A feast will be held in the Multi-purpose room of University Centre at 4:30 p.m.
A Second Grand Entry for alumni will occur at about 6:00 p.m. and the honouring of alumni will take place at 7:00 p.m, with opening remarks from Ovide Mercredi, Senior Advisor to the President.
What: 25th Annual Traditional Graduation Powwow
When: Saturday, May 3, 2014; starts at 9:00 a.m. with a Sacred Pipe Ceremony, Grand Entry (Graduates) at 11:00 a.m. and 2nd Grand Entry (Alumni) at 6:00 p.m.
Where: Investors Groups Athletic Facility, 75 Sidney Smith Street, Fort Garry Campus
All are welcome. Free Admission.
For more information contact the Aboriginal Student Centre at 204-474-8850; asc [at] umanitoba [dot] ca
For reporters and producers looking for experts and breaking news, follow us on Twitter: @UM_Today
For more information contact Andrea Bilash, Marketing Communications Office, University of Manitoba, 204-898-8583 (andrea [dot] bilash [at] umanitoba [dot] ca).