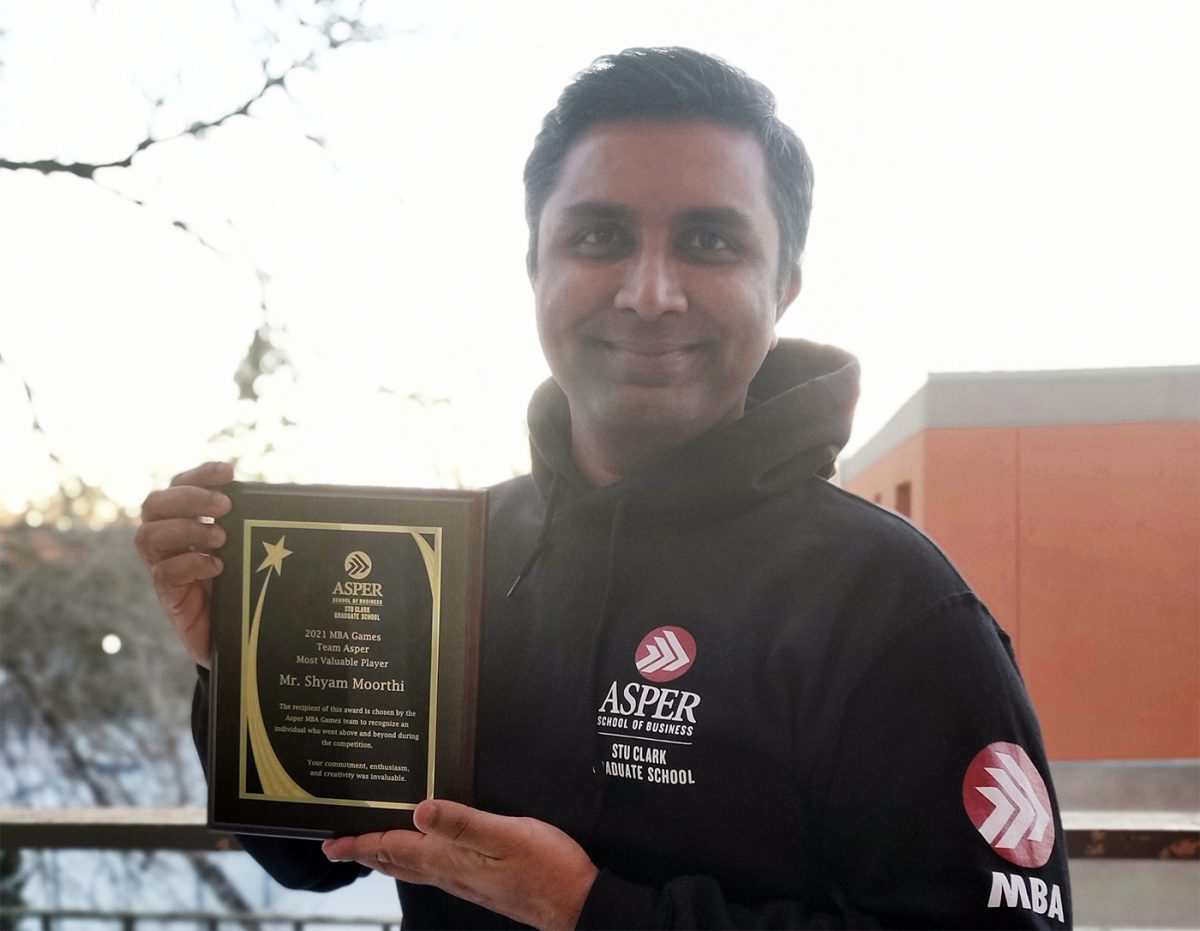 Asper MBA grad sprints to program completion
Case competitions a highlight for new alumni, Shyam Moorthi
June 17, 2021 —
For new Asper alumni, Shyam Narayan Moorthi, completing his MBA is just one of the many steps in his long-term plan. The next steps for Morthi are to embark the next stage of his career and bring his family to Canada.
In January 2020, Morthi moved to Winnipeg from India to pursue his MBA at the Asper School of Business' Stu Clark Graduate School.
"I took a break from my career. I took out a student loan and we had to manage with our savings," said Moorthi. "It was a difficult decision." Compared to other graduate schools, Morthi said that Asper's MBA program gave him the most flexibility. He was able to take summer courses, allowing him to expedite the program to only 16 months. Winnipeg was also the most cost-effective city, with cost of living relatively less expensive than cities like Toronto or Vancouver.
Cramming his MBA into 16 months kept Moorthi's mind off the long distance between him and his family. He was expecting to bring his wife and two daughters over in May, but strict travel restrictions as a result of the pandemic means Moorthi has gone 17 months since he last saw them.
"That's the thing about the MBA program, there are a lot of opportunities a student can participate in. I took multiple courses and participated in a lot of extra-curricular activities," said Moorthi. "One of the reasons why I wanted to do many things is when I'm busy, I'm not getting homesick."
Despite most of Moorthi's time at Asper being virtual, he dove right into student groups and activities. He was the marketing coordinator for AMBASA, Asper MBA Students' Association, where he managed all three of their social media channels. He helped formalize the student group's constitution, assisted with AMBASA's 2021 elections, hosted the first AMBASA Case competition, and took part in the MBA Games.
Moorthi also participated in eight business case competitions,, not including four business venture competitions. With 15 plus years of business experience in India and Thailand, Moorthi said one of the biggest benefits for him was working on real-life scenarios for North American companies. It allowed him to read more about the markets, learn about their challenges, and look for solutions to their problems.
"I really enjoyed the experience. I think the competitions were a highlight of my MBA program. Case competitions helped me improve my critical thinking, presentation, and team management skills. You're always working with three to four people."
Moorthi's eighth and last case competition of the year proved to be lucky. His team placed first at the International Business Ethics Case competition in the 10-minute format. It was hosted by an independent think tank to promote ethics among students.
"Every time we didn't make it, we felt a bit disheartened. Then we'd pull ourselves up and take it as a learning experience. So, it was really nice to win my last one."
Between student groups and case competitions, Moorthi worked on an industry project for Restore, the retail arm of Habitat for Humanity, an optional project through the Stu Clark Graduate School. He also worked part-time on the weekends.
"I wanted to get into a pattern, and it helped a lot," said Moorthi referring to his busy schedule over the past 16 months. "I felt as though it didn't really matter when COVID ends or continues, what matters is what I can do right now."
Moorthi's next step will be to start his career in Canada. With extensive work experience in agriculture, metals, research, and consulting, he has a lot to offer.
"I have a lot of B2B development experience from my career. Ideally, I want to pursue a career in commercial banking in Canada, to work with companies to offer financial services and products."
On June 17, Moorthi was able to check off a big step in his long-term plan. He became a new Asper alumni, graduating with a MBA from the Asper School of Business Stu Clark Graduate School with a specialization in leadership and organization, and finance.