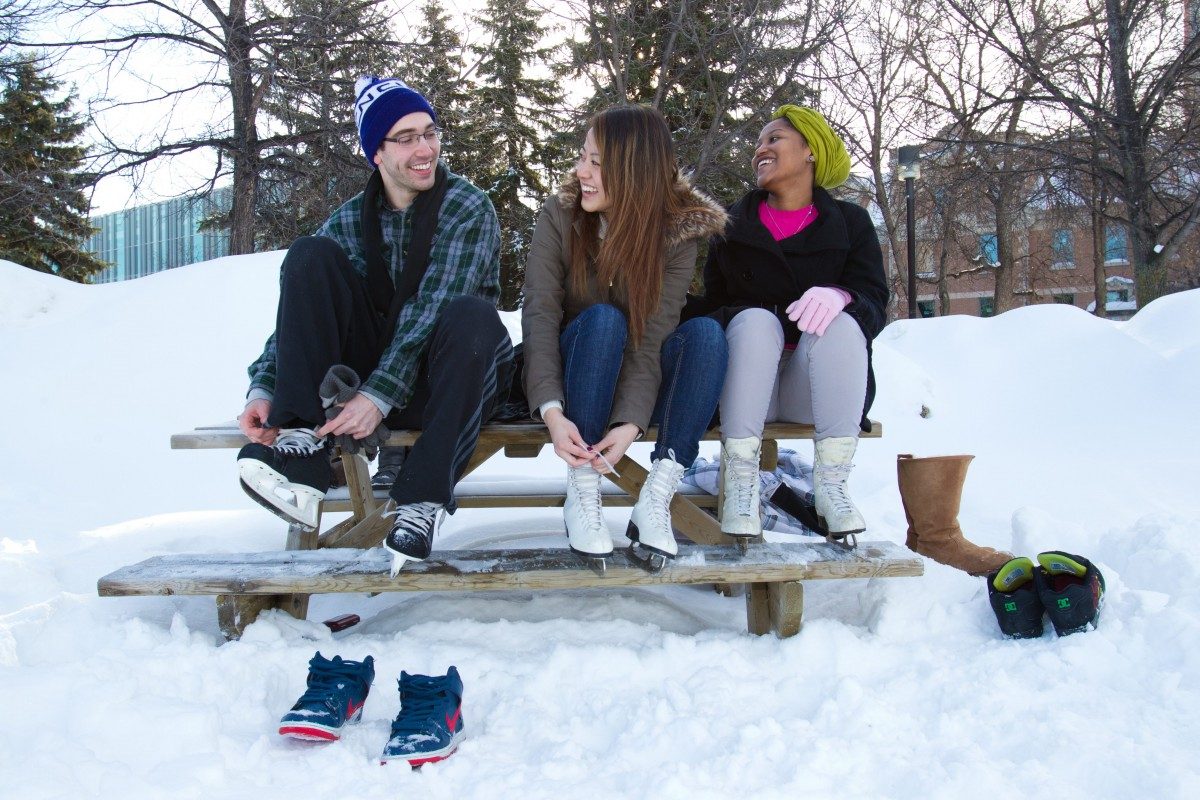 Come celebrate the University of Manitoba's 140th anniversary
February 27, 2017 —
EVENT SCHEDULE 
Tuesday, Feb. 28, 2017
7 a.m. – 8 a.m.
Sunrise Ceremony – National Centre for Truth and Reconciliation
8 a.m. – 10 a.m.
Pancake Breakfast – UMSU University Centre & Brodie Centre Atrium
8:30 a.m. – 11:30 a.m. / 2 p.m. – 3 p.m.
UM 140 Video Booth – GSA Lounge
12 p.m. – 1:30 p.m.
Lunch – UMSU University Centre Patio
Hot dogs, hamburgers, veggie dogs, pop and chips 
12:30 p.m.
Festival Kick-Off – Outside the Administration Building
12 p.m. – 4:30 p.m.
Winter Festival – Innovation Plaza
S'mores, snowshoeing, live bands and more!
12 p.m. – 3:30 p.m.
Food Trucks & Snacks – Around Chancellors Circle
Popcorn, cotton candy, bannock and jam
1:15 p.m.
Birthday cake and hot chocolate – Innovation Plaza
2 p.m. – 3:30 p.m.
Retirees Coffee and Conversation – Marshall McLuhan Hall
4:30 p.m.
Winter Festival Ends
Join us for the university's 140th birthday celebration on Tuesday, Feb. 28. The celebration will feature live music, food, fun winter activities and more!
The day will begin with a Sunrise Ceremony at the National Centre for Truth and Reconciliation, followed by a pancake breakfast at the Fort Garry and Bannatyne campuses.
Everyone is invited to the festival kick-off at 12:30 p.m. on the steps of the Administration Building, including singing by University Singers, cake and hot chocolate.
Snowshoe races, s'mores stations and human foosball are just a few of the fun winter activities that will take place at the winter festival at Innovation Plaza in the afternoon. If you are looking for an afternoon snack, there will be food trucks selling BeaverTails ($4) and poutine ($5).
You will also have the opportunity to reflect on the 140th anniversary theme of identity – and what the U of M means to you – at our video booth in the GSA Lounge.
The day will end with a coffee and conversation event for University of Manitoba retirees.
Come out and help us celebrate 140 years!
The University of Manitoba is celebrating our 140th anniversary this year, in conjunction with Canada's 150. Follow the conversation and hear more about our history, people and celebration events at #UM140