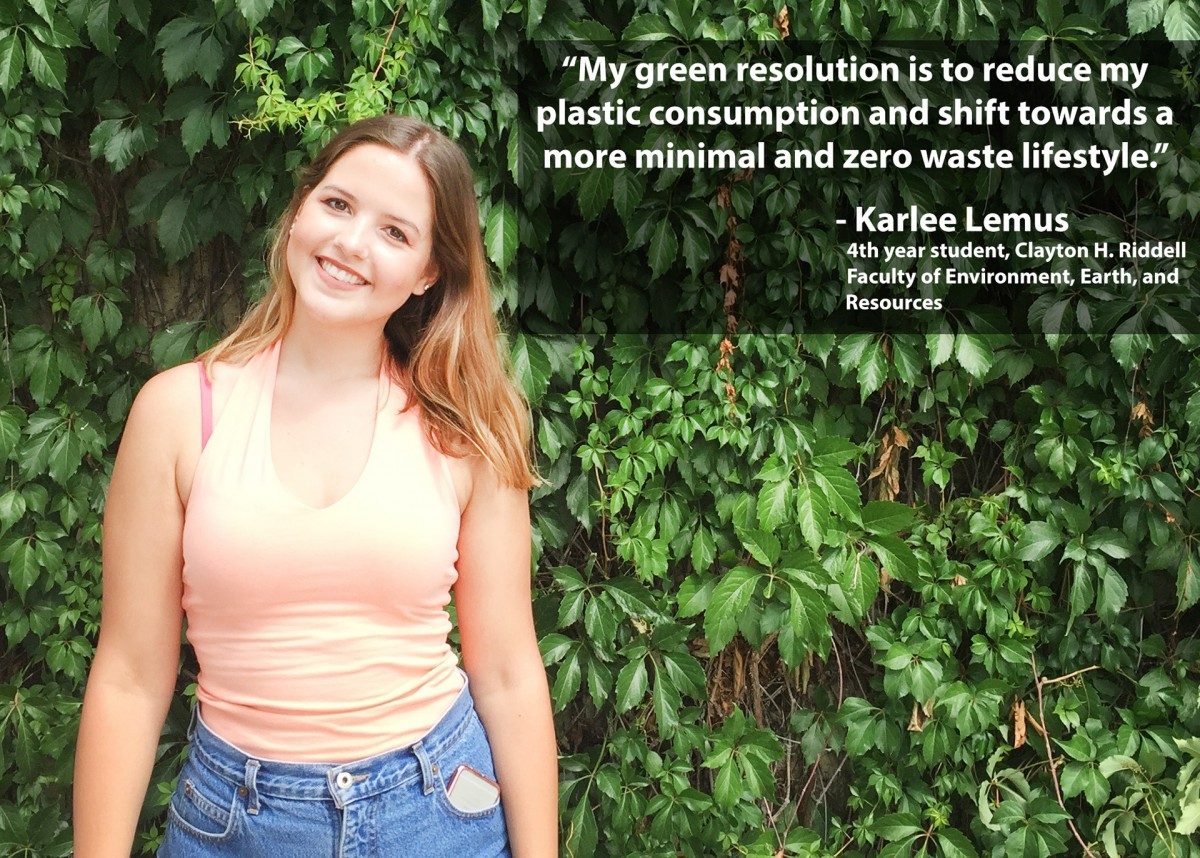 10 Resolutions You Can Stick To
Welcome to 2019!
January 5, 2019 —
Moving into a new year is always a bit challenging. We start off strong with promises like Dry January, hitting the gym 4 days a week and eating healthier. Some of these promises and resolutions stick, but for the majority of us, they fade off into the distance as we settle in to the winter semester. Instead of thinking about large scale resolutions, try focusing on smaller achievable tasks which will benefit your wellbeing, your wallet and the planet. Here are 10 easy sustainable tasks you can achieve this year:
Drive less. Try walking, taking transit, biking or carpooling to campus or a few other destinations a week. You will be pleasantly surprised with the outcome!
Meatless Monday or any day of the week. By reducing meat and animal products from your diet, you are lowering the greenhouse gas emissions associated with the food you consume. Check out Meatless Monday Canada for meatless recipes.
Air dry your clothes. Using a line or clothing rack to air dry your clothes reduces wear and tear and heat damage on your clothing, not to mention it will save you money on your laundry card or energy bill!
Say no to palm oil. Palm oil is in a variety of food and products we enjoy on a daily basis. The problem isn't palm oil itself, it is how it is farmed and managed – 85% of global palm oil is extracted unsustainably contributing to rapid deforestation. Take note, read labels and choose a sustainable option when you are shopping. More information can be found here.
Take shorter showers. 35% of household water is used for bathing. By taking a 5 min shower versus a 10-minute shower you could save around 40 litres of water per shower! Put on your favourite song while you shower. When the song is done, finish up and get out.
Host a clothing swap. Tired of your clothes? Get together with a group of friends and swap articles of clothing. You'll end up with a new wardrobe for free!
Always use a reusable mug. Disposable cups from coffee vendors can not be recycled and are sent to landfill every day. Using a reusable mug reduces the waste we send to landfill and you will receive a discount on your beverage purchase from any food service location on campus!
Patch, repair and mend. Invest in learning how to repair your bike, mend pants that are too big or patch a hole in your favorite sweater. Being able to fix your belonging is a valuable and rewarding skill not to mention the resources you are saving by avoiding purchasing new items.
Buy local when possible. Visit a farmer's market for local produce, products and baked goods. Norbert's Farmer's Market is open all year round and there are several other others located in Winnipeg.
Watch an environmental documentary. Choose one environmental or sustainability related documentary to watch every month. Netflix and other online services have a variety available such as Before the Flood, Thrive with Less and The True Cost of Food.
Here are a few examples of what some students on campus are doing to green their 2019: