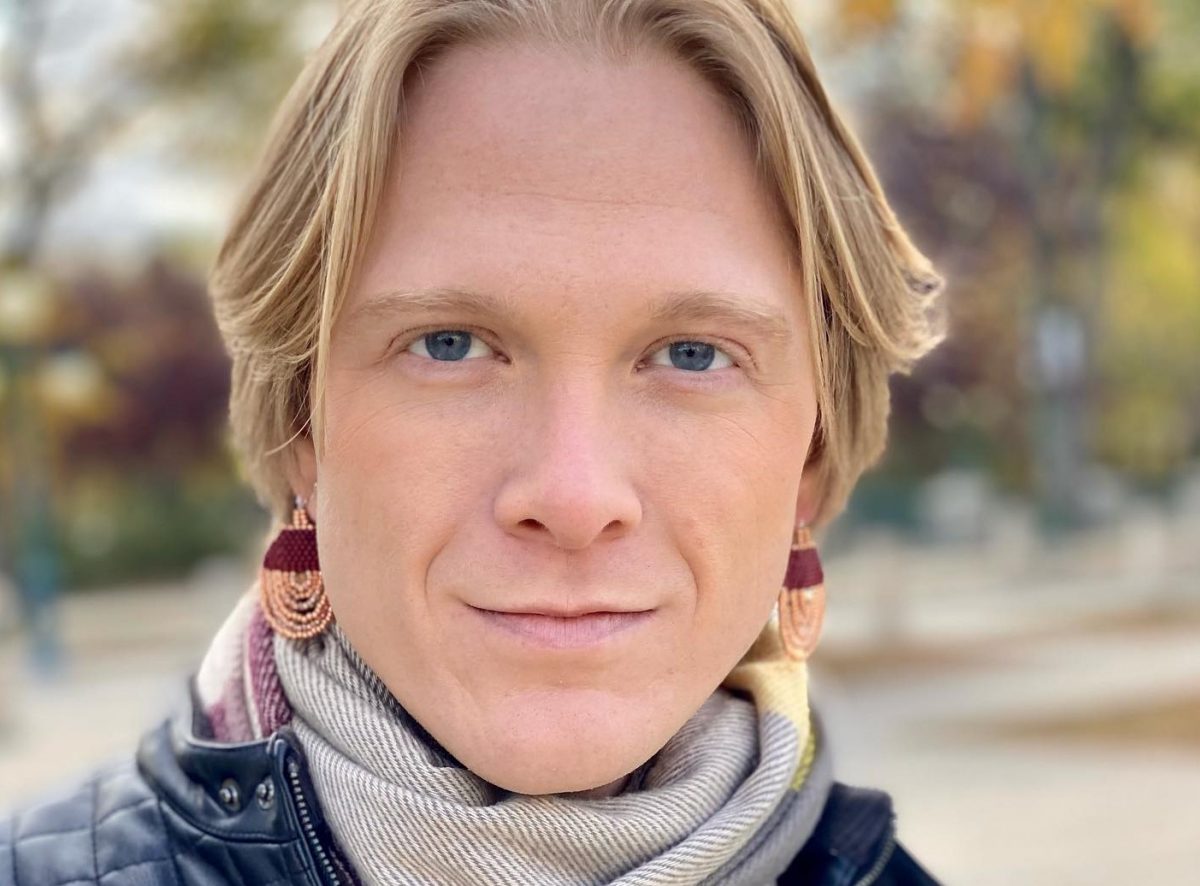 Zachary Rushing is a rare talent in jazz
June 17, 2021 —
Zachary Rushing doesn't do anything in half-measures. When he puts his mind to something, everything he has goes into the endeavor.
Rushing, who hails from Portland, Oregon, began his musical journey at age 6, and knew by age 12 that he wanted to be a performer. Though he was raised in classical music, musical theatre, and contemporary music, Rushing came to the Desautels Faculty of Music to pursue jazz, having become hooked on the genre in high school.
"I've always known that jazz singing was the path that my life would follow from my initial discovery of Sarah Vaughan early in high school," he says of the artist who first inspired the passion that would guide his life.
"Jazz has opened doors for me in my musical and personal life that I would otherwise have never opened," Rushing explains.
While there was never any doubt in Rushing's mind that he would pursue jazz, the road towards his goals was sometimes a bumpy one, he admits.
Breathing music
Rushing's musical talents made him the recipient of numerous scholarships while in the Desautels Faculty of Music, including the Corus Radio Jazz Major Scholarship, the James Tee Memorial Scholarship, the Marcel A. Desautels Faculty of Music Scholarship, the Reg and Anne Hugo Memorial Scholarship in Music, and the Margaret H. Tyler Award in Music.
Within the faculty, Rushing performed with the Small Jazz Ensembles, the University of Manitoba Jazz Vocal Ensembles, and the University of Manitoba Jazz Orchestra, where he performed his favourite piece learned as a student, Gil Evans' arrangement of "My Ship." The US transplant also quickly made himself an indelible part of Winnipeg's Jazz scene, performing at many of Jazz Winnipeg's venues and concert series, including the TD International Winnipeg Jazz Festival.
At the pandemic's onset, Rushing and his Zachary Rushing Quartet were among the first musicians to perform remote and socially-distanced concerts on Winnipeg's music scene after COVID-19 arrived in Manitoba.
The group performed a jazz age-inspired concert last July at the Dalnavert Museum, an event that gave Winnipeggers a much-needed safe and fun night out, where they could listen to jazz while dressed in 1920s attire.
Despite these repeated successes, Rushing admits that he sometimes felt overwhelmed.
"It hasn't been easy to stick to my passion, financially, emotionally, or otherwise – but I'm glad I did," he says.
While trying to balance his busy academic and performance life, Rushing also took on the challenges of raising two Cavalier King Charles Spaniel puppies, and renovating a historic home.
"I would not recommend this to anyone," he laughs.
"But it has filled my life with immeasurable joy," he admits.
"My dogs' names are Porter and Lily, and they are the light of my life," Rushing says.
Despite the multiple challenges and responsibilities that Rushing has taken on – as well as the addition of a global pandemic just to make things a bit more difficult, Rushing has conquered ever obstacle that he has confronted, earning himself a Bachelor of Jazz Studies. Not only that, he has won the University Gold Medal for the Desautels Faculty of Music, the award given to the graduating student with the highest academic standing within the faculty, an incredible achievement!
"Music isn't something that I like or that I have fun doing," says Rushing of what has kept him going forward.
"It's the air I breathe, and the language I think in, and the life force and vitality in my body," he says.
"If that's true for you, as well, follow that lead and stick with it, and good things will happen. If you take care of the music, the music will take are of you," he adds.
Faculty mentors
Rushing is very thankful for the professors and faculty members he's had the opportunity to work with.
"My two closest mentors in school have been Karly Epp and Jon Gordon," he says.
"Karly has been invaluable to me in every way. She has helped me realize my potential as a musician in all areas, from improvising to lyric delivery to songwriting, as well as helping me become an all-around better person who is more open to criticism, better at interacting with other humans, and more open to life's possibilities," Rushing says of Epp, the instructor for Jazz Voice in the Desautels Faculty of Music.
Epp is grateful for her time with Rushing as well.
"I have never taught a student as dedicated and committed to their own musical growth as Zachary," she says.
"His knowledge of the art form he's studying is expansive, and he's continually seeking out new information and ways to challenge himself. Zachary is the kind of person who leans into any potential weaknesses because he knows that's where he'll grow the most," Epp explains.
"He was always prepared, he often went above and beyond what was asked of him, he would challenge me as an educator in all of the best ways, and there was such a depth to his understanding and desire to learn that we were able to have very meaningful conversations about jazz and art, unlike what one would normally see from a student at this level of study," she says.
"I feel fortunate to have had the opportunity to work with him for these past four years," she concludes.
"Jon mentored me in composition and encouraged me to develop my original voice in my songs, which has really helped me grow in confidence in my songwriting," Rushing says of Jon Gordon, as Associate Professor of Jazz in the Desautels Faculty of Music.
"Jon has also been a critical advocate for me in my professional music life outside of the university," Rushing adds.
"Zachary arrived at our program 4 years ago as a very talented student with excellent potential," says Gordon.
"He already had a personal and identifiable sound, which is quite rare. His growth as an improviser, vocalist, composer, and artist with a personal concept and vision has been a joy to watch," says Gordon of his time with Rushing.
Credit Recital
In the 2019-2020 academic year, COVID-19 forced the cancellation of about 40 student credit recitals, which serve as a sort of capstone project showcasing what students have learned at various points in their university studies.
Fortunately, thanks to the creativity and dedication of faculty members and administrators, the Desautels Faculty of Music was able to ensure that students' final credit recitals could resume in the 2020-2021 year, with invited audiences able to watch students perform via Zoom, instead of in person.
Rushing's composition and songwriting work with Gordon and Epp may well have inspired his next musical feat. Not content to showcase his talents using only the songs of others, Rushing chose to include many of his own musical creations in his final credit recital.
"I performed five original compositions – 'Under the Spell of Last Night,' 'Just Buy Me Flowers,' 'My Best Squirrel Friend,' 'You've Got to Get Into It (Before You Get Out of It),' and 'Before I Go,'" he says of the musical feat.
"I was very proud of having written the music and lyrics to more than half of my senior recital program," he says.
He also chose to perform three jazz standards, "On the Sunny Side of the Street," "Always," and "The Best Things in Life Are Free," as well as "Throw It Away," by Abby Lincoln, who was known for her soulful delivery and soul-destroying lyrics.
Advice for incoming students
Given his immense success in both performance and academics during his time in the Desautels Faculty of Music, incoming students would be wise to take notes from Rushing when he offers up his advice to them
"It's helpful in university to have a plan for exactly what you want to get out of it. Whether or not the program itself fits your plan is irrelevant – there are so many amazing professors who can help you get to exactly where you want to be if you have that destination in mind and ask for help," Rushing says.
"Also, learn to tell the difference between musical facts and opinions," he advises.
"If something is a musical fact, absorb it, internalize it, and utilize it. If it's a musical opinion, always hear it out, but then use your critical thinking and artistic gut to determine whether it's useful to you, or something to leave behind," he explains.
Acknowledgements
Rushing would like to thank the following people:
"I would like to thank my partner Cory, my best friends Clarkia, Beth, and Jessie, my peer Ashleigh Sadler – without whom I would not have gotten through this program – my teachers, and my family."
Up next
While Rushing is looking forward to getting back to performing in a post-COVID world, wants to write a jazz age style musical, and has plans to do some recording – you can hear more of his vocal talents at zacharyrushing.com and youtube.com/zachjrush – his dedication to jazz has just secured him a position working to advocate for the art form and nurture its artists.
"I am working as the Programs Manager at Jazz Winnipeg and hope to be here for a while doing what I can to support and foster jazz in our community," he says.
"Zachary's knowledge and dedication are already being recognized [in this role] with Jazz Winnipeg," says Epp.
"They, and the wider Winnipeg jazz community as a result, are lucky to have him," she adds.
We couldn't agree more. Congratulations, Zachary! Your achievements are well-earned, and we can't wait to see what you do next!