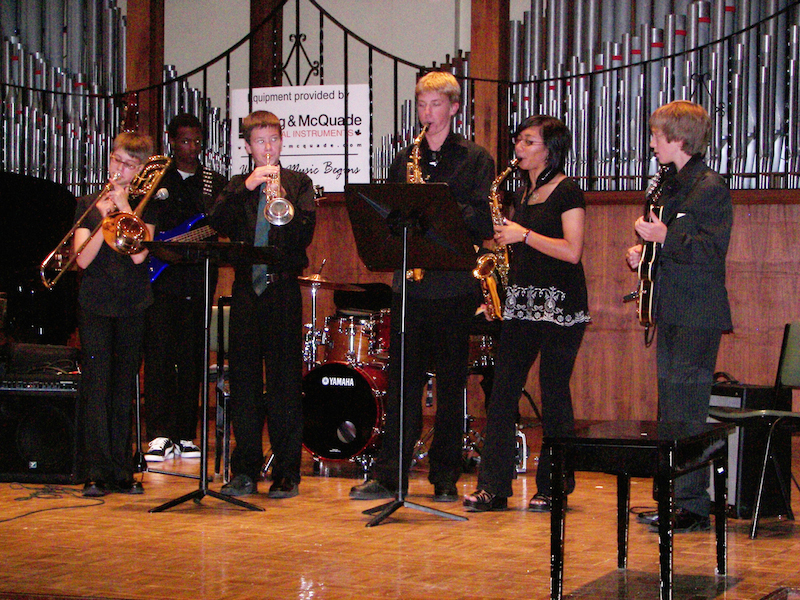 Your chance to study jazz (at camp!) alongside some greats
Jazz Camp gets underway August 17 to 23
July 24, 2014 —
Space is still available for the 21st season of Jazz Camp. The camp is held on campus August 17 to 23.
This year's instructors include Jazz Studies faculty members Steve Kirby (bass), Derrick Gardner (trumpet), Jon Gordon (saxophone), and Anna-Lisa Kirby (vocals), as well as alumnus, Curtis Nowosad on drums.
Jazz Camp is open to high school students, university students, and even elementary-aged kids, teachers and parents. Anyone with some basic music skills can attend, regardless of their age. Students learn how to hone their jazz skills and have the chance to perform on stage.
Jazz Camp is a unique opportunity to learn from some of the best jazz musicians in North America.
For more information, and to register, please visit their website.
Anna-Lisa Kirby on how to sing jazz
Jazz not your thing? There's another music camp you can attend
Prep Studies is the community music school attached to the Desautels Faculty of Music. They offer music lessons to students of all ages and levels both on campus and throughout the city. The program can be accessed by staff and their families.
Two U of M graduates are also running a Musical Theatre Camp for Teens:
Musical Theatre for Teens (13-18)
August 11 – 15, 2014
Class Fee: $300
Instructor: Darren Martens
Registration Deadline: July 25, 2014
More information can be found here.