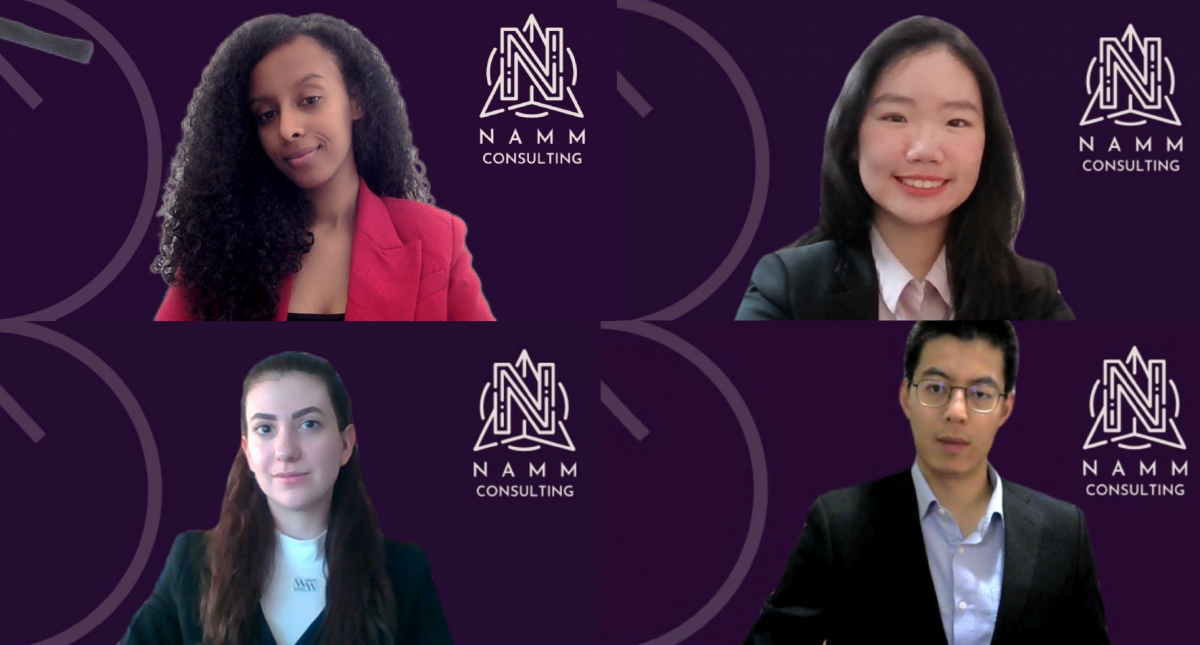 Wrapping up the 2021 case competition year with a global win
Teamwork and synergy place the Asper team on the top of the podium
December 8, 2021 —
The Asper School of Business mixed undergraduate and graduate team placed 3rd at the Creative Shock case competition hosted by ISM University of Management and Economics in Lithuania. Celebrating its 10th anniversary this year, the international social business case competition attracted 1503 student competitors from 71 countries.
With strong representation among the large contingent of international student competitors, the Asper team comprised of undergraduate students Nardos Ghebremeskel, Melika Zamani and Adriana Ong, and MBA student Matthew Ma have been participating in this competition since the end of September. The foursome progressed through three separate rounds to make it to the finals.
"I have been doing case competitions for the past year, but not to the magnitude of Creative Shock. Competing against 1500+ individuals from 71 countries encouraged me to dive and awaken my analytical, innovative and enterprising skill sets as I represented the Asper School of Business with the support of amazing coaches," said third year Bachelor of Commerce accounting major, Nardos Ghebremeskel. "As a commerce student, solving real-life business problems and presenting it to the stakeholders and CEOs of businesses, gave me an insight of what career I am aiming towards. This experience taught me that teamwork, communication and synergy are what truly help achieve excellence."
This year's cases were complex. The first round challenged teams to examine salmon farming and determine the feasibility and profitability of a recirculating aquaculture systems facility. In the second round, the students analyzed the issue of social integration of refugees at Eskedar Coffee and developed a marketing strategy for a brand launch in the European market. The third-round tasked teams to develop a sustainable model for Green Cycle, a German organization dedicated to reducing clothing waste.
After a successful first three rounds, the Asper team made it to the final round to compete against the University of Toronto, and institutions from Germany (University of Mannheim), Bangladesh (University of Dhaka) and Serbia (Belgrade Metropolitan University). The last scenario challenged the top teams to identify opportunities to support business growth for Miesto Laboratorija, a sustainable and environmentally friendly community center located in the capital of Lithuania, while continuing their social mission.
"This was an extraordinary journey and the highlight of my case competition journey. I have done over 14 case competitions during my time at the Asper School of Business and have experienced tremendous personal and professional growth," said third year Bachelor of Commerce marketing major, Melika Zamani. "It felt unreal to help real social businesses in Europe while competing against bright business students around the world. I have learned so much and I am so glad to see all my efforts in the competitions pay off."
The teams received support in their competition preparation by Faculty Advisors Judith Jayasuriya [MBA/14] and Howard Harmatz.
For more information about how to participate in case competitions please visit student experience or contact Judy Jayasuriya, Lead, Experiential Learning at Judy [dot] Jayasuriya [at] umanitoba [dot] ca.