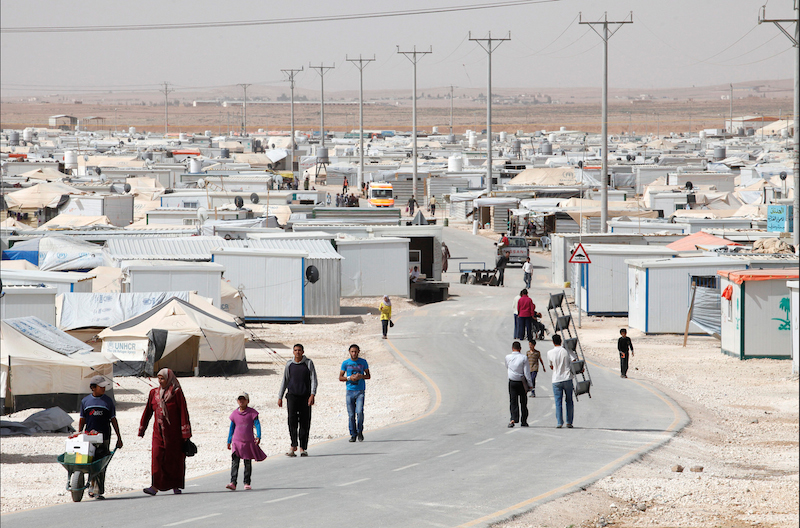 The unique plight of the Yazidis
September 10, 2015 —
Adam Muller is an associate professor in the department of English, film and theatre and board member of the International Association of Genocide Scholars. He wrote the following article for the Winnipeg Free Press, which they published on Sept. 4, 2015. 
The drowning death of three-year-old Syrian boy Alan Kurdi in Turkey [on Sept. 2] has focused the world's attention on the dangers facing Syrian refugees fleeing the war in their homeland. Photographs of Kurdi's tiny body lying face-down on a beach have prompted governments around the world, including Canada's, to commit to increasing the numbers of Syrians they admit for resettlement on humanitarian grounds.
Lost in this outpouring of embarrassed sympathy and tragically belated action, however, is the unique plight of the Yazidis.
The United Nations defines genocide as "the attempt to destroy, in whole or in part, a national, ethnical, racial or religious group," and measured by any yardstick this is exactly what IS is doing in Iraq and Syria.
Chaldean Christians, Coptic Christians, Yazidis, Shia Muslims and Sunni Kurds have all been targeted by IS for annihilation using methods that are conspicuously violent and cruel. Amongst these groups the region's Yazidis are particularly vulnerable. They are a relatively isolated religious community with limited cultural and other links to populations elsewhere capable of providing material support and advocating on their behalf.
They have very limited representation in the governments charged with protecting their rights as citizens, governments that in any case are struggling on all fronts to resist IS's onslaught. They lack a capable self-defense force, although in the wake of the 2014 Mt. Sinjar siege they have mustered a 12,000-strong militia.
And they are viewed by IS fundamentalists as apostates and devil worshippers so evil that, unlike some Jews and Christians, they are ineligible for "protection" through the payment of the Jizya tax that has been extorted by IS from non-Muslim residents of northern Syria since early 2014, reviving a practice that is more than a thousand years old.
When captured, Yazidis are typically given the choice either to become Muslims or be murdered. However, from the outset IS has shown far more interest in keeping Yazidi women and children alive. Yazidi men are typically killed immediately, while women are forced into slavery and children converted and turned into weapons of war. There is evidence of children as young as five being given knives and toy dolls and taught how to behead people. Boys as young as 11 have been "converted," given pistols, and made to execute captured Syrian government soldiers.
Yazidi women continue to be sold and re-sold in slave markets, and the money raised by their sexual exploitation is used to fund IS's war effort. All of this has been well-documented by IS itself, as well as by Yazidi survivors of these atrocities, aid workers and the UN, which earlier this year issued a report by the Office of the High Commissioner for Human Rights that acknowledged the Yazidis were undergoing genocide.
What can be done to help? In a word: more. Gregory Stanton of Genocide Watch is organizing an appeal asking the U.S. government to insist that IS leaders be targeted for arrest and prosecution by the International Criminal Court. To make this possible, the U.N. Security Council must refer IS crimes to the ICC for investigation and prosecution.
Matters are complicated, however, since Russia is unlikely to want to extend ICC jurisdiction into Syria given its support for the Assad regime, whose own crimes against humanity are ongoing.
As Canadians we should ask our government to work with the U.S. to pressure the Security Council to act. We might also insist that Canada follow Germany, home to the world's largest Yazidi diaspora, and assist in relocating sick and injured Yazidis to Canadian medical facilities for treatment.
We could provide more humanitarian aid overseas, and also find ways to train and arm the Yazidi militia and facilitate its coordination with Kurdish Peshmerga forces. And above all we could ask our government to work with community groups such as the Mennonite Central Committee and Winnipeg Friends of Israel to assist in the resettlement of Yazidi families in Canada.
Tens of thousands of Yazidis now live in appalling conditions in camps in Iraq, Syria and Turkey. The Harper government has touted its record of aiding and resettling Iraqi and Syrian refugees, but the actual numbers helped is miniscule and the number of Yazidis among them is even smaller.
Canada must do more to help all Iraqi and Syrian refugees, but the genocidal violence being experienced by Yazidis begs for an even more vigorous, targeted, response.