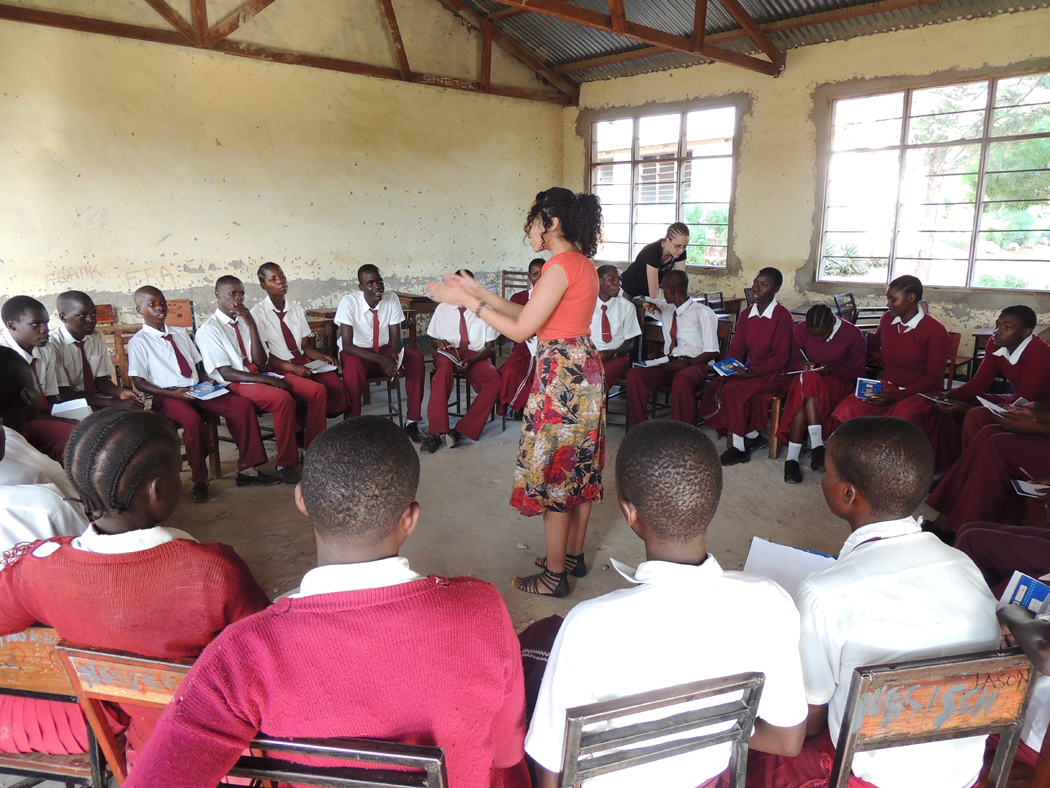 WOW widens students' perspectives
World Opportunities Week takes place this week from Tuesday, November 5 to Friday, November 8
November 6, 2013 —
Former child soldier Michel Chikwanine still has nightmares. Now 23 years old, the peace advocate and activist is still recovering from the atrocities he witnessed as a child during the Great War of Africa.
The Second Congo War, also known as the Great War of Africa, began in August 1998 and continued until 2003. It claimed the life of his father, along with the lives of 5.8 million other people.
Michel Chikwanine's story is powerful because of what he has seen and experienced; it's remarkable, however, because his perspective — in spite what he's seen and experienced — is a humanitarian one. Born in the Democratic Republic of Congo, Chikwanine has witnessed first-hand the problems facing the developing world, but also the beauty of the communities and people who live there.
Chikwanine shares his story and message of hope in a keynote speech on Thursday as part of this year's annual World Opportunities Week (WOW).
WOW takes place this week from Tuesday, November 5 to Friday, November 8. The U of M's International Centre for Students (ICS) hosts a series of events for the thirteenth annual event, organized in collaboration with ICS's World W.I.S.E. ambassadors, who are student volunteers.
Last week, ICS's Welcome Dinner event welcomed new international students to the U of M.
Showcasing the wealth of international opportunities available to U of M students, WOW also raises awareness of global issues and provides an international perspective.
Students can find out about learning and work exchanges, local and international internships, service-learning and volunteer opportunities and JET (Japan Exchange and Teaching Programme) through informational fairs and sessions running throughout the week.
Several hands-on activities are also taking place as part of the week-long event, including: cultural and dance performances; an afternoon of storytelling, spoken word and music facilitated by assistant professor Jessica Senehi with musicians John Samson and Christine Fellows; a food security work shop by Engineers Without Borders, revealing some of the issues surrounding food security and famine that affect people all over the world; and a panel discussion hosted by the Global Political Economy Students Association to examine Canadian mining practices throughout the developing world.
WOW also features displays and live performances by U of M student groups from cultures around the world as well as a Pecha Kucha night in which past U of M exchange participants will share rapid-fire reflections.
All WOW events are free and take place at the Fort Garry Campus. For the full schedule and event details, visit umanitoba.ca/student/wow or ICS, 541 University Centre.
PUBLIC PRESENTATION BY MICHEL CHIKWANINE
Hear the unimaginable story of this former child soldier and his inspiring message of hope. Part of the International Centre for Students' World Opportunities Week. In E3-262 Engineering Building (Senate Chambers), Engineering & Information Technology Complex, 75 Chancellors Circle, November 7, 2:30 p.m.
WOW is made possible by Arthur V. Mauro Centre for Peace and the Justice Arts Student Body Council (Gold Sponsors), and the Centre for Creative Writing and Oral Culture, the Faculty of Human Ecology, Travel CUTS and University of Manitoba Graduate Students' Association (Bronze Sponsors).