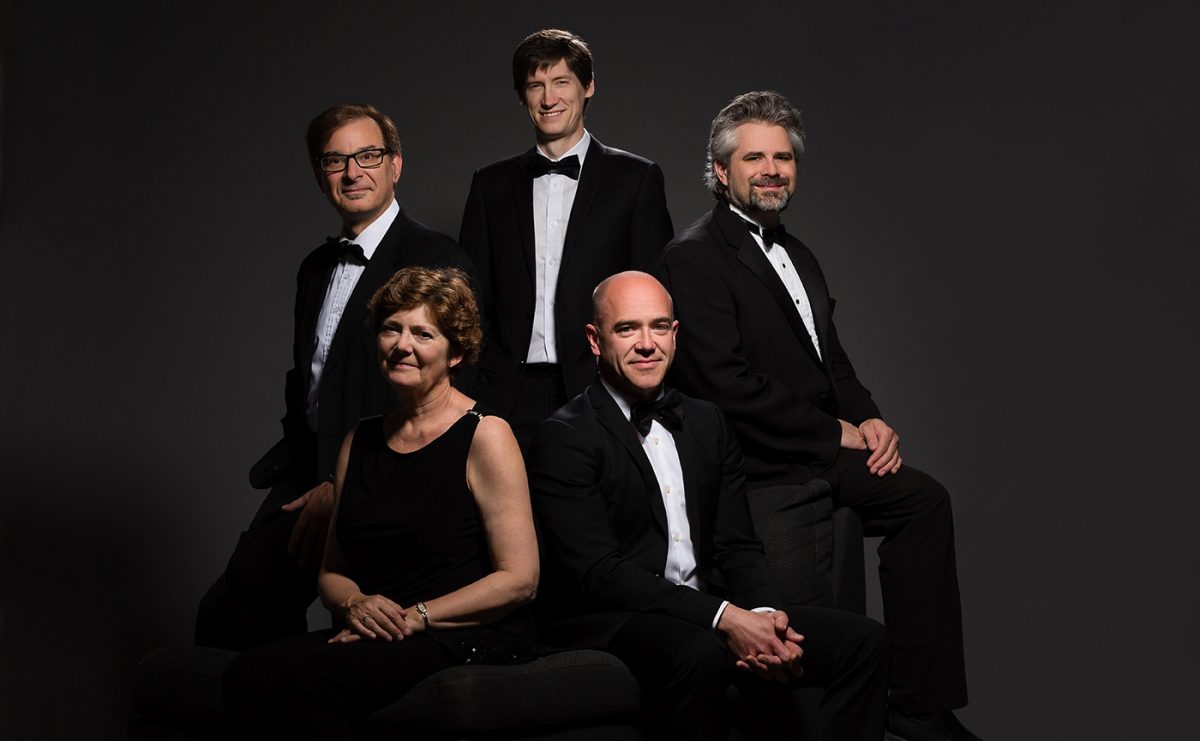 World-class concerts on campus
The Clearwater Quartet, a "national treasure" and the Desautels Faculty of Music's ensemble-in-residence, performs at the University of Manitoba March 1 and 2
February 26, 2020 —
In celebration of Beethoven's 250th birthday, The Clearwater Quartet – Winnipeg's premiere chamber ensemble and the Desautels Faculty of Music's 2019-2022 ensemble-in-residence – will perform two concerts at the University of Manitoba.
The first is a full-length concert hosted by the Winnipeg Chamber Music Society on March 1, 2020 at 7:30pm, with two pieces being performed: Beethoven's "Razumovsky" String Quartet No. 9 in C Major, Op. 59, No. 3, and Alfred Schnittke's Piano Quintet, featuring guest artist and Desautels Faculty of Music professor David Moroz (piano). General admission tickets are $25, or $10 for students, and can be purchased through the Winnipeg Symphony Orchestra box office at 204-949-3999.
The Desautels Faculty of Music will host the second concert, on March 2nd at 12:30pm, which is free to the public, and will feature only the Beethoven quartet. The Clearwater Quartet is giving this second performance as the Desautels Faculty of Music's new ensemble-in-residence, a title they will hold from 2019 through 2022. Tickets are not required for the free concert.
Both concerts will take place at Eva Clare Hall (65 Dafoe Road).
The concert repertoire
The String Quartet No. 9 in C Major, Op. 59, No. 3 arose out of Beethoven's middle period, and consists of four movements, with moments that move the listener between moods that are melancholy, suspenseful, and, ultimately, triumphant.
The Piano Quintet is regarded as one of Schnittke's "darkest and most haunting works" (Gramophone, 2020), and was written in memory of his deceased mother, and has been described as "A single-minded expression of lament and loss" (The Guardian, 2013). The piece, both a requiem and a lullaby, is deeply personal and conveys the wild emotions surrounding the loss of a loved one.
About the Clearwater Quartet
The Clearwater has been hailed as a "national treasure" (Winnipeg Free Press, 2017) and is composed of Gwen Hoebig (violin), Karl Stobbe (violin), Daniel Scholz (viola), and Yuri Hooker (cello).
Hoebig, graduate of the Juilliard School, and concertmaster and principal violinist for the WSO, is celebrated as one of Canada's finest violinists. Stobbe serves as the WSO's associate concertmaster, has played in many of North America's most prestigious concert halls, and is a JUNO-nominated violinist. Scholz is the WSO's principal violist for both the Winnipeg Symphony Orchestra and the Manitoba Chamber Orchestra, and was a prize-winner at the Lionel Tertis Viola Competition, the most prestigious competition of its kind. Hooker, WSO's principal cellist, is the founder of the Rosamunde Summer Music Academy for young string players.
Ensemble-in-Residence
As the faculty's ensemble-in-residence, the Clearwater Quartet will give two free, public midday concerts on campus each year. Additionally, they will provide masterclasses for Desautels strings students, and conduct open rehearsals on campus.
"We are extremely grateful that the members of the Clearwater Quartet have agreed to be our Ensemble-in-Residence at the Desautels Faculty of Music," says Edward Jurkowski, Dean of the Desautels Faculty of Music.
"This outstanding ensemble has been a mainstay of chamber music life in Winnipeg for decades and their role on campus as performers and pedagogues presents a unique and fantastic opportunity for our students," he adds.
All of the members have very full and varied concert, touring, and teaching schedules, so the Desautels Faculty of Music is thrilled that they have worked to adjust their schedules in order to help train, teach, and inspire Desautels students.
To observe, experience, and work with guest musicians who can effortlessly shift between the very different demands of solo and ensemble performance is a valuable experience for Desautels students, and the Desautels Faculty of Music is honoured to have such a prestigious and in-demand quartet working with us to train a new generation of great musicians. Come out on March 1st and 2nd to hear why!
To learn more about the Clearwater Quartet and the Winnipeg Chamber Music Society, please visit: http://wcms.mb.ca/
To secure tickets for the March 1st concert, please call the WSO Box Office at: 204-949-3999.
For parking information, please visit UM Parking Services