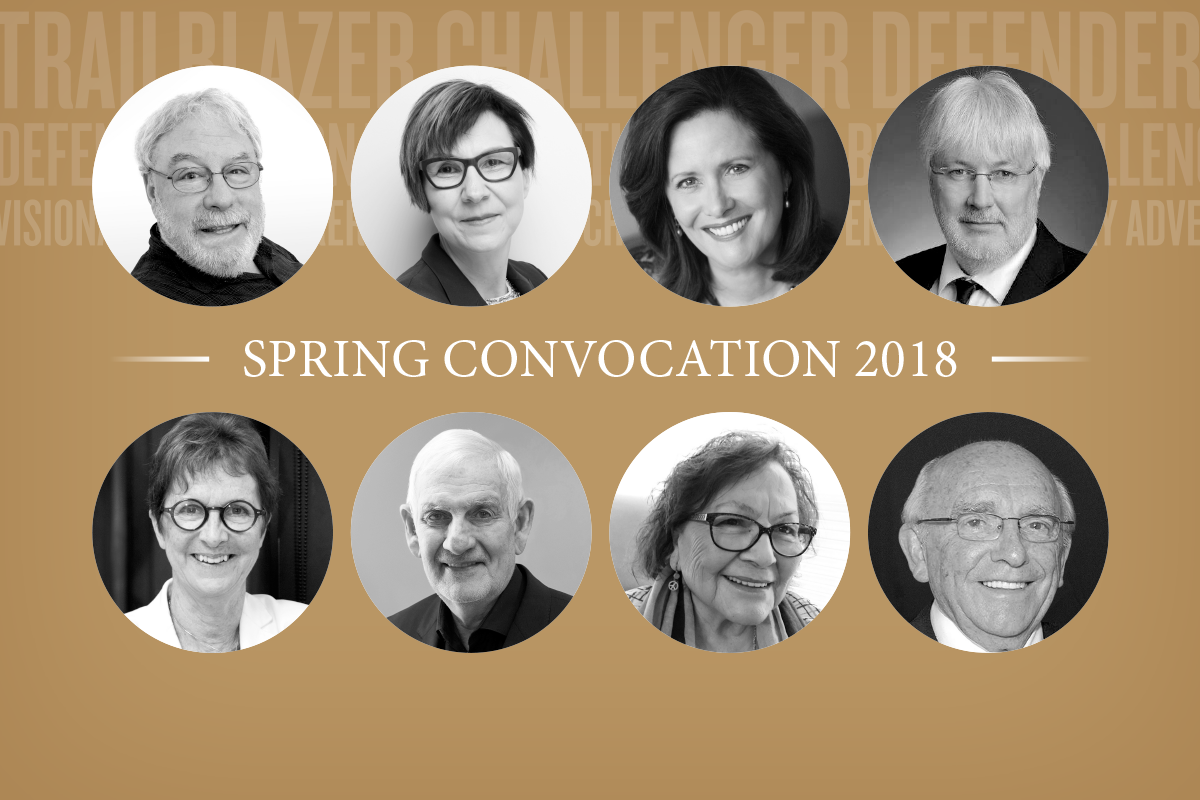 Words of wisdom
Honorary Degree Recipients Address Graduands
June 12, 2018 —
During the University of Manitoba's 2018 Spring Convocation, eight honorary degree recipients were honoured for having demonstrated distinguished achievement in scholarship, the arts, or public service. The honorees offered insights and words of encouragement, sharing their stories with more than 2,800 graduands. Learn more about this year's HD recipients and watch their addresses below.
Martin Joel Yaffe – Pioneer in the development of digital mammography
"If you are a physician who thinks scientifically and understands the science underlying your art and your practice, you will be a better doctor; a more empowered doctor."
---
Cindy Blackstock – Crusader for the rights of Indigenous children
"When life calls you in a direction that you never expected, to stand in the winds of discrimination and injustice . . . you must rise to that occasion."
---
The Honourable Janis Guðrún Johnson – Former Senator who shaped public policy in Canada
"It's our collective duty and responsibility to engage in shaping the future of this great land. Forsaking involvement would be tantamount to forsaking our liberal democracy."
---
Glen Alan Jones – Leading authority on university governance
"The reality, is if you find that thing—that desire, that problem to solve, that spark—it will drive you forward and provide you with countless rewards."
---
Janet Rossant – Stem cell researcher who advanced regenerative medicine
"Use [your critical thinking] to evaluate the tsunami of information that's coming at you. Use your training to help other people understand the evidence behind the headlines."
---
Richard G. Henriquez – Renowned architect who shaped Vancouver's skyline
"Take the time to nurture your body and your spirit, and to maintain a support network of people who we all surely need. We all absolutely need people who can mentor us, love us, and who are committed to our survival as human beings."
---
Elder Mary Elizabeth Courchene – Trailblazer in public education
"Every one of you graduates, today – you have the opportunity to be a bridge builder. And part of being a bridge builder is following your dreams."
---
Arnold Frieman – Community builder and owner of Advance Electronics
"The common theme for all of you is put others and the environment ahead of yourself. Respect the truth, support your community and help people who, for whatever reason, are unable to help themselves."
Spring Convocation concluded on Friday, June 8, 2018. Explore additional coverage on the ceremonies and HD recipients here.