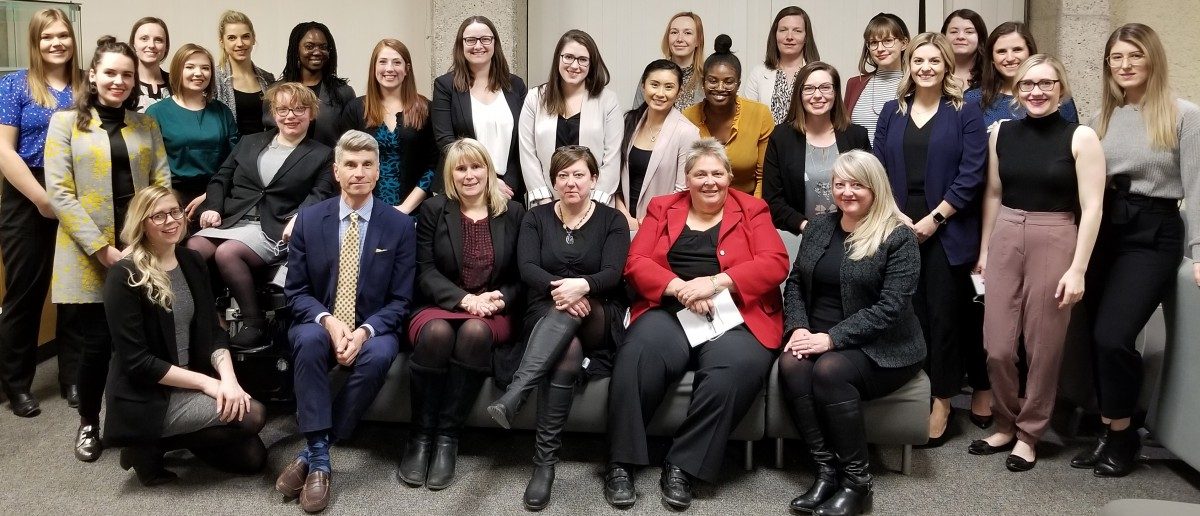 Women Judges Inspire Law Students
An Evening with Women Judges 2019
March 1, 2019 —
On February 27, 2019, Robson Hall welcomed four Manitoba judges for "An Evening with Women Judges." The panel consisted of Justice Janice leMaistre of the Manitoba Court of Appeal, Justice Brenda Keyser of the Manitoba Court of Queen's Bench (General Division), Justice Annette Horst of the Manitoba Court of Queen's Bench (Family Division), and Judge Tracy Lord of the Manitoba Provincial Court.
Twenty-four female law students in their second and third years were invited to dine and speak with the distinguished panel. The relaxed setting allowed for students to ask a wide variety of questions and provided the opportunity for students to engage meaningfully with the judges. Each judge graciously spoke with candour about her experiences as a law student, lawyer, and judge.
"An Evening with Women Judges" is an annual event put on by The Canadian Chapter of the International Association of Women Judges (CCIAWJ). CCIAWJ's mission is to enhance the work of women judges nationally and internationally in pursuit of equality, judicial independence, and the rule of law. Since 2015, the CCIAWJ has selected ten Canadian law schools per year in which to host the event. Robson Hall has been fortunate to have been selected in 2015, 2017, and 2019.
On behalf of the twenty-four students who were able to participate in this unique event, I would like to thank the CCIAWJ and Robson Hall for organizing "An Evening with Women Judges." I would also like to extend my sincere gratitude to the panel of judges for taking the time to share your thoughts with twenty-four women eager to begin our legal careers.