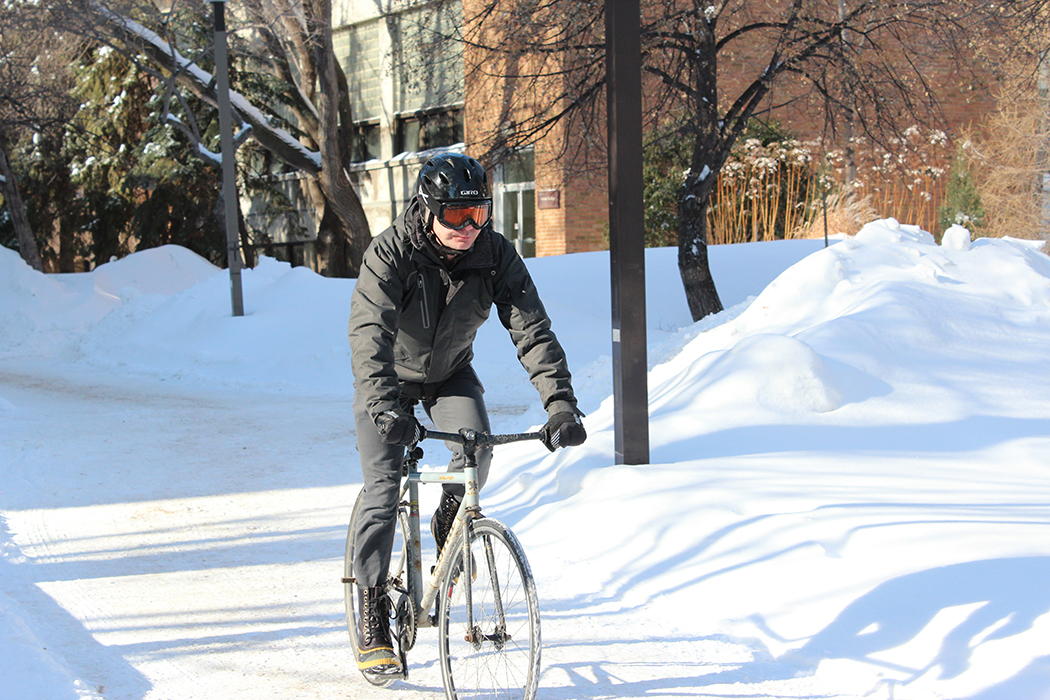 Winter Bike to Work Day and the Jack Frost Challenge kick off this February
Enjoy the cold at these great winter activities!
February 9, 2017 —
Looking for fun winter activities? We've got you covered! The Office of Sustainability will be co-hosting several events to celebrate getting outside in winter and active transportation this February.
Winter Bike to Work Day
Both Fort Garry and Bannatyne Campus will be hosting pit stops with prizes and hot drinks for Winter Bike to Work Day (WBTWD) on Feb. 10. This international event seeks to promote winter cycling and the joys of biking in the winter.
If you want to participate, head to winterbiketoworkday.org to register. Last year over 10,000 people participated worldwide!
Pit stops will be located at the Brodie Atrium on Bannatyne Campus and at the corner of Sydney Smith and Curry Place on Fort Garry Campus between 7:30 and 9:30 a.m.
Jack Frost Challenge
From Feb. 12 – 18, the Office of Sustainability, UMSU and the Faculty of Kinesiology and Recreation Management will be co-hosting several events for the Jack Frost Challenge. Presented by the Green Action Centre, the Manitoba-wide Jack Frost Challenge encourages teams of one to five to log 130 km of outdoor winter activities over the course of the week.
This includes skating, walking, skiing, snowshoeing, biking, running and any other creative activity that involves being outside and moving your body. Register your team at greenactioncentre.ca.
University of Manitoba participants are encouraged to pre-fix team names with UM (for example, "UM-team name") for a chance to be entered to win University of Manitoba specific prizes.
This year, Degrees, Daily Bread Café, U of M Dining Services and Manitoba Infrastructure have sponsored the events. Prizes include a team lunch at Degrees, UMSU swag and much more!
Five winter activities are scheduled to help teams reach their goals:
Monday: Winter Walk @ Fort Garry Campus, noon – 1 p.m. – Meet in front of the Fitzgerald Building
Tuesday: Snowshoeing @ Southwood Lands, 11:30 – 12:30 p.m. – Meet at St. John's College North Entrance
Wednesday: Winter Walk @ Bannatyne Campus, 12:30 – 1 p.m. – Meet in Brodie Atrium
Thursday: Shinny on the Quad @ Fort Garry Campus, 11:30 a.m. – 1 p.m. – Meet on the Quad
Friday: Try Winter Cycling @ Fort Garry Campus, noon – 1 p.m. – Stop by the front of the Fitzgerald Building
Equipment will be provided for participants. If you require accommodation to participate, please contact the Office of Sustainability before Feb. 6.