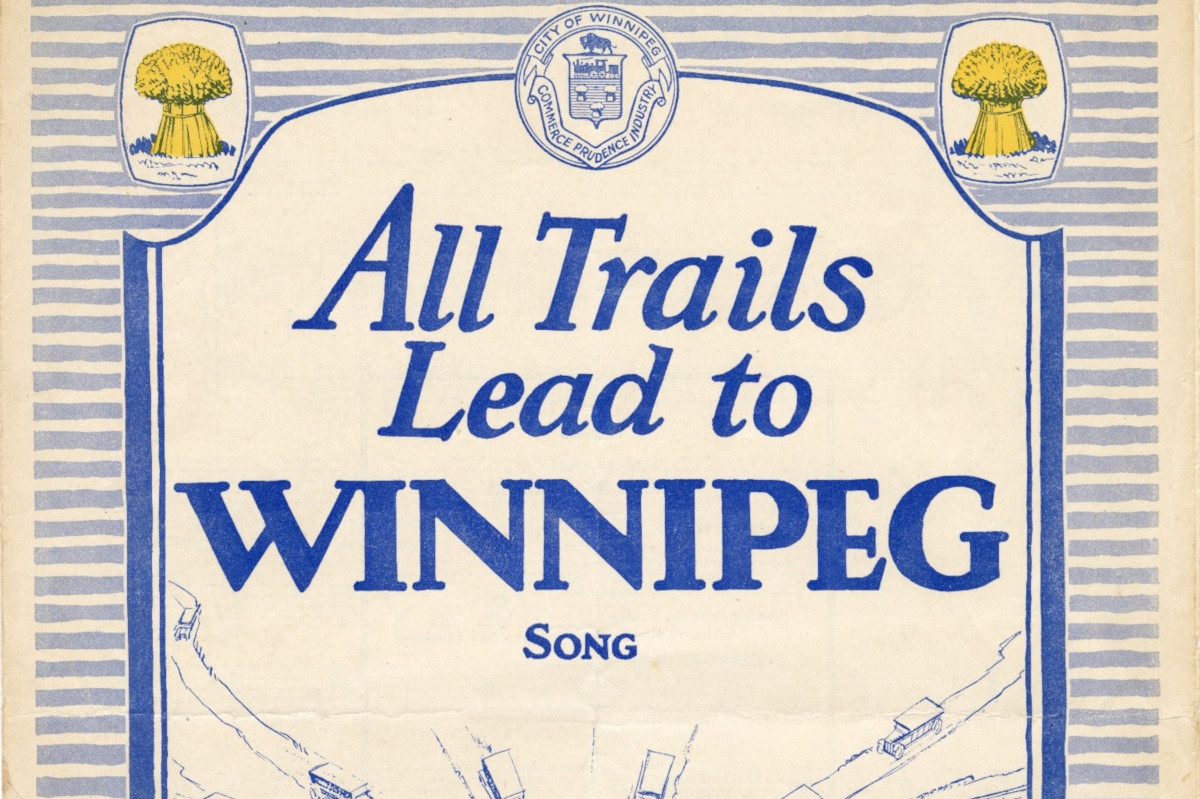 Winnipeg's forgotten song
All trails lead to Winnipeg where east and west begin
November 3, 2023 —
All trails lead to Win-ni-peg /
Where the prair-ie road-ways join /
All rails lead to Win-ni-peg /
By the Red and A-ssin-i-boine
On the eve of Winnipeg's 150th anniversary, it may come as a surprise to learn that the city has had an official song for close to 100 years.
In 1925, "All Trails Lead to Winnipeg" was selected by Mayor Ralph Webb as Winnipeg's official melody. The song, composed in ragtime-style by Jonathan Hughes Arnett, won the mayor's prize of $50 for the best song and music about the city.
The song was widely promoted and copies of the sheet music could be bought for 35 cents. In the words of Mayor Webb, "It is a wonderful song, and, with the musical accompaniment, is likely to become very popular. In fact, I am most hopeful that the citizens will take it up and make it a real Winnipeg song. It is my intention to have it sung at all theatres and at all gatherings of men and women, and I will try also to have the schools take it up."
"All Trails Lead to Winnipeg" was performed publicly for the first time by the Rotary Club Minstrels at the Walker Theatre on March 25, 1925. In subsequent decades, the song was performed at milestone civic anniversaries, including Winnipeg's 75th anniversary in 1949 and its centennial in 1974. (Although Winnipeg's incorporation was on November 8, 1873, the anniversary is usually dated from the first civic election and first city council meeting in January 1874.)
Jonathan Hughes Arnett was a schoolteacher who had taught in various communities in Manitoba, including Gilbert Plains, Treherne and Wawanesa (about which he wrote a song). He was a well-known local musician who often led the singing at church services and camp jamborees. In addition to songs about Winnipeg and Wawanesa, Arnett penned compositions about Manitoba, Saskatchewan, and Canada, as well as spiritual songs. He died in 1953 at the age of 74. Among Arnett's descendants are his grandson, UM alumnus E. James Arnett [BA/59; LLB/63], who was the president and CEO of Molson Breweries, and James' eldest son, actor Will Arnett.
The University of Manitoba Archives & Special Collections acquired a copy of the sheet music for this song in 2019. The cover of the six-page folio shows a photo of Winnipeg's skyline and an illustration of cars, trucks and trains all converging on a golden gateway. At the top are two sheaves of wheat flanking the original City of Winnipeg crest. On the verso side of the cover page is a list of songs composed by Arnett. The musical score has a Canadian and American copyright of 1925. On the back cover of the folio is the song, "Wawanesa, You Are Calling Me".
Recordings of "All Trails Lead to Winnipeg" seem to be few and far between, but a piano rendition of the song was performed by local musician Grant Simpson in 2020. According to Simpson, he came across the song while he was living in the Yukon and kept the sheet music on his dashboard as he drove a U-Haul to Manitoba five years ago. After settling in Winnipeg, he decided to try his hand at performing it during the pandemic.
The sheet music is part of the ephemera collection in the Archives & Special Collections Rare Book Room in the Elizabeth Dafoe Library. Please view the library catalogue for more information, or contact Archives & Special Collections.
Wayne Chan [BSc/93, BA/00] is a research computer analyst for the Centre for Earth Observation Science. He is an avid researcher who loves history and contributes stories discovered from his research.