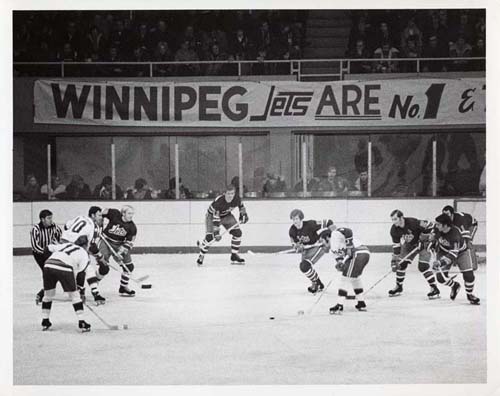 Winnipeg whiteout 2.0: White for the fans, and green for the Jets
U of M economists praise the business savvy Jets
April 15, 2015 —
The following post is from Hockey Night in Headingley, a blog maintained by Ryan and Janice Compton, two hockey parents and professors from the U of M's department of economics. (As they admit in their first blog post: Janice is a Boston Bruins fan, while Ryan is a St. Louis Blues fan.)
The following is their most recent post from April 14, 2015.
Winnipeg whiteout 2.0: White for the fans, and green for the Jets
Exciting times here in Winnipeg with the NHL Winnipeg Jets beginning their first round playoff match-up with the Anaheim Ducks Thursday night. This is the first time in the playoffs for the Jets since coming north from Atlanta, and marks the return of a Winnipeg tradition, the Whiteout (where all fans at the arena wear white), last seen in 1996 with the original Jets franchise.
The original Whiteout tradition occurred in an era where the home team wore white jerseys (home teams now wear dark jerseys while away teams wear white), with the Jets now wearing blue at home and white on the road.
The Jets reintroduced the Whiteout with #WPGWHITEOUT tweets immediately after clinching a playoff berth on April 9th, and have subsequently marketed the Jets around the white theme. Fans wanted the return of the Whiteout, and the Winnipeg Jets gave fans what they wanted. But is this nostalgia, or just good business sense?
When the Jets returned a few years ago everyone went out and loaded up on Jets merchandise. But anyone that has walked the streets of Winnipeg or gone to a home game can attest that the overwhelming majority of this merchandise is blue.  It's not hard to imagine that sales may have reached a saturation point – every one in Winnipeg has a blue Jets jersey, and blue cap, and dark t-shirts and so in a sense are "geared up" as far as Jets swag is concerned. So what better opportunity to re-tap this group of consumers and re-introduce the Whiteout for the playoffs. Now everyone will need to go out and buy a white jersey (or t-shirt at the very least) to support the whiteout. Cue the run on white Jets merchandise!
We should be glad the Jets appear to be so business savvy (profitability is important for continued NHL hockey in Winnipeg)! Well done Winnipeg Jets! Here's hoping their hockey plays on the ice are as successful as their marketing plays are off the ice!

Loading ...
Further Reading
How the University of Manitoba helps the Jets stay healthy
Paul Maurice speaks at the Asper School and tells you to wear the damn tie
How to yell "Go Jets Go!" without damaging your voice
David Thomson to receive the Asper School of Business' International Distinguished Entrepreneur Award