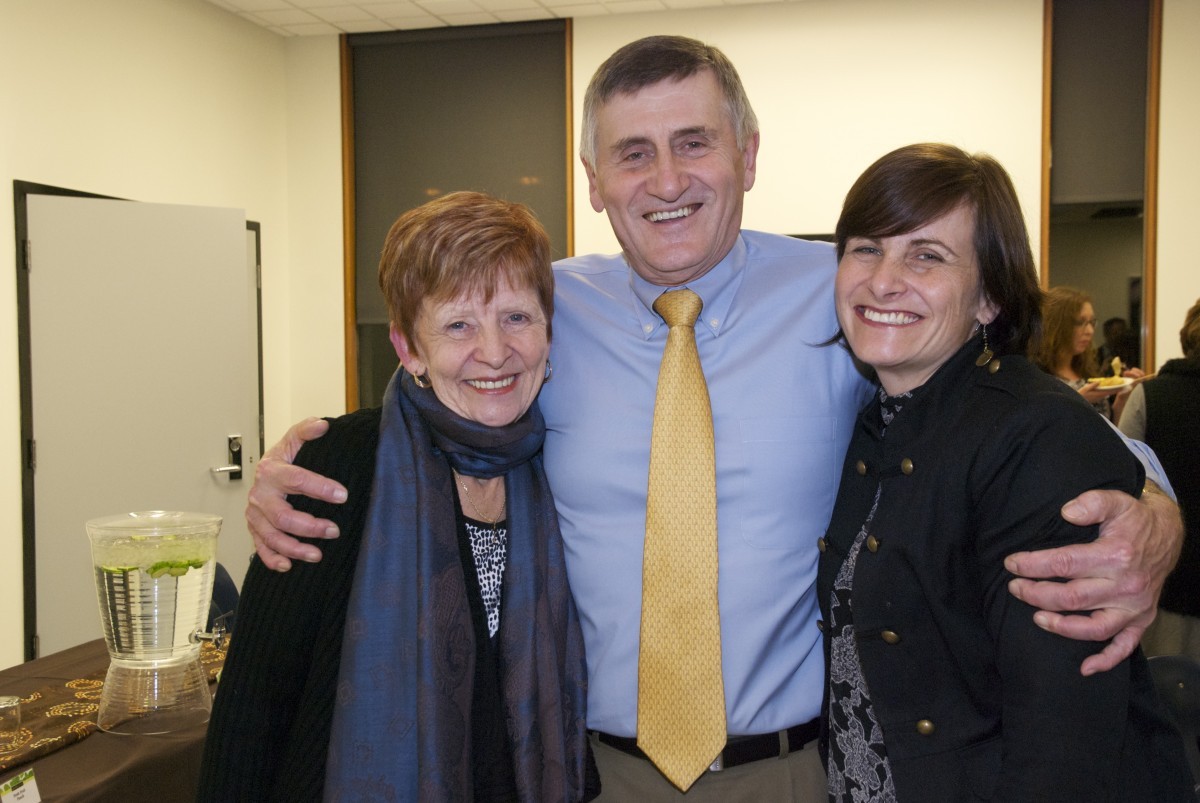 Wiens's storied career celebrated during farewell evening
Dean emeritus, former dean of education received many heartfelt tributes
December 14, 2015 —
John Wiens was a well-loved member of the Faculty of Education—a sentiment that was echoed many times during his retirement evening on Dec. 3.
"Everybody benefitted from the collegial workplace that he helped create," said Charlotte Enns, associate dean of graduate programs, in a tribute speech to Wiens, a dean emeritus of the faculty who officially retired in December. Wiens was feted on Dec. 3 after he gave the annual Joan Irvine Lecture. The Faculty hosts the annual lecture on an educational topic, which is named after Irvine, a former long-time professor and dean.
"He was actively welcoming and believed everyone should belong," Enns added.
The dean emeritus and former dean (he served in that role for a decade) has held many other high-profile posts in Manitoba education, including president of the Manitoba Teachers' Society and head of the Manitoba Association of School Superintendents (MASS).
"I don't know if there's been another individual who has been president of the Teachers' Society, [held] leadership of the Superintendents' Association and has [been] a leader at the university, all in one career," Ken Klassen, executive director of MASS, said in his tribute to Wiens.
Klassen said he was touched to be asked to represent the Manitoba education community in his speech to Wiens. Klassen was profoundly influenced by Wiens—his former teacher. Klassen said he now considers Wiens a friend and confidante.
During their coffee meetings, which continue to this day, "I always feel supported and I also always feel challenged. You left a huge legacy in almost every area of education in this province but I would say your greatest legacy has been your teaching," Klassen said.
"You taught me to be very careful about my thinking, my language, my actions," Klassen added.
Wiens is regarded as one of the province's foremost experts on educational leadership and school governance and is often called upon by senior levels of government. He is a member of Manitoba's Advisory Council of Education, Poverty and Citizenship and over the years has offered his leadership to several organizations, from the Manitoba Teacher's Society to the Canadian Teachers' Federation.
In 1998, he received the John M. Brown Award for his contributions to teacher education and, four years later, the Queen's Golden Jubilee Commemorative Medal for service in education.
Along with his formal duties, much was said about Wiens's fondness for all of his staff and his proclivity toward hugs.
"It became commonplace during his tenure as dean to receive a hug during busy times, during challenging times and a hug just for plain happy times," said Terry Cooke, a former Faculty of Education support staff member who worked with Wiens, to much laughter.
Cooke spoke about her first memories of Wiens, when he came to be interviewed for the position of dean in 2000.
"You had an easygoing manner, and stressed the importance of family and children the importance of balancing a good and meaningful work life with a good and meaningful family life. Your family was very important.
"When John became dean he stayed true to those first impressions. He worked to create a sense of community with his co-workers. He would go around to each of our offices in the morning to see how we were and ask about our families."
Wiens thanked those who had gathered to celebrate his career by talking about his admiration for the people in the faculty and paraphrasing Aristotle: "A life without friends is not worth living. And you people are my friends."
Jon Young, who is currently acting head of the Educational Administration, Foundations & Psychology department, said Wiens's legacy will be his "unrelenting commitment to our dialogue on education."
While his academic and professional expertise is in educational administration, Wiens's passion is in educational philosophy, said Young. "I'm confident John would say the two are, or should be, inseparable."
He noted that Wiens was, and continues to be, an advocate for education, democracy and social justice—whether it's in the classroom, writing a review of the Winnipeg school board, lecturing the Minister of Education or writing editorials in the Free Press.
Many of the speakers said that while Wiens was officially retired from the U of M, they were doubtful he would fully retire from his passion in the world of education.
"I'm not sure what John has in mind next, but I somehow doubt it will be a quiet exit from public life," said Young.