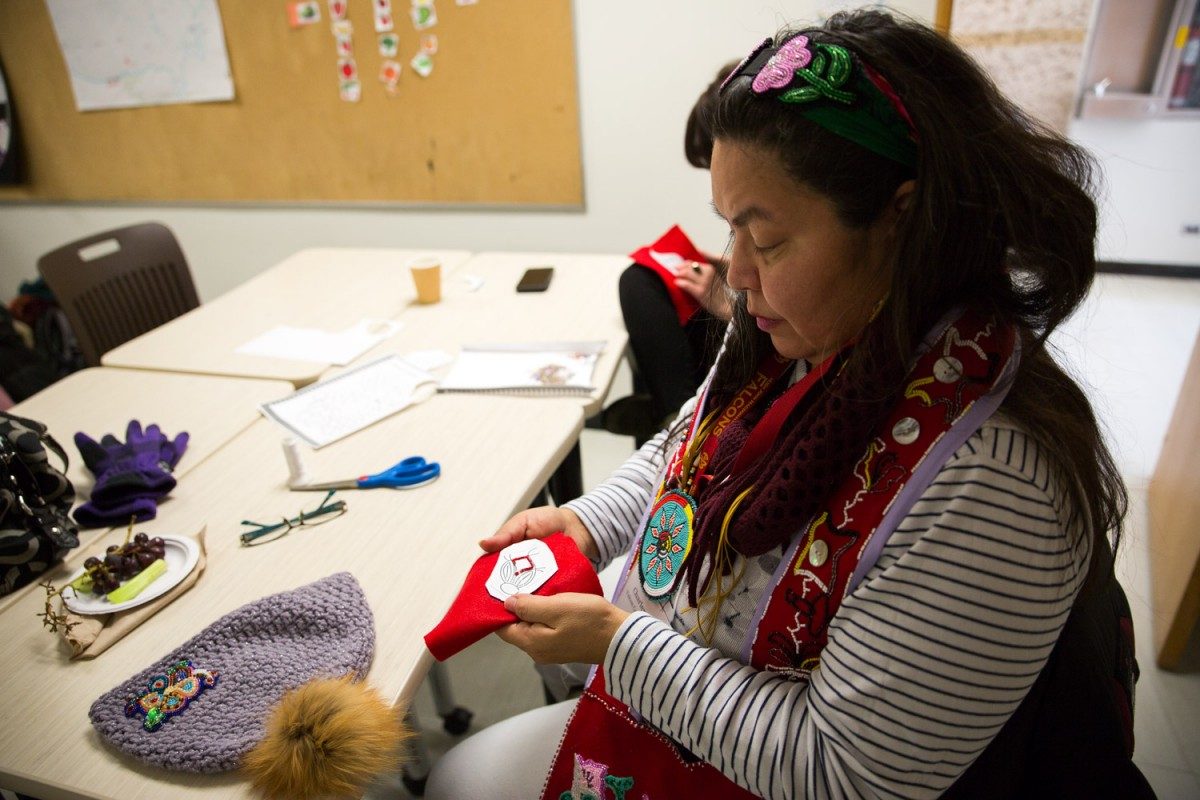 WestCAST showcases Indigenous culture
February 24, 2018 —
Dressed head-to-toe in clothing adorned with ornate accents, Charlene Baker smiled as she chatted with classroom instructors and peers, excited to be participating in a workshop on her life's passion.
"I always wear my beadwork on my clothing. It's something that represents me as First Nation," Baker says, adding she learned beading from her mother 45 years ago, and is now passing it on to her two daughters, granddaughters and nieces. She also teaches beading at her school as president of a bead club, and continues to learn more crafts from elders.
A student teacher from Yukon College in her third year, Baker was participating in one of 47 sessions offered for educators attending from across Western Canada as the faculty hosted WestCAST 2018, a three-day conference—the last of which showcased Indigenous culture. Baker could relate to the importance of including Indigenous content in the workshops.
"If you include beading in your school, it's going to bring together the community," Baker says, adding that the craft is done groups.
"A beading circle brings ladies together to support each other," she said, adding that during sessions at her school, participants help each other by making graduation dresses.
In addition to workshops, the conference also featured performers such as Renee Lamoureux, and Juno-award winner William Prince. Keynote speakers included Paige Fisher, a Vancouver Island University professor, referring to herself as a scholar-practitioner and Winnipeg School Division superintendent, Pauline Clarke.
On the last day of the conference, Niigaan Sinclair, a U of M associate professor of native studies, spoke about Indigenous cultural traditions and how they relate to building relationships out of a sense of trust and responsibility. One example being the convention of offering tobacco.
"That is the story of Manitoba. Period. That is the story of the Prairies. Period. That is the story of Canada. Period. We offer gifts, and when reciprocated appropriately, those gifts make a community," Sinclair said, referring to the story of Chief Peguis, who negotiated with Lord Selkirk for settlers to live along the Red River in exchange for an annual offering of 100 pounds of tobacco.
"He offered tobacco once, and never came back … Treaties are not about ownership, they are about relationship. What do you do when a relative doesn't return a gift? … That's the treaties," he said, sketching Canada's history with First Nations as one where government consultation is "purely ornamental", protesters caring feathers and drums meeting with armed police, and Indigenous Peoples commonly characterized as a problem.
"What you see are not the problem, they are the symptoms. The problem is that we continue to treat Indigenous People as a problem that we need to solve, instead of saying that they are the people who the solution that we need to partner with," Sinclair said, referring to the teaching of the Two-Row Wampum. "We shall share the water together, but our two boats shall never meet."
The takeaway for teachers is that no matter where they travel or what capacity they are serving, they are treaty people, whose role is to work in partnership with Indigenous Peoples.
"You have your path, and I have my path, and we are partners in this thing," Sinclair said.