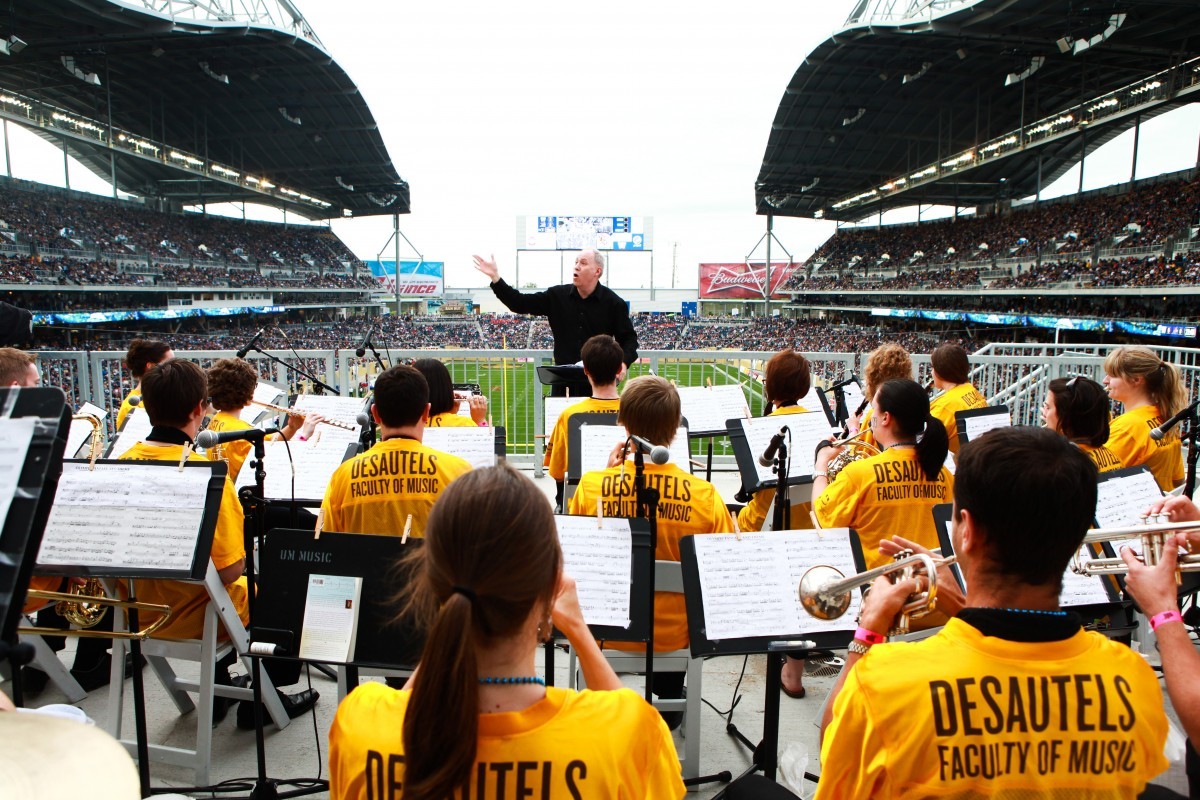 We're with the band! U of M music students help celebrate new stadium
July 12, 2013 —
Mariianne Mays Wiebe
A 32-piece U of M concert band played the Winnipeg Blue Bombers into their new stadium at the home opener on June 27.
The band consisted of Marcel A. Desautels Faculty of Music students, and alumni, plus some high school band directors. They played a piece that John Williams composed for the 1984 Los Angeles Olympics opening ceremony at the north end of the stadium on the patio level.
Fraser Linklater, who conducted the band, said that everyone was "very pleased" to have been asked, and that the performance at the event had a "community celebration feel" to it. The group had the bonus of a "great view" of the entire game and opening ceremony, he added.
The whole thing came about, interestingly enough, because of the Bombers' Jerry Maslowsky's connection to music. Maslowsky, who works as vice-president of marketing and brand development for the Bombers organization, used to be a singer and knew Linklater from their participation with the Chai Folk Ensemble. Linklater said that Maslowsky thought it would be "a great thing for the city and the province to have involvement from the music program at the U of M." The idea was for everyone to celebrate together, said Linklater.
A 10-piece pep band comprised of U of M music students also played outside the stadium in front of Gates 2 and 3—and will continue to be part of the football season. The plan is for the band to be made up of brass & percussion majors at the Faculty of Music and will also involve alumni when students are unable to play, said Richard Gillis, an associate professor in the faculty and the pep band's leader.
"Opening night was certainly exciting & everyone was pumped," he said. "I borrowed some old marching band arrangements from Fort Richmond Collegiate and also wrote some simple arrangements for the group to improvise on. We will add more material as we go along."
"We were very pleased to be part of the Bombers' first season in Winnipeg's new stadium and feel honoured to have been asked to collaborate," Joan Linklater, associate dean of the Marcel A. Desautels Faculty of Music says. "We hope our musical contributions, both the opening game Concert Band and the Pep Band, will enhance the experience for everyone, and we look forward to being part of this mutually beneficial relationship between the University of Manitoba and the Winnipeg Blue Bombers.
"Go Bombers Go!"
 This article originally appeared in the July 12, 1013 edition of The Bulletin.
Performance schedule for 10-piece pep band
Thurs, June 27: 6:30 PM start time (8:00 game time)
Fri, July 19: 6:00 PM start time (7:00 game time)
Fri, July 26: 6:00 PM start time (7:00 game time)
Fri, Aug. 16: 6:00 PM start time (7:00 game time)
Sun, Sept. 8: 1:30 start time (3:00 PM game time)
Fri, Sept. 20: 6:00 PM start time (7:00 game time)
Fri, Sept. 27: 6:00 PM start time (7:00 game time)
Sat, Oct. 19: 1:30 start time (2:30 PM game time)
 Sat, Nov. 2: 12:00 start time (1:00 PM game time)