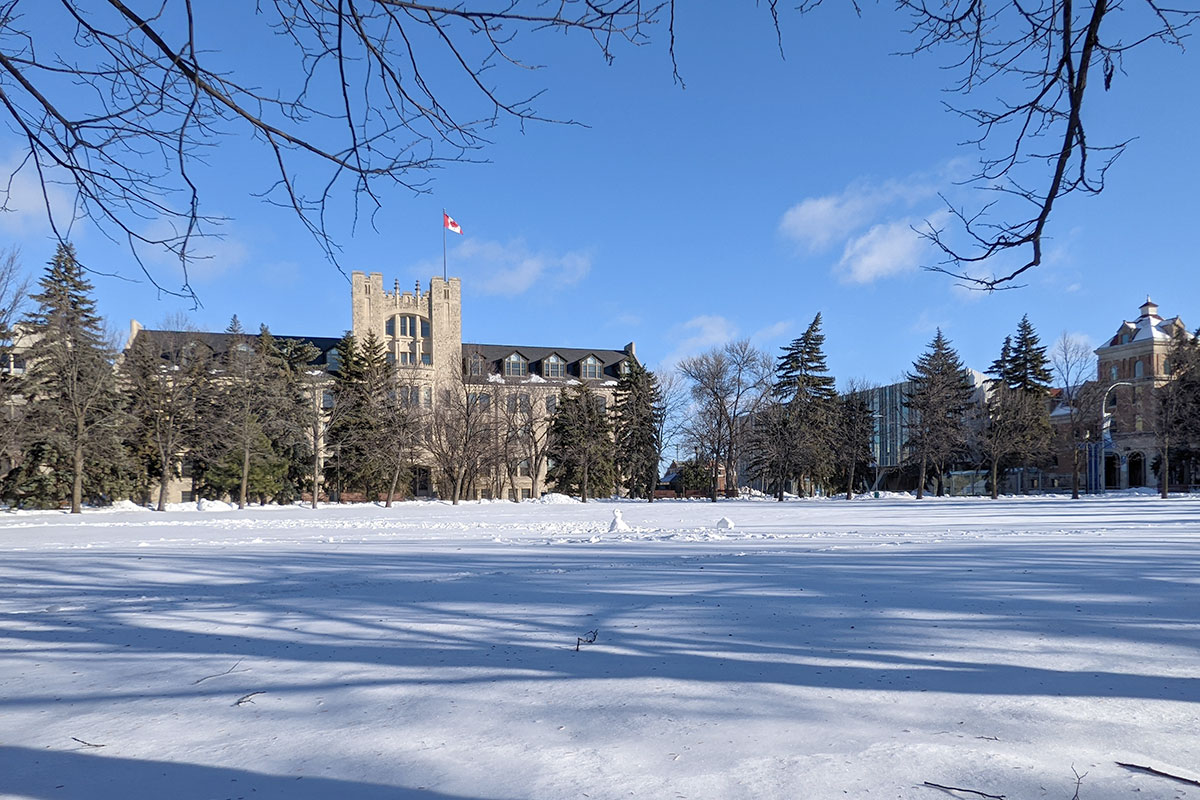 Welcoming René Ouellette as Associate Vice-President (Human Resources) 
Sees importance of connecting and collaborating, building on inclusion and diverse employment initiatives, attracting a large talent pool
January 11, 2023 —
Building good relationships is key for a large organization, says René Ouellette. It's something that he's looking forward to in his new role as Associate Vice-President for Human Resources at the University of Manitoba. He began his tenure Jan. 9, 2023.
Naomi Andrew, Vice-President (Administration), says that she's pleased to see Ouellette in the position. "His background and experience, along with his enthusiasm for collaboration and Indigenous, diversity and inclusion initiatives, make him a very good fit. I look forward to working with René, and I know I can count on the support of the UM community as he assumes this role."
As a UM alumnus and an Inuit and a Métis person, Ouellette is happy to be back as part of the university community. He sees his new role as an opportunity to give back to his communities, and says he greatly enjoys the variety and challenges that come with working in large, complex organizations. He was drawn to UM due to the National Centre for Truth and Reconciliation (NCTR) located here, and because he sees the university as a diverse employer — something he'd like to build on to ensure that the workforce is a reflection of the population of Manitoba.
Ouellette brings over 20 years of experience in Human Resources management. He's held leadership positions with the Province of Manitoba and at the Manitoba Human Rights Commission with responsibility for a wide range of complex and sensitive labor, recruitment, compensation and human rights issues. His education includes a Bachelor of Arts degree and a Bachelor of Commerce (honours) degree, with a double major in Human Resource Management and Small Business Management.
Most recently, and since 2015, he held the position of Vice-President Human Resources & Staff Development with Southern Health-Santé Sud, where he was responsible for the development and implementation of the human resources strategic plan, as well as leading the functions of recruitment and retention, labor relations, compensation and benefits, workplace health and safety, and staff/management training and development.
Ouellette: Human Resources is about connecting, working through challenges together
He says that working through the pandemic in his position at Southern Health provided a lot of insight on how to strategize so that everyone can work through challenges together.
"Coming out of the pandemic, it was a challenge for everyone," he notes. "And Human Resources is about building relationships, and reconnecting with everyone [at UM], with faculty and staff, the clients we serve."
Ouellette was also a co-executive sponsor of the provincial initiative Disrupting Racism in Healthcare — another passion. He received the Best Business Award from the Interprovincial Association on Native Employment, Portage la Prairie Chapter, for Indigenous employment programs with Southern Health-Santé Sud.
He's looking forward to building upon UM's Indigenous, diversity and inclusion initiatives as well. He believes his coming tenure at UM will be "an exciting time, and a lot of work, but a lot of fun, too."
We want to "be the top choice for the people coming out of college, university, high school, and for recent immigrants — we want to attract a large talent pool," says Ouellette.
"The university is a very diverse employer, and we want to continue some of the good work that's already started," he says, including "working closely with Indigenous communities and market[ing] the university as an employer of choice."