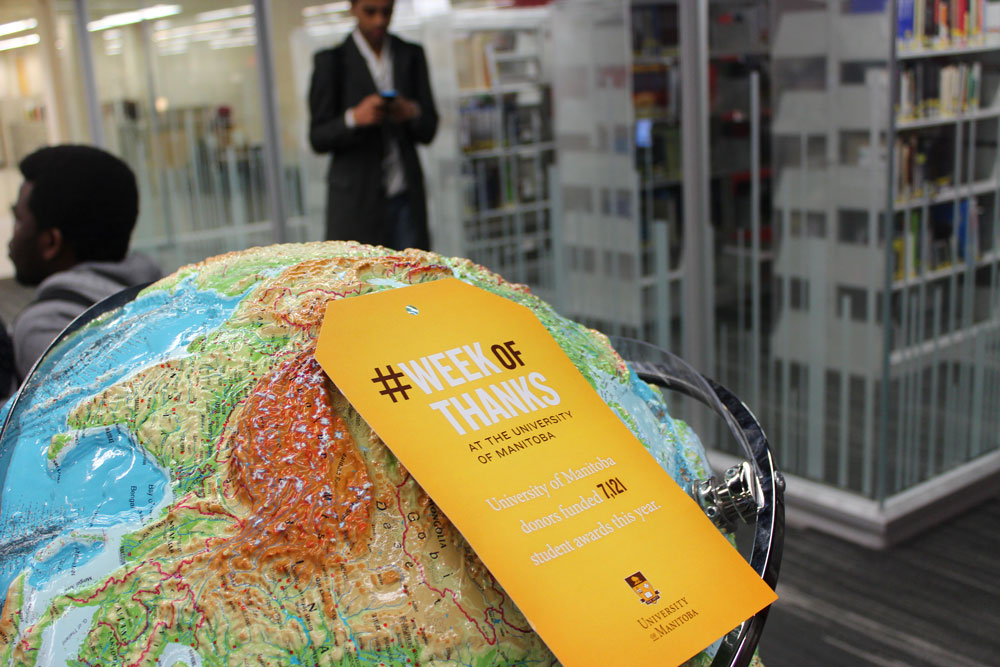 #WeekofThanks celebrates donors
November 10, 2014 —
All this week, the University of Manitoba is recognizing the incredible generosity of our donors – and highlighting the importance of philanthropy in our community – during its first annual #WeekofThanks. This celebration of our donors includes a variety of events at the Fort Garry and Bannatyne campuses, starting today.
"Our remarkable donors – regardless of the size of their gifts – create opportunities for students to excel, fund groundbreaking research, and lay the foundation for capital projects that ensure the university's position as a leading post-secondary institution," said John Kearsey, Vice President, External. "The Week of Thanks is just one way we're expressing our deepest gratitude, and saying 'thank you' for helping to grow the University of Manitoba – now and in the future."
Instagram challenge
While you're out around campus, you'll notice a number of locations have been marked with gold #WeekofThanks tags. These spaces would not have been possible without donor support.
When you see a tag, grab your phone, and post a picture of it on Instagram along with the hashtag #WeekofThanks. Get creative with your photos, because every post will be entered to win fantastic daily prizes. We'll also be gathering all of the entries throughout the week.
Thank-a-donor booths
From Wednesday, Nov. 12 to Friday, Nov. 14, you can share your thanks to donors by stopping by the thank-a-donor booths in University Centre at Fort Garry campus and Brodie Centre at Bannatyne campus. Write your message of thanks on a tag and get your picture taken with it to share with a donor directly or through social media.
Free pancake breakfast
On Friday, Nov. 14, free pancake breakfasts courtesy of Aramark will be held from 9 a.m. to 10 a.m. in University Centre and Brodie Centre to acknowledge the philanthropic contributions from students, faculty and staff. Representatives from across the university – including administration, deans, UMSU and Bison Sports – will be on hand to serve breakfast and share their appreciation with the campus community.
Read more about how donors impact the U of M in this week's In Focus:
Inspired to give: How one prominent donor turned others' generosity into a lifetime of giving
Paying it forward: Check out how students are giving back to their faculties through referenda