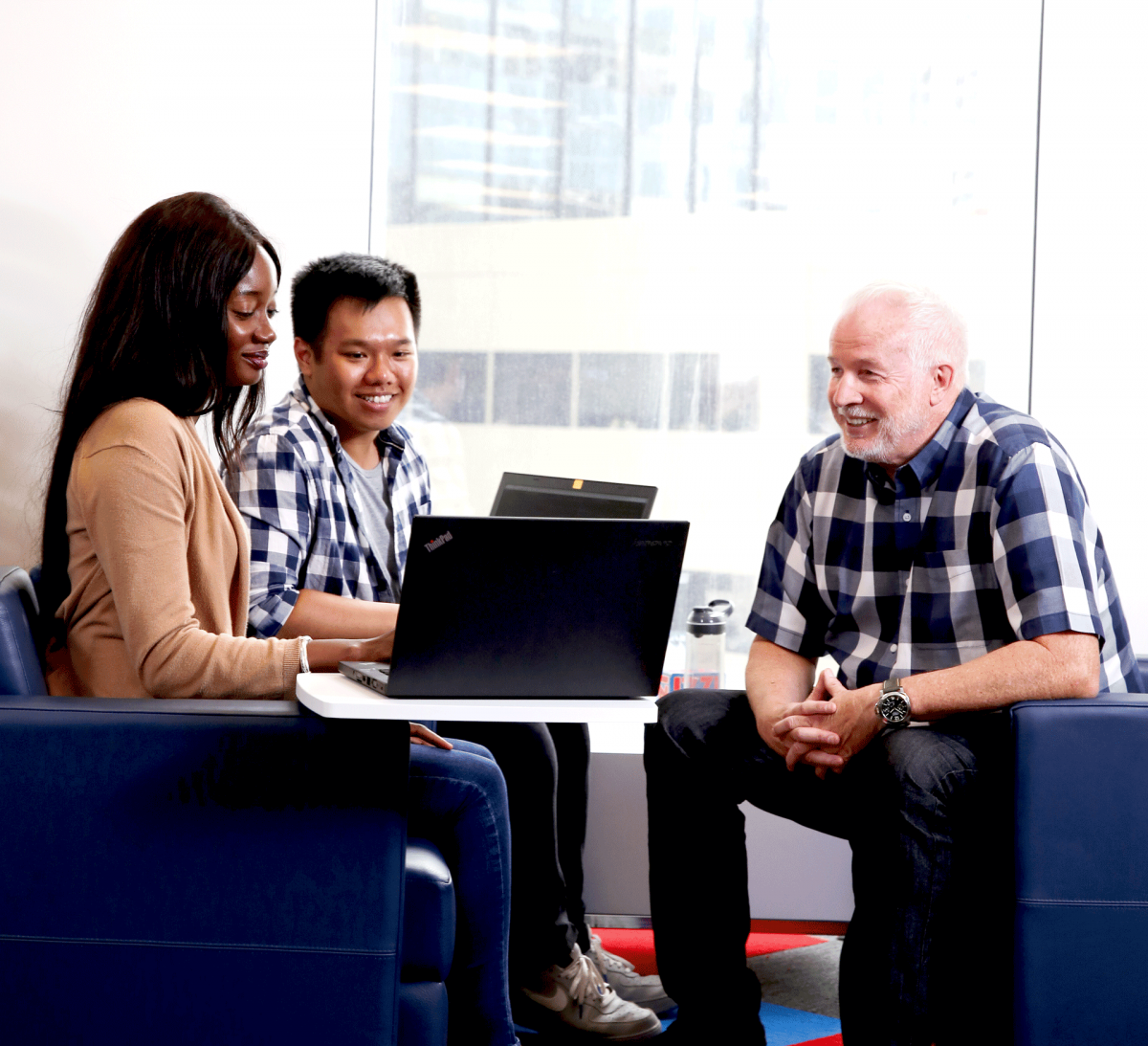 "We get experience; they get new ideas": Science Co-op partners with Wawanesa Insurance to spectacular effect
October 10, 2018 —
What happens when you combine a respected 122-year-old insurance company with university students hungry for work experience? You have Wawanesa Mutual Insurance's visionary version of the University of Manitoba Science Co-op Program. January 2007 marked the beginning of Wawanesa's partnership with the Science Co-op Program.
It's been a mutually beneficial arrangement, to be sure. Just ask the person charged with taking care of co-op students: Al McLeod, Vice-President of Innovation for the storied insurance provider. McLeod has been with Wawanesa for a decade, and he's proud of the way his company has challenged and mentored students, as opposed to just giving them make work projects. He can't say enough about the quality of the students Wawanesa has gotten from the Science Co-op Program.
"The thing about co-op [students] is they just breathe life into the place. They bring a different aspect to everything we do. They're just so thankful to be working in a place that challenges them, let's them experiment, let's them fail, let's them learn. The kind of co-ops we find we get from the U of M, they push through and at the end of it they look back at it and they're very satisfied with the experience because they know they've actually overcome adversity and they've been able to figure things out on their own. I find when they come here [we get] reverse mentoring. We learn a lot from our co-ops. We would love to hire some of these folks. They're just terrific."
Chi Fung (Andy) Lun is a fourth year Computer Science student who is currently on a work term at Wawanesa. Lun feels that his time with the company has given him an edge over others who haven't had the benefit of the co-op experience.
"I have practical industry experience now. I get to work on things that aren't taught in class, and experience technology and tools firsthand. During my second work term, I worked on an iOS application; in the following study term, I took Software Engineering II where I got to apply the iOS application development experience that I'd gained through my co-op work experience.

"[It] has definitely broadened my horizons as to what is happening in the industry. I know what I'm doing now. I've got a clearer understanding of my future. I would never have thought of research and development as a career path. I was always thinking of going into app development or web development."
Lun is certain that other Science students would benefit from participating in the U of M Science Co-op Program. Not only does he feel that he's a step ahead of others when it comes to understanding what he wants to do in the future, he appreciates the support he's gotten from the co-op staff throughout.
"They helped when I was going through my work terms. From not knowing how to write a cover letter, or not knowing how to structure my resume in my first work term, all the way to now, where they've been busy organizing interviews and checking in on us.

"I want employers to know that it's a great opportunity to find new employees. Students in the University of Manitoba Science Co-op Program have a lot to offer. I feel like it's a mutually beneficial relationship: we get experience, they get new ideas."
Lun's fellow co-op student at Wawanesa is Diarra Mbacke. Mbacke is in her third year at the U of M and is currently working on earning her Honours degree in both Mathematics and Computer Science. This is just her first co-op term, but Mbacke has already gained significant work experience doing research on her favourite topics: machine learning and deep learning. She appreciates the trust Wawanesa has placed in her to work through the problems she's given.
"There is no specific instruction that has been given to us. We're just given a problem and we can do anything we want and use all the resources that are available to us in order to solve it. That's the most exciting part about it. Every single day is different, based on what it is you're trying to solve."
Science Co-op students working at Wawanesa aren't just learning; they're mentoring too.
During the month of July Wawanesa participated in a program called "YouthCEO" – Creative Employment Opportunities – that grew out of a 2017 summer internship program organized by the Business Council of Manitoba, in partnership with the Winnipeg Aboriginal Sport Achievement Centre (WASAC) and Centre for Aboriginal Human Resource Development. The summer internship program connects 17- and 18-year old high school students with Manitoba's leading businesses to spark interest in the working world.
As part of the week-long internship at Wawanesa, the company connected a promising Grade 12 student together with successful co-op students to give the high schooler a glimpse of possible careers after graduation, and possibly inspire them to pursue a post-secondary education as well.
Wawanesa offers co-op students a place where they can work independently or consult with staff if they need guidance. This is the Innovation lab, and McLeod stresses that it's not just about technology; it provides space for staff and co-op students to generate innovative new ideas.
"I like to say that our labs run on co-op power. We've really put a lot of effort into hiring people who are very creative and innovative. When we bring in the co-ops, they bring enthusiasm. One of the best things about bringing [them] in, it's a natural age diversity. You get people working in their early 20s, even as young as 19, working with older, more experienced Wawanesa employees. It's interesting, the ideas that come through because of that.

"This last term, we've had a number of projects in artificial intelligence and deep learning. We have a project going on right now that is working on deep learning related to image recognition. We have another project that is related to setting up the development environment to use Amazon web services for machine learning. So, we have a lot of high-tech projects that are going on."
For more information on the University of Manitoba Science Co-op Program, please contact Geoffrey Anderson, Science Co-op Director, phone: 204-474-9588.