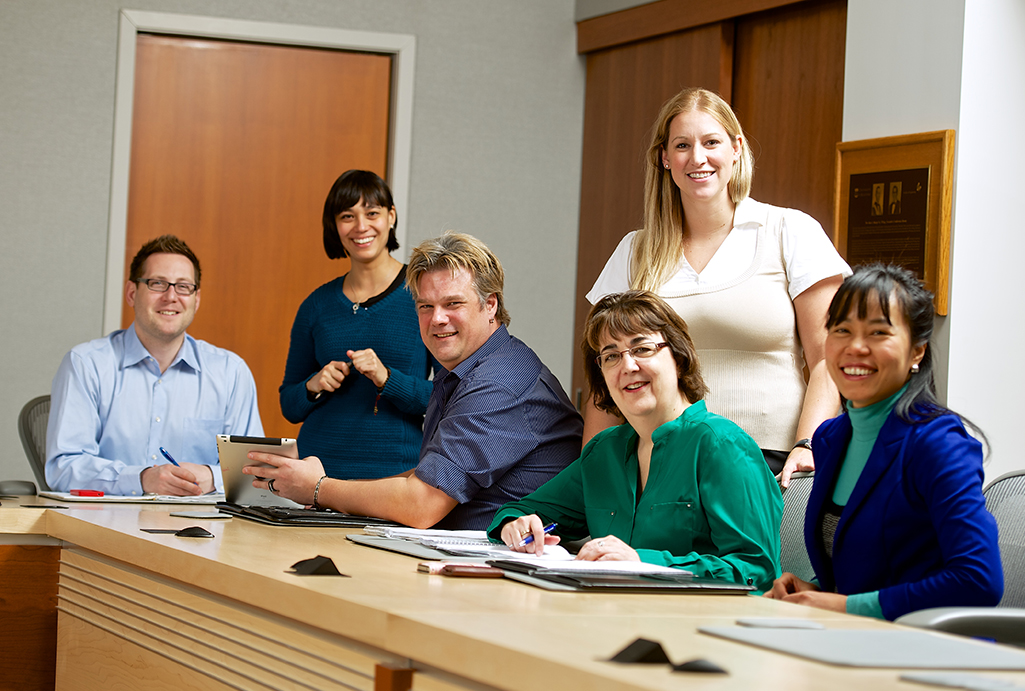 'We bring our whole selves to work'
Inaugural Staff Mental Health Week, June 22 to 26, celebrates taking care of ourselves
June 11, 2015 —
We tend to separate our lives 'outside of work,' and then at work, we turn on the 'work machine,' says Natalie Roach, the U of M's campus mental health facilitator who's responsible for implementation of the university's new mental health strategy, Success Through Wellness.
She'd like that to change — along with the way people see their mental health. It's why she's worked so hard with a committee to organize the U of M's first ever Staff Mental Health Week, from June 22 to 26.
"Having a mental health week for staff is important," says Roach. "The committee wanted to create something that would acknowledge the 'whole selves' that staff bring to work, to acknowledge and appreciate and honour that — and to celebrate it.
Staff Mental Health Week is meant to acknowledge, honour — and celebrate — the 'whole selves' that staff bring to work.
"And to ask, how do we keep mentally healthy at work?"
The week was designed to engage staff "mentally, physically, spiritually and socially," she explains.
The array of events planned is impressive: The committee collaborated with staff and faculty across the campuses, including the Joe Doupe Centre at Bannatyne campus and the Active Living Centre at the Fort Garry campus.
There's morning coffee supplied by Aramark and an event kick-off featuring dean of the Faculty of Health Sciences, Brian Postl; there is an outdoor yoga sessions scheduled, as well as free fitness classes and fitness walks, stretching sessions and mindfulness talks, along with a talk by a life coach, a lecture on menopause and speakers on anxiety and mood disorders; there are also Indigenous drumming sessions, a talk by Indigenous Elder Norman Meade at Migizii Agamik, on traditional medicine wheel teachings — and even a candlework workshop by the Winnipeg's Coal and Canary Candle Company, which famously supplied candles to the stars at this year's Oscars.
The committee's primary goal, she notes, was to highlight events and resources already offered at the university. Rather than a "celebrate mental health 'circus,' with a lot of external events," she says, "the idea was to amp up what we already have."
For example, she says, "we already have speakers who work with Learning and Organizational Development (LOD) who do Lunch and Learn sessions throughout the year — [though] this week they are a bit different. For example, we have someone coming from Anxiety Disorders Association of Manitoba and Mood Disorders Association of Manitoba; we also are having a Lunch and Learn with someone [from Winnipeg] telling a very powerful story of recovery, [accompanied by] a video.
"We have classes for staff at the Active Living Centre throughout the year, [as well as athletic therapy and] massage. And during Staff Mental Health Week, we have a free coffee hour by Aramark happening on Wed. morning at Fort Garry and Monday morning at the Bannatyne campus — we may not have free coffee throughout the year, but having coffee with a co-worker and taking a break is something you can do throughout the year!"
President Barnard adds, "Staff and faculty are a vital part of creating the thriving and engaging community found at the University of Manitoba. The dedication and skill shown by staff and faculty are manifested in the outstanding workplace we are able to enjoy on a daily basis.
"Let's take the time to acknowledge and celebrate taking care of our mental health during Staff Mental Health Week. These events present opportunities to rejuvenate, connect, learn and laugh — vital parts of our ensuring our mental well-being. I look forward to seeing you at one or many events!"
Roach sees the event growing to become a broad-based staff health and wellness week or a campus wide health and wellness week …
Going forward, says Roach, she sees the event growing to become a broad-based staff health and wellness week or a campus wide health and wellness week, partnering with the Active Living Centre and Joe Doupe Centre (Recreation Services also offer a free week during the same time as part of their Staff Appreciation Week) and partnering with student health and wellness.
She'd like the week be "something really big for the whole campus, so that people are setting aside time in their calendars when they know it's coming up. 'I can't wait to do yoga this day,' and 'I'll get a massage this day….'
"Ideally I see this as a broad collaboration across campus," she says.
"We're whole beings — we don't have a divide between our mental, physical, emotional, spiritual and social needs at work and outside of work. We are who we are both outside and inside of work.
"I think it's important to acknowledge that in a way that shows it's possible to do and important to do. That relaxing and taking time for yourself and connecting and nurturing ourselves is not something that takes place only outside of work hours."
See the full list of Staff Mental Health Week events here.