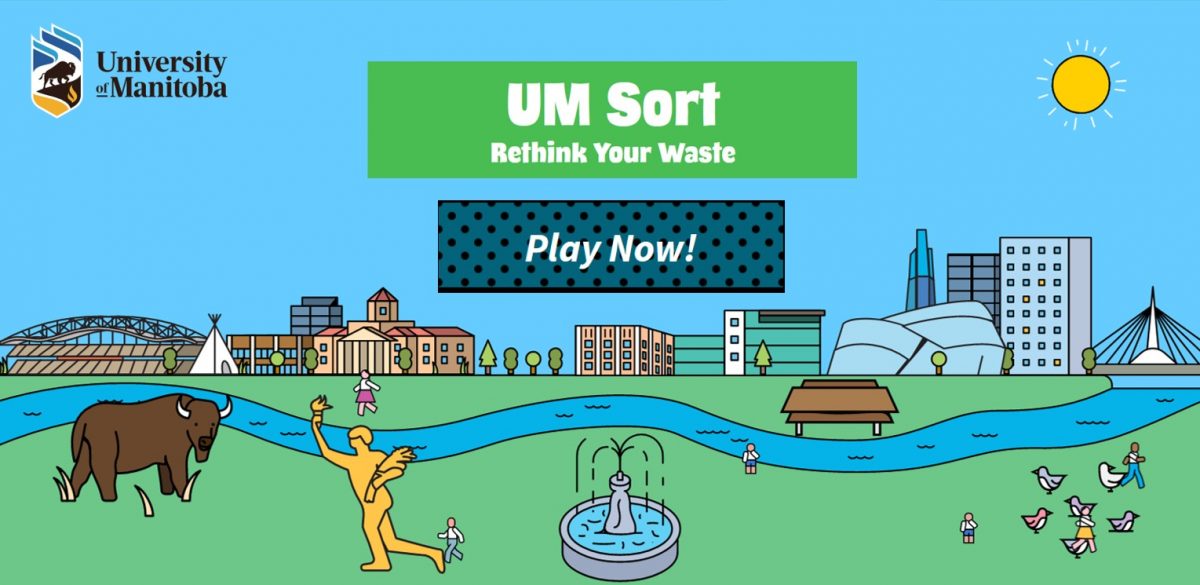 UM Waste Reduction: Recap as we return to campus
April 26, 2022 —
The University of Manitoba is committed to sustainable waste management. Guided by the UM Sustainability Strategy 2019-23, sustainable waste management at the University means reducing the amount of waste produced and disposed of on-campus, increasing diversion so waste ends up in proper streams, and reusing materials within the UM community.
By limiting waste and changing our habits, we can reduce our environmental impact by reducing the amount of greenhouse gases (GHGs) being produced by the University. Below is a recap of all the exciting initiatives at UM that focus on waste reduction, education and engagement to help us all lessen our impact:
New in 2021
UM Sort: Not sure which bin your waste belongs in when you are on campus? Be sure to check out UM Sort. This easy-to-use tool allows you to search for the name of a waste item and tells you exactly how to recycle or dispose of it. Waste sorting made easy!
UM Waste Sorting Game: We challenge you to the five-level UM Waste Sorting Game where you can put your knowledge to the test on proper waste disposal. Sort the materials correctly and you can win items to design your own digital park! After completing all five levels, you even receive a certificate of achievement from UM's Office of Sustainability.
Re-Shop Online: While not a new service, the UM reuse program "Re-Shop" is now online! Staff, students and faculty members can browse available office furnishings and participate in a circular economy through this platform anytime and anywhere.
PPE recycling collection bins: Did you know personal protective equipment (PPE) can be recycled at UM? All non-woven, disposable, plastic-based masks including 3-ply surgical, dust masks, KN95 and N95 masks, can be dropped off at any PPE recycling collection bin across the Fort Garry and Bannatyne campuses. The collected masks are then processed into polypropylene pellets and repurposed into construction, building and textile materials. Find all Bannatyne bin locations, and Fort Garry bin locations online.
Zero-waste coordinator: To enhance waste reduction and management programs across our campuses, Allison Mac Intyre joined UM in October 2021 as the zero-waste coordinator. Allison coordinates and leads projects, activities and processes involving the reduction of waste, as well as oversees all waste streams on campus. This included the transition of Re-Shop to its online platform!
Continued efforts
Water bottle-filling stations: The UM community is encouraged to join in waste reduction efforts by ditching disposable beverage containers and opting for a reusable cup. With nearly 40 stations across the Fort Garry campus, there are many convenient locations to refill your water bottle while cutting back on waste. Water bottle filling stations can be found online.
Pre-consumer organic waste collection: Did you know that almost every food services location at both the Fort Garry and Bannatyne campuses collects pre-consumer organic waste? It's true! Since starting the pilot program in 2019, UM has collected over 51,565 kilograms of organic waste. Diverting that amount of organic waste from the landfill is equal to:
removing 50,000 kilograms of CO2 from the air
driving 222,453 fewer kilometres
planting 909 tree seedlings and having them grow for 10 years
Looking ahead in 2022
Hallway organic waste collection: To further UM's efforts of diverting organic waste from landfills, new hallway collection bins will be coming to the Fort Garry campus in September. These new bins will have an organics stream for you to put all your compostable materials into. All organic waste collected at UM is then picked up by Compost Winnipeg and used as a renewable topsoil replacement at the Prairie Green Landfill.
Climate Action Plan: In 2020, UM signed the Global Universities and Colleges Climate Letter declaring the need to take immediate action against climate change. To reach these commitments, a Climate Action Plan is under development to outline our path moving forwards. This plan includes the following goals:

reducing waste generation to a maximum of 30 kg per person by 2030, a 40 per cent decrease from 2019
increasing organic waste diversion from 21.5 per cent in 2019 to 60 per cent in 2025 and 100 per cent in 2030

Ply-wood Library: Through the Sustainability-in-Action Facility's (SiAF) "Plywood Library," students will be able to use the wood furniture recycling program to complete projects with repurposed materials at no cost.
Waste reduction efforts are continually being improved and expanded upon. While significant progress has already been made, there is still lots of work left to do. Through sustainability initiatives, education and research, community involvement, as well as policies, strategies and reports, a sustainable waste management process can be achieved.