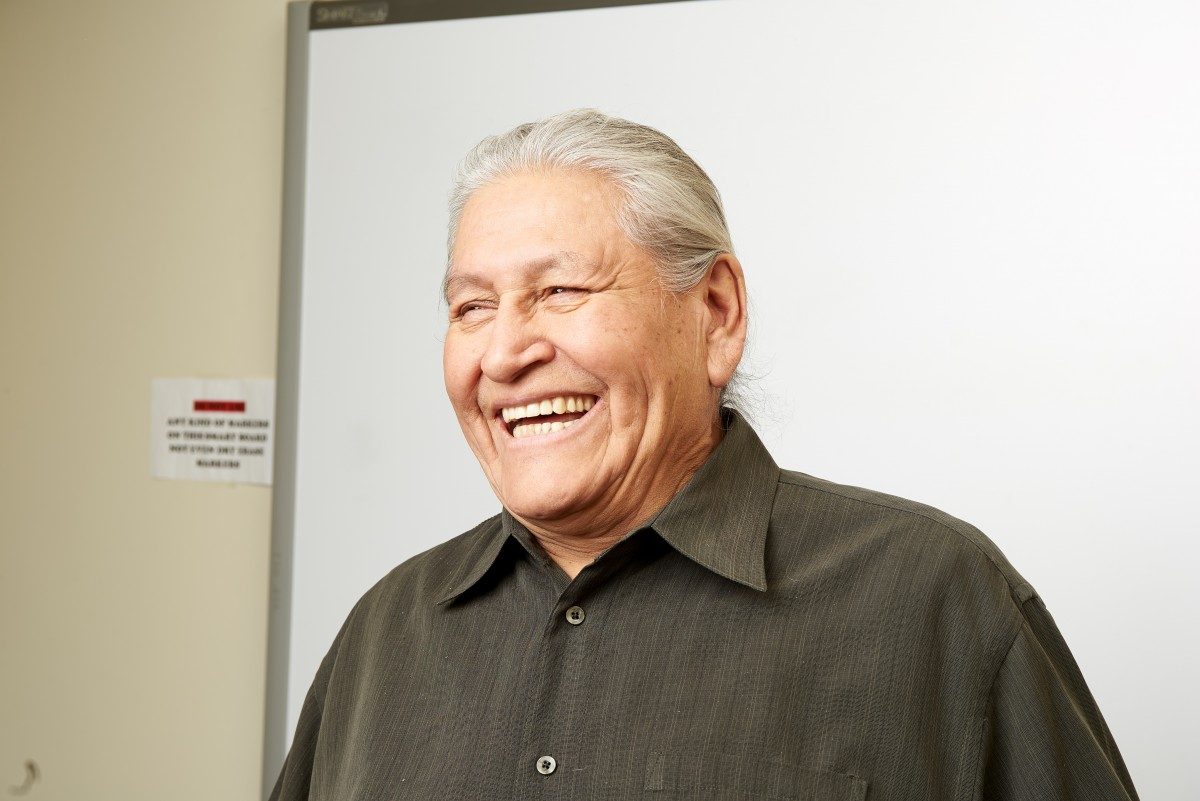 Wanbdi Wakita Access Program Unkan (Grandfather)-in-Residence
Dakota Spiritual Leader listens, guides U of M Access students
April 11, 2018 —
For Wanbdi Wakita, the right words are important.
The Dakota Spiritual Leader and Sundance Chief started his two-year term as Access Program Unkan (Grandfather or Elder)-in-Residence, at the University of Manitoba in March. His office door is open to Access students and staff at Migizii Agamik, on the U of M's Fort Garry campus.
The Access Program, offered through Extended Education at the U of M, provides holistic support to Indigenous, newcomer, and other U of M students, empowering them on their path to success. Among those supports now is Wanbdi Wakita.
"I am mostly counselling and doing ceremonies," says Wakita. "I appreciate the sharing of words."
When people lose a loved one, endure trauma, experience pain, they need to talk, he says. "If they keep it inside, anger takes over."
Wakita grew up speaking his language at home, and has taught the Dakota language since 1968. In his tradition, the word Elder is not used. He is known as Grandfather. "We address each other by kinship. We say Brother, Auntie, Friend. We need to start going back to those ways, to restore our language and culture. People are learning about these things now. This is good."
Wanbdi Wakita was given his name by an old man who came to do a ceremony for him before he left his community at the age of 13. "It means Looking Eagle. It means that I will look over the people and make sure all is okay, and if it isn't, I will go and help them. And 15 years later, that's the way it was for me, when sacredness came to me."
After living in the Sioux Valley Dakota Nation in Southwestern Manitoba, he spent eight years in residential schools in Birtle and Portage. He left home at 13, and went from working on the family farm to work on another farm. At 17, he joined the Canadian Army and served in the infantry as a peacekeeper. He joined the military because his uncles and father had served in both world wars and the conflict in Korea.
"The residential schools made me into a rebel. I didn't want to do things the way I was told," he says, adding that he took milk and snacks and shared them with the children who were going hungry because the older ones stole their food. They were hungry."
"My Grandfather said 'Go the peace road'. I became a peacekeeper. I enjoyed that. The army taught me how to drink, kill, and fight. It twists your mind. A month after I was back, the sacred experiences returned to me."
Next he applied to federal government jobs. He was a conservation officer, a plumber, a mail carrier. He went to university. But each time, he says, the spirit told him this is not your place. "I had to listen."
Wakita understands the many challenges Access Program students face along their path to success.
In the past few years, Wakita has spoken to many students. Now Access students are captivated by him, and they listen to his words.
Wakita makes prayers for people.
Wakita shares knowledge and support with Access students.
Everyone has a heart, mind, body, and spirit, he says. "We live in that order. The old people say you must have a name, a language, a song, and colours. The old people also say you need to know who you are, have a good attitude, a skill, and a belief."
Wakita believes in a sacred process. If you have trauma inside, take it out first, he says. "You will feel empty and vulnerable. Fill it in with your culture. Practice your culture and you will start to feel good. Then you can connect to outside things like school, food, work, family, and community."
Wakita encourages Access students to connect with their culture.
"I speak for students and their concerns, and how to make them better, with help and support."
Wakita insists that people need to use the right words, in their language, to express themselves. This is so important.
"I had a vision to conduct purification ceremonies (sweat lodge) and Sundance ceremonies. Both ceremonies can help you, when you are ready."
Access is currently accepting applications. Deadline is May 1.