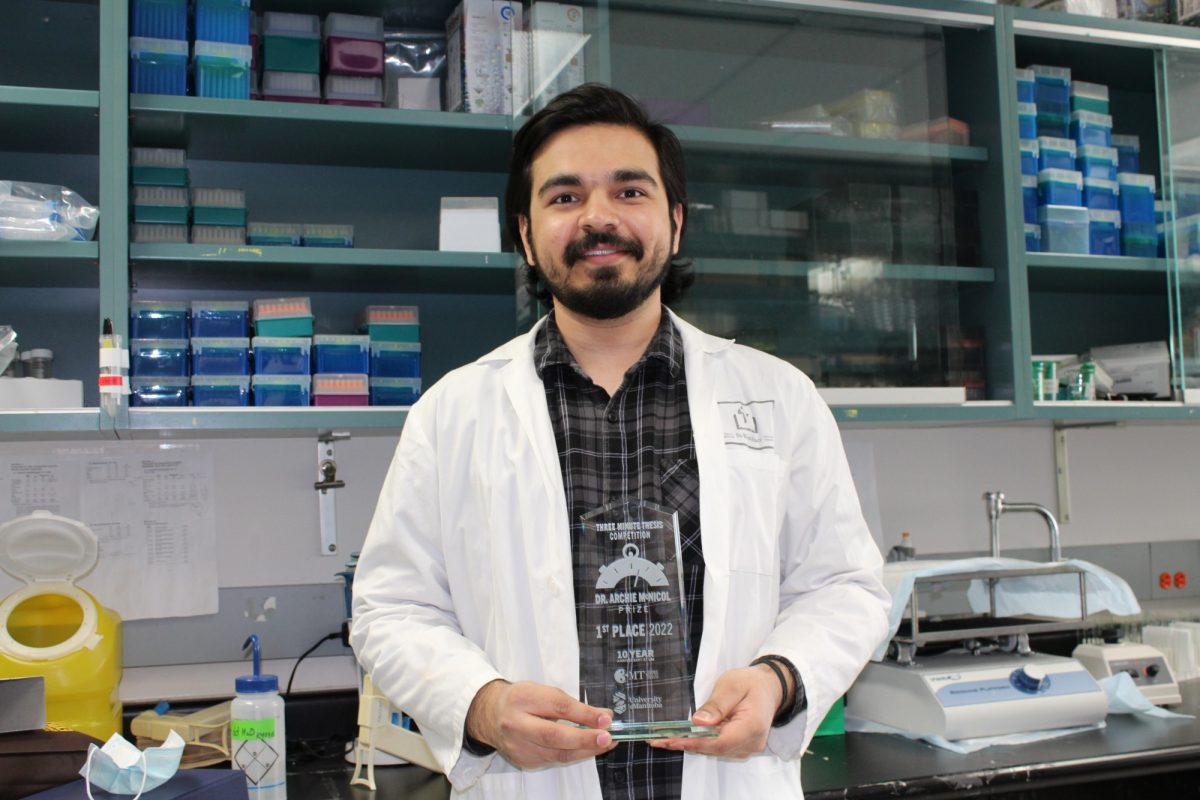 Vote for Pranav at the 3MT Western Regionals
Winner of UM's Three Minute Thesis will compete among other university challengers
May 2, 2022 —
Pranav Mishra, won first place and the Dr. Archie McNicol Prize at the UM Three Minute Thesis finals on April 7, 2022.
Mishra, a third-year student at the Max Rady College of Medicine, is working with advisors Drs. Paul Fernyhough and Benedict Albensi. His research involves working with the sex hormone estrogen to see how it can decrease inflammation and increase mitochondrial function in the brain, consequently improving the survival of brain cells.
He explained his thesis on the prevention of Alzheimer's disease to a panel of judges and a viewing audience online, competing against eleven other graduate students from a variety of disciplines. Mishra received $2,500 for first place in the competition, which received over 2,100 views online. He now moves on to the Western Regional 3MT competition on May 6, 2022, hosted by the University of Winnipeg. Everyone is encouraged to watch the competition in person* or via live stream and vote for Pranav as People's Choice!
Watch the 3MT Western Regional 3MT competition
May 6, 2022
2 p.m. Central time
Link to live stream
UM Today asked him a few questions about his success at the 3MT competition, and why other graduate students should participate in 3MT.
What was it like for you to win the UM 3MT competition?
Winning the finals was like a dream coming true. I was thrilled and had a rush of confidence and positive energy. This amazing opportunity enabled me to share my work with such a large audience. I'm really glad that my efforts paid off. I can still feel this sense of achievement, and I am happy I could make my advisors, family, and friends proud.
Why do you think the judges selected your research?
While preparing my talk for the 3MT competition, I made sure that whatever I speak should be understandable and easy to follow by the general audience. I stuck to it and kept my talk clear and concise and, explained any jargons that I used. My area of research (Alzheimer's disease) is a worldwide concern that has created enormous strain on the health care system and families of the affected. I believe I was able to convey the gravity of my research in simple terms and my speech was explicit which is why the judges selected my research.
Why is the 3MT competition important for students and for research in general?
The students generally present their research work in science related conferences only, but rarely get a chance to come forward in front of the public. 3MT competition helps to overcome this as it provides a strong platform to all the students to talk about their research in front of a non-specialist audience. When you present your work in front of someone, it helps you to understand you own project better. 3MT competition also promotes research by enabling one to see how their research work fits in a larger picture.
* The University of Winnipeg requires all non-UW guests to be registered as visitors in order to be given a visitor pass to access campus. Those planning to attend the competition in person should RSVP to c [dot] garland [at] uwinnipeg [dot] ca by Wednesday, May 4. Visitors should report to the Security Office in Centennial Hall when first arriving to provide ID and attain their visitor's pass.
Research at the University of Manitoba is partially supported by funding from the Government of Canada Research Support Fund.