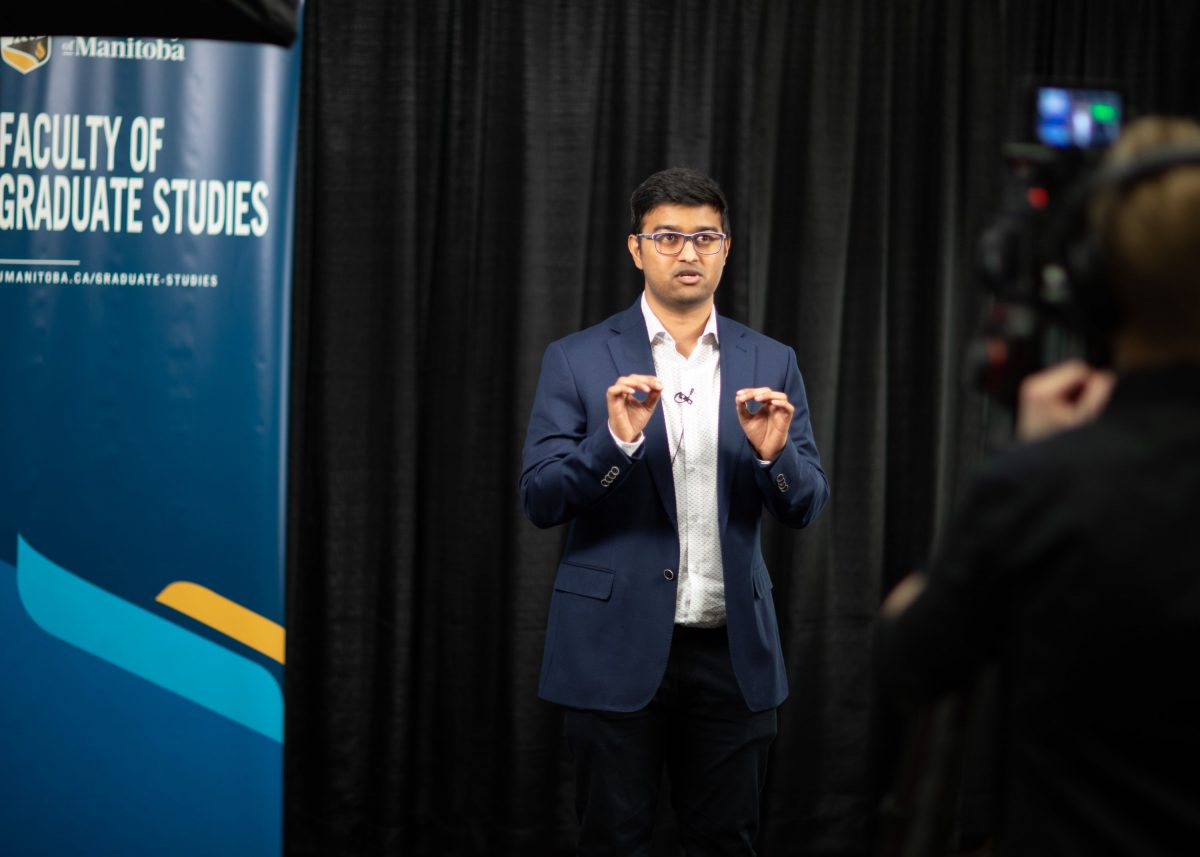 Vote for Keshav at the 3MT Western Regionals
May 15, 2023 —
Winning first place at UM's 2023 Three Minute Thesis competition was only the beginning for Keshav Narayan Alagarsamy. Now, the Max Rady College of Medicine student will compete among other graduate students from B.C., Alberta, and Saskatchewan at the Western Regionals for a spot at the national competition.
You can show your support for Alagarsamy by casting your vote for him for the People's Choice award. The ballot will be available on May 25 here.
Before Alagarsamy travels to Saskatoon for regionals, UM Today spoke to him about his research in UM's department of physiology and pathophysiology and his plans for the future.
HOW DID IT FEEL TO WIN UM'S 3MT COMPETITION?
I was experiencing a blend of excitement and relief which was the culmination of my hard work and dedication toward crafting a prize-worthy presentation. The daily effort and the stress that had built up over time dissipated when I was announced as the first-place winner, which was both joyous and satisfying. Moreover, this achievement significantly bolstered my self-confidence, serving as a powerful reminder of my abilities and potential to excel in future endeavors.
TELL US ABOUT YOUR RESEARCH
Heart disease is the number one killer worldwide and in Canada which costs the government over 2 billion dollars every year collectively. Heart disease leads to heart attack which impairs the normal functioning of your heart slowly compromising your ability to do any work. Hence using stem cells and nanomaterials I am trying to regenerate the damaged heart post heart attack so that offers the patients a solution to lead a normal life.
I find it interesting how machines and materials can heal humans. I've always felt that the study of biology makes it easier to understand the mechanics of machines in the body hence I was able to pursue my higher education in these fields so that I can learn and make an impact so that one day I can give something back to society.
WHAT DO YOU HOPE TO PURSUE AS A CAREER?
Following the completion of my PhD, my aspirations include pursuing a postdoctoral research position in a renowned laboratory. My ultimate goal is to establish myself as an independent researcher/professor at a prestigious North American institution, focusing on the cutting-edge field of regenerative medicine.