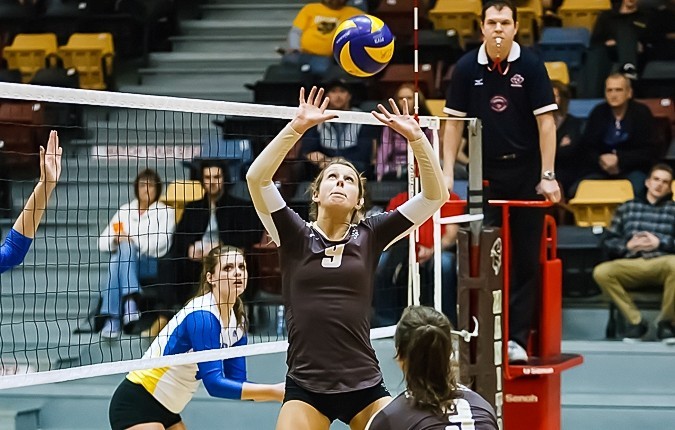 Volleyball star selected as CIS Top 8 Academic All-Canadian
Brittany Habing honoured as one of the top student-athletes in the country for the 2013-2014 academic year.
October 20, 2014 —
Every year a growing number of CIS student-athletes are recognized as Academic All-Canadians for achieving an academic standing of 80 per cent or better while playing on one of their university's varsity teams. In the 2013-2014 academic year a record 2,861 students achieved this prestigious status, eclipsing the previous mark of 2,695 set in the previous year.
Among those outstanding individuals, one female and one male from each CIS regional association are selected annually as Top 8 Academic All-Canadians. This year University of Manitoba Bisons women's volleyball player Brittany Habing was selected as the female recipient for the Canada West conference.
"Brittany is such an outstanding representative for our program, our conference, and our university, and we are all so proud of her accomplishments in the classroom and on the court," said women's volleyball head coach Ken Bentley. "She really is the consummate student-athlete in that she is completely dedicated to her studies and her sport and we are so fortunate to have her in our program."
Habing was a difference maker last year in her first campaign with the Bisons women's volleyball program after transferring from the University of Winnipeg. In her Manitoba debut, the 5-foot-8 setter was named a second-team Canada West all-star after she led the country with 10.46 assists per set and was later voted to the CIS championship all-star team after she guided the Bisons to an upset win over six-time defending champion UBC in the national final.
The East St. Paul, Manitoba native was as productive in the classroom in her first year at the University of Manitoba with a spectacular 4.0 GPA in the Faculty of Science.
Habing was also very involved in the community, participating in the Bisons Against Bullying school program, Bison Book Buddies, and the Siloam Mission visit, assisting people in need in Winnipeg's inner-city. She also contributed to the volleyball community as a volunteer coach at a number of youth camps.
Being selected as CIS Top Eight Academic All-Canadian is a great distinction. "I am honoured and humbled to recieve this recognition," commented Habing, "I feel this award highlights the hard work done on and off the playing field by student-athletes across the country."
Habing becomes the 12th Bison to win this prestigious award in the last 21 seasons.
His Excellency the Right Honourable David Johnston, Governor of Canada, will present the Governor General's Academic All-Canadian Commendation for the 2013-2014 season to the eight recipients during a ceremony at Rideau Hall on Monday, November 17, 2014 at 11:00 a.m.