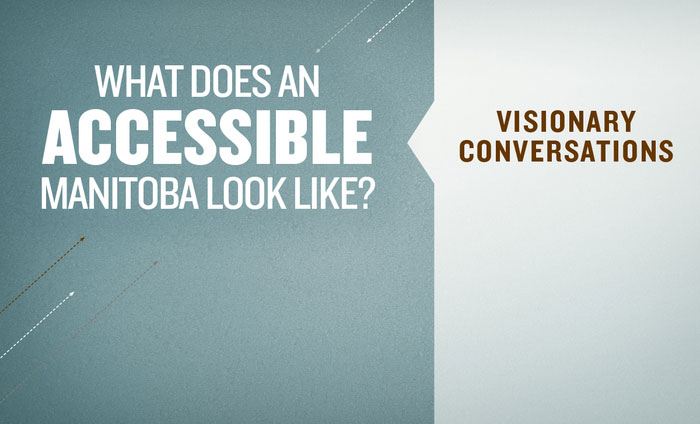 Visionary Conversations: What does an accessible Manitoba look like?
December 6, 2016 —
New accessibility laws take effect in December – is Manitoba ready?
Join us on Dec. 8 for Visionary Conversations —a series for people who love exploring tough questions about topics that fascinate us. Our next event will examine the question: What does an accessible Manitoba look like?
Moderator
Greg Juliano [LLB/98] // Associate Vice-President, (Human Resources), University of Manitoba
Yutta Fricke // Executive Director, Manitoba Disabilities Issues Office

Richard Milgrom [BES/80] // Head and Associate Professor, Department of City Planning, Faculty of Architecture, University of Manitoba

Michelle Porter // Director, Centre on Aging; Professor, Faculty of Kinesiology and Recreation Management, University of Manitoba
Tanis Woodland [BA/92] // Disability Studies, University of Manitoba
If you have any special needs that require accommodation, please notify us when you RSVP.
Thursday, Dec. 8 at Robert B. Schultz Theatre
St John's College, Fort Garry Campus, University of Manitoba
Reception – 6:30 p.m.
Panel Discussion – 7 p.m. – 8:30 p.m.
Follow the conversation on Twitter using #umvisionary
---
Read more on accessibility in UM Today's In Focus