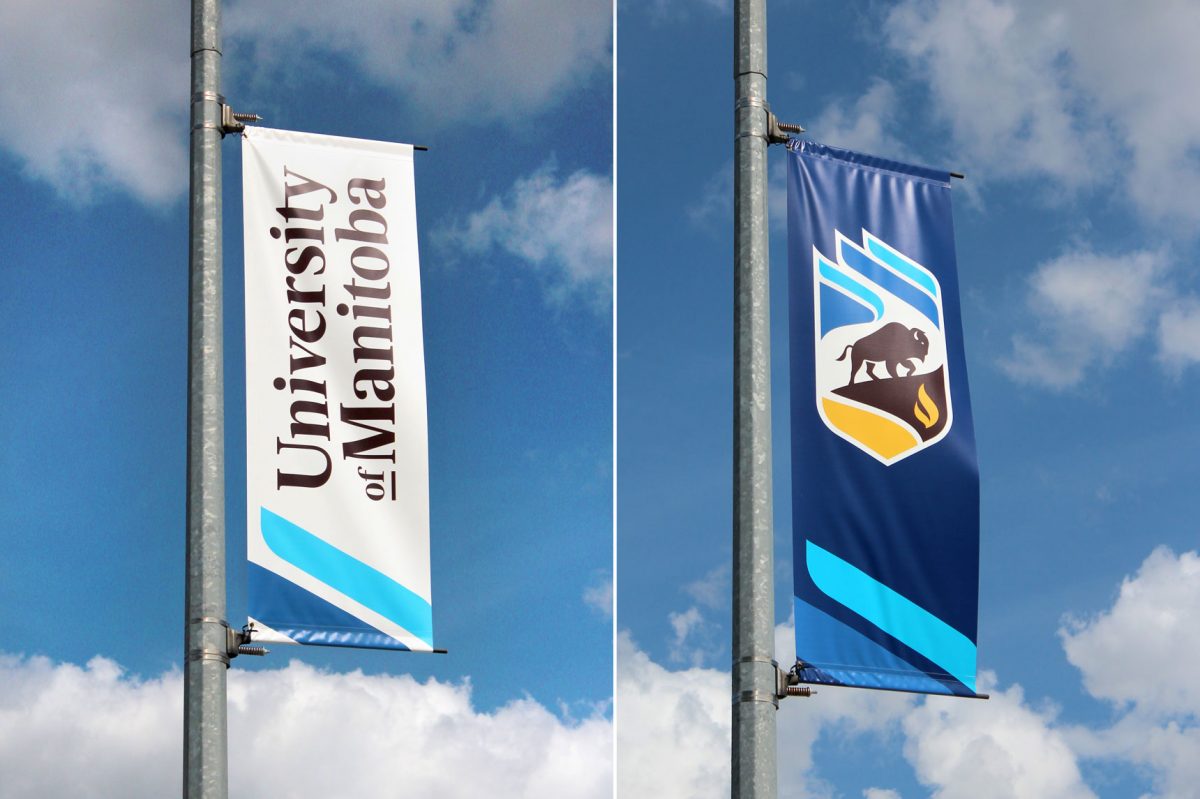 Update on the brand initiative
October 21, 2019 —
The following is a message from University of Manitoba Vice-President, External John Kearsey:
On June 12, President and Vice-Chancellor David Barnard announced the launch of our new brand with the introduction of a new logo. Facilitating the University's core functions of teaching and learning, research, and outreach and engagement, this new brand and visual identity provide a compelling framework for our collective story–a story that identifies us, helps us express ourselves and connects us with our community.
Since the launch, we have continued to move forward with the transition and implementation phase. Perhaps the most widely visible and immediate sign of change is our website, where the new brand has been reflected since the August 8 website launch, which to date has received wide-ranging positive feedback.
Investments in brand-building can be substantial, but in the long term they help make possible the attraction of the best and brightest students, faculty and staff, as well as the funding that fuels discovery in our laboratories, classrooms and beyond. Brands also support a strong reputation, so critical as we navigate the competitive spheres of the career marketplace and strategic recruitment. Ideally, such initiatives are only necessary once in a generation.
The current branding work has cost $310,000. Consulting directly with the community, we've developed a brand framework to take us well into the 21st century, embracing Indigenous perspectives, shedding outdated, colonial symbols and introducing new colours. Throughout the two years-plus branding process, we've taken a responsible approach by conducting a comprehensive brand audit to identify where our old logo exists and identified key considerations and criteria to guide our decision making throughout the transition. Key external facing materials have been prioritized and, wherever possible, items will be replaced upon depletion or part of regular business cycle to minimize costs.
From the development of tools such as brand guidelines to conducting ongoing brand sessions and workshops, we'll continue working with our community to keep them both informed and supported.
Though still early in our implementation phase, we have already completed some key deliverables such as a new stationery system and PowerPoint template, display units and banners, flags, the first phase of brand guidelines, and more.
In addition, we've updated the new logo across all digital platforms, including social media graphics and the mobile app, as well as applied it to dozens of new materials designated as needing a refresh. And if you've been to the bookstore recently, you'll have seen our new logo prominently featured on branded merchandise.
We began this journey in 2017 and through extensive consultation heard from many who generously shared their ideas and perspectives. In an effort to leverage efficiencies within the project we intentionally timed the branding project and the website redesign project–both key strategic initiatives–to work in lockstep. By doing so, it allowed us to save tens of thousands of dollars that would have been required if the website was re-branded separately. In addition, by strategically managing carryover budget over three fiscal years, we were able to minimize the financial impact.
The implementation phase will continue over the next several months to a year and we look forward to sharing our collective progress as we embrace and incorporate the new brand.
You–and your stories–are all a part of this journey.
---
BY THE NUMBERS
Brand Advisory Council members: 25, with representation from across our community, including students, faculty, staff, alumni and donors (see below)
The Brand Advisory Council
The Council is chaired by John Kearsey, Vice-President (External), along with three co-chairs:
Dr. Catherine Cook, Vice-Dean, Indigenous, Max Rady College of Medicine;
Jakob Sanderson, UMSU President;
Dayna Spiring [LLB/01], President and CEO, Economic Development Winnipeg.
Deans/Vice-Provost:
Norman Halden, Dean, Clayton H. Riddell Faculty of Earth, Environment, and Resources
Jonathan Black-Branch, Dean, Faculty of Law
Susan Gottheil, Vice-Provost (Students), retired
Faculty:
Kelley Main – Professor, Asper School of Business
Jean-Eric Ghia – Professor, Max Rady College of Medicine
James Gilchrist – Professor, Dr. Gerald Niznick College of Dentistry
Tina Chen – Professor, Faculty of Arts
Adam Muller – Director, Peace and Conflict Graduate Studies Programs
Staff:
Shelley Sweeney – Head, Libraries, Archives and Special Collections
Rejeanne Dupuis – Director, Campus Planning
Leta Beyak – Manager, University BookStore
Lisa Tinley – Associate Director, Bison Sports and Recreation Services
Darlene Smith – Director, Acting Associate Vice-President, Human Resources
Students:
Morgan Hanson-Oliveira, Max Rady College of Medicine
Taylor Morriseau, College of Pharmacy
Miranda Ewashko, Asper School of Business
Alumni:
Bruce Miller [BRS/99]
Evan Kuz [BFA(hons)/90]
Acqueline Masvikeni [BSc/17]
John Proven [BComm/90]
Wilfred Sam-King [BA/19]
Number of consultation sessions: 20+, held on campus and throughout the province, as well as Toronto and Calgary
Number of stakeholders engaged: 7,000+, through consultations, surveys and online feedback
Pageviews on umanitoba.ca/brand: 35,000+
Brand video views: 11,000
New logo downloads: 5,000+