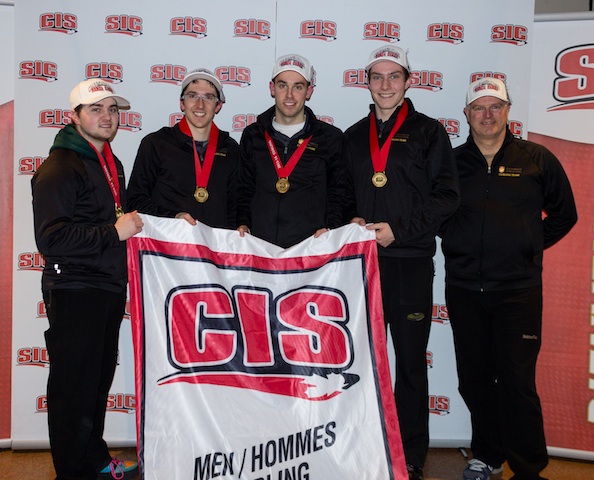 University of Manitoba men won curling championships
March 24, 2014 —
The University of Manitoba won the 2013-14 CIS/CCA men's curling championship with a 7-5 win over the University of Alberta in an extra-end of the final game on March 23.
Manitoba stole two in the 11th end to win the competition, held this year at the University of Regina.
This is the first men's title for the University of Manitoba since sport recognized with CIS Championship in 2007-08. (The University of Manitoba also won the CIS/CCA women's curling championship in the 2012-13 season.)
The team consisted of skip Matt Dunstone, third Jim Coleman, second Daniel Grant, lead Chris Gallant, alternate Jordan Smith and coach Scott Grant. With the win, the team now qualifies to represent Team Canada at the 2015 Winter Universiade (World University Games) in Granada, Spain.
U of M went 6-1 during the round robin and received a bye into the final with the top record after tying with Wilfrid Laurier University but advanced to the championship game with a victory against Laurier in the early draw.
Team Dunstone won the right to represent the university by winning the University of Manitoba Curling Championships in November 2013. The team then went on to earn a berth to the Canadian Interuniversity Sport (CIS)/Canadian Curling Association (CCA) University Curling Championships when they placed second at the 2014 Canada West Curling Championships in February in Edmonton.
The team members have extensive curling accomplishment on their resumes. Dunstone and Grant (U of M rookies) both won the Canadian Junior Curling Championships in 2013 and they also represented Canada at the 2013 World Junior Curling Championship in Sochi, Russia, where they won a bronze medal. Coleman (his second year representing U of M) skipped the 2011 university team that placed second at CCA/CIS University Curling Championships; 2014 All-Canadian First Team Men's Award and third for Team Neufeld at the 2014 Safeway Championships. Gallant (another U of M rookie) came from PEI after skipping the 2011 PEI Junior Mixed Champion team and 2012 PEI Jr. Men's Provincial Champ.