University of Manitoba injects $2.4 billion into city and province
Jobs, tax base, economic development and tourism among direct benefits from University of Manitoba
December 2, 2019 —
More than $2.4 billion in province-wide economic activity is stimulated by the University of Manitoba, according to a study released today.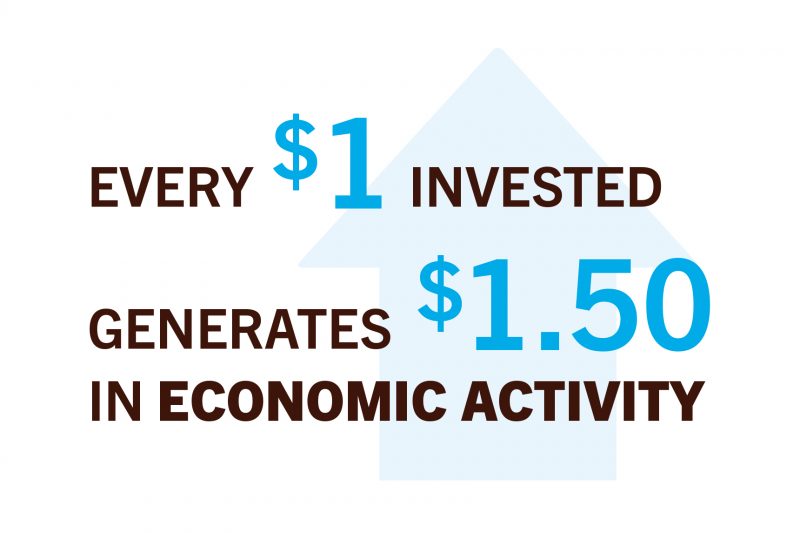 The University of Manitoba Economic Impact Analysis for 2014-2019, produced by PricewaterhouseCoopers and commissioned by the University of Manitoba, shows that the University has far-reaching positive impacts upon all Manitobans. What is more, the return on investment is remarkable: every dollar invested in UM generates $1.50 in economic activity.
"The University of Manitoba makes a real impact on the province of Manitoba and the city of Winnipeg," says Dr. David Barnard, president and vice-chancellor at the University of Manitoba. "From direct economic benefits to cultural and social interactions that enrich and enhance lives, this institution adds immense value to the quality of life of all Manitobans."
Some of the report's findings include:
UM generates and supports 15,828 jobs, resulting in $922 million in labour force income;
UM produces $400 million in taxes for the government;
The total gross domestic product impact of spending attributable to UM is $1.4 billion;
UM brought an estimated 161,146 out-of-town visitors to the city in 2017-2018 alone, who spent more than $77 million in our local economy.
UM is the province's largest and only research-intensive university, whose graduates are employed as leaders in every sector of the economy. The vast majority of Manitoba's engineers, medical professionals and social workers, for example, are UM alumni. And UM conducts cutting-edge research of importance to our communities, such as flood mitigation, crop enhancement, and targeted population health studies.
"As responsible stewards of public funds, we train talented and engaged citizens who improve every facet of life in this province, from applied scientific research, to creating enriching cultural works, to curating materials on the Residential School system that advances the process of reconciliation," Barnard says. "We are a catalyst for growth, and we are honoured and thankful for our alumni, faculty, staff, students and donors who are helping us improve Manitoba's overall wellness and prosperity."
Research at the University of Manitoba is partially supported by funding from the Government of Canada Research Support Fund.