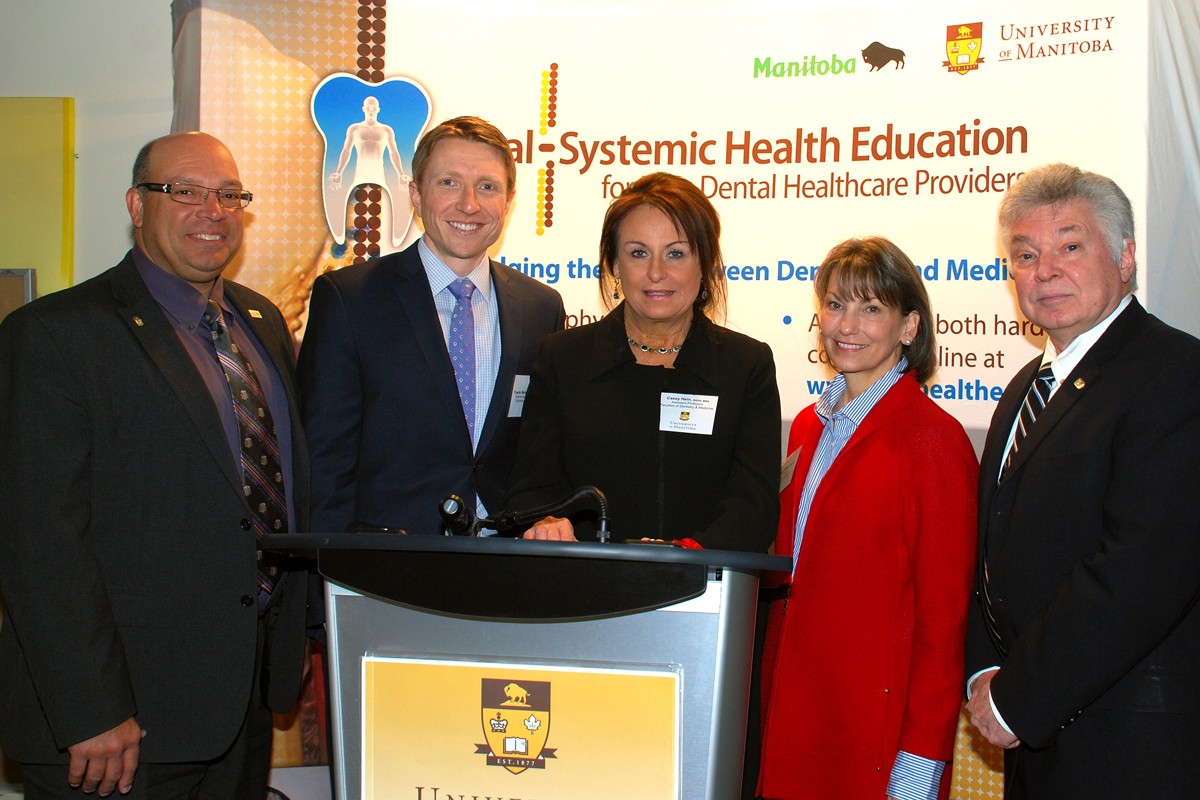 University of Manitoba hosts first ever interprofessional healthcare event
March 28, 2014 —
Internationally renowned experts in oral cancer and pediatric dentistry stressed the importance of connecting oral health with overall health at a unique, day-long, continuing professional development session at the University of Manitoba.
Oral-Systemic Health Day, held on Feb. 7  at the University of Manitoba's Bannatyne Campus, was an innovative continuing professional development program to bring together healthcare and human services providers to learn about the importance of connecting oral health with overall health.
The one-day event, hosted by the Faculties of Medicine and Dentistry, was the first of its kind worldwide and marked what could be the beginning of a new era of interprofessional healthcare delivery in this country.
"There is compelling evidence and rationale for medical, dental and human services professionals to work together to increase the potential for more successful patient outcomes," said  Casey Hein, Director of Education, International Centre for Oral-Systemic Health, Faculty of Dentistry, and Director of Interprofessional Continuing Development, Faculty of Medicine, University of Manitoba.
In addition to dentists and hygienists, the event attracted almost 200 non-dental healthcare providers, including physicians, nurses, pharmacists, social workers, and medical rehabilitation practitioners for a day-long session of lectures, discussions and hands-on workshops focusing on the primary role of oral health in interprofessional healthcare design and delivery.  This new service-delivery model is regarded as the future of healthcare in Canada and around the world.
Dr. Susan Müller of Emory University in Atlanta, GA and Dr. Travis Nelson, of University of Washington joined a panel of specialists who focused on the importance of connecting oral health with overall health, more commonly referred to as the Oral-Systemic Link. The panel was rounded out by Dr. Anthony M. Iacopino, (Dean, Faculty of Dentistry), Dr. Bruce Martin (Associate Dean, Faculty of Medicine) and Casey Hein of the University of Manitoba.
"Today will be remembered as a watershed event in the evolution of interprofessional practice as this is the first continuing education program that brings various health professionals and human services professionals together around co-management of patients to improve public health outcomes," said Dr. Anthony M. Iacopino, Dean, Faculty of Dentistry. "We already know that patients who receive oral care as part of their comprehensive care plans do better, especially those in high risk populations such as children, older adults, rural/underserved communities, and with chronic inflammatory diseases and conditions such as diabetes, cardiovascular disease, respiratory disease, renal disease, and arthritis."
During roundtable discussions, course participants were challenged to consider specific cases and how healthcare and human services professionals can work together to screen adults for cancerous and precancerous lesions of the oral cavity and oropharynx, and children and adolescents for caries (cavities).  Participants of the afternoon hands-on session learned how to perform a professional oral cancer examination and how to detect caries in pediatric patients.
See attached release for more information.
Oral-Systemic Health Day Resources:
For more information contact:
Grant Warren, Public Affairs: 204.789.3267
Email: gwarren [at] ad [dot] umanitoba [dot] ca
Faculty of Dentistry, School of Dental Hygiene, University of Manitoba
Bannatyne Camups, University of Manitoba, Winnipeg, Canada
www.umanitoba.ca/faculties/dentistry