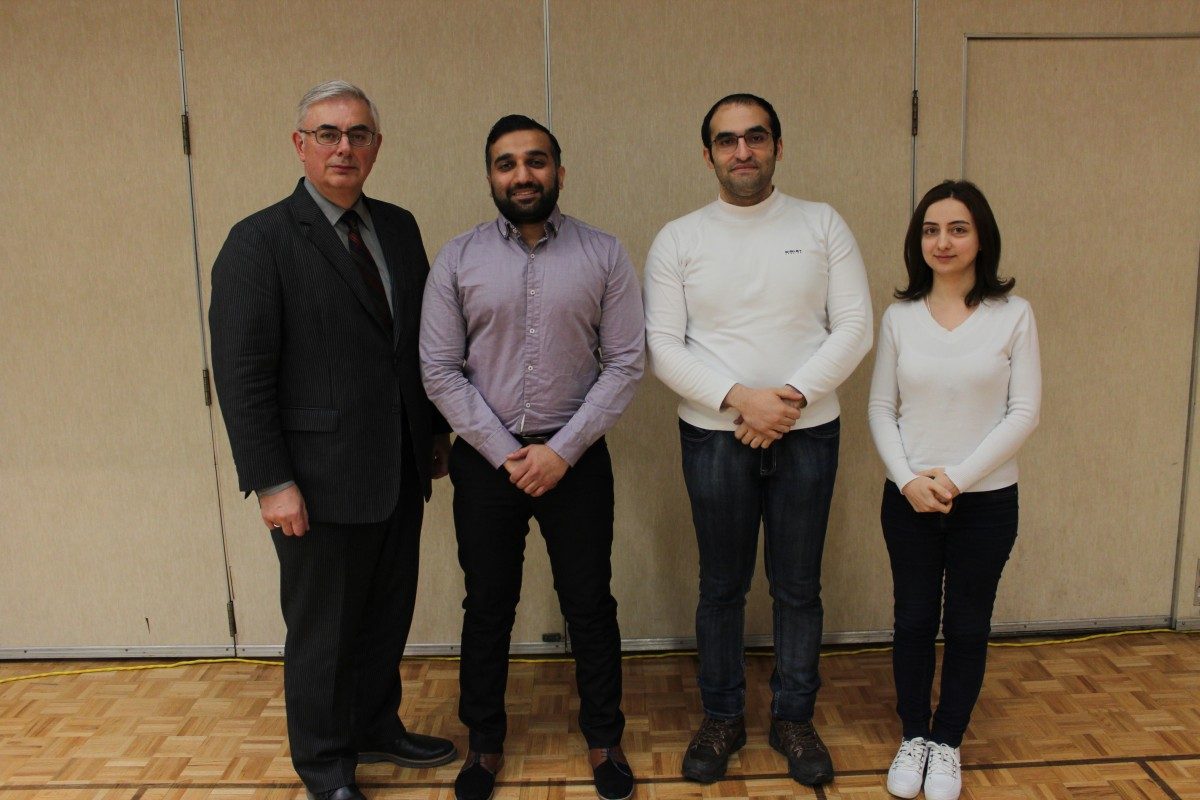 University community comes together
Faculty, staff and students united to discuss two unsettling events from the past week
January 31, 2017 —
As-salamu alaykum is the greeting of Islam. It means peace be upon you.
It was in this spirit that the University of Manitoba community came together for a discussion surrounding two unsettling events in the past week.
The U.S. executive order, banning travel to the United States from seven Muslim-majority countries has affected students and scholars worldwide. The recent violence at a Mosque in Quebec, where a lone gunman shot and killed six men and injured 19 others, has left heavy the hearts of many Canadians.
The impact of both of these events are being felt across the U of M. Led by President and Vice-Chancellor David Barnard, the Fort Garry campus discussion was an opportunity for students, staff and faculty to share their thoughts and feelings about these nonsensical and tragic events and to stand in solidarity in support of one another.
President Barnard opened the event by expressing condolences to the family and friends of those killed in Sunday night's shooting on behalf of the University of Manitoba community.
"Our hearts and minds are with them and with those injured," he said, adding, "Many of our colleagues at Université Laval have been affected directly by the death of one of their faculty members. We stand together as a community to denounce this senseless act of violence."
He continued by saying that the U of M is a community that welcomes diversity, one that strives to provide a safe space for the free exchange of ideas and knowledge. To this end, students and faculty joined President Barnard on stage, sharing their thoughts with the 300-person crowd.
Zeeshan Zamir, the president of the University of Manitoba Muslim Students' Association, said that with the new executive order many U of M students are grappling with an uncertain future, but that the outpouring of support received after Sunday's attack made him realize what true Canadian values are.
"As Canadians we believe in living in humanity, we believe in love and the support I personally received or our association received from the university staff, UMSU, professors who emailed us directly, even some students walked into our Mosque and they showed us their support. They had tears in their eyes and they were telling us you're not alone. That's a great feeling to have," he said.
Zamir finished by inviting everyone into the Mosque at the U of M. Located in the Engineering building (room E3160) the Mosque can be accessed in the tunnel connecting University Centre, Engineering and Architecture.
"We have an open door policy. Right now is the time to have open dialogue and open doors where people from all walks of life can gather, so that incidents that happened in Quebec don't happen again."
The next speaker was Ramin Soltanzadeh, one of the first people affected by the new travel restrictions. Soltanzadeh and his wife Elnaz Afsharipour are both PhD students from Iran. The pair was set to travel to San Francisco to present a research paper at an academic conference less than 24 hours after the executive order was put in place.
"Prior to being Iranian or a Canadian or an American or any other nationality we are all human," said Soltanzadeh, receiving roaring applause.
He continued by pointing out that despite being antithetical, it presents a good opportunity for Canada to show the power of multiculturalism and the support it brings across society.
Mohamed Bassuoni was the event's final speaker. He came to Canada from Egypt to get his PhD 15 years ago. After spending three years in Europe, Bassuoni jumped at the opportunity to join the Faculty of Engineering at the U of M.
"I did not hesitate to leave my research group that I established there in Europe, after three years," Bassuoni said. "What made me return to Canada, are the values I've seen here. I have respected and wanted to come here and return to live in peace. I wanted to come here and exercise my rights, being open, being transparent. For the U.S. we are going to set an example. We are going to show them about how Canada is a leader about openness and being tolerant to everybody, no matter your religion, your colour or your ethnic group because in the end we are human beings living together for this life."
The event ended with a number of supporting statements from students and faculty, reinforcing the sense of unity felt across the U of M and throughout Canada. Many who spoke thanked President Barnard and the speakers for sharing their thoughts and for allowing this opportunity to come together. Students who addressed the speakers were particularly emotional. International and Canadian-born Muslim students spoke of the powerful nature of harmony and peace. An Indigenous student was particularly emotional, comparing the discrimination of Muslims to atrocities faced by the First Nations, Inuit and Métis people. He then offered his hand in peace adding, "we can use this as a tool for change."
A second event, hosted by President Barnard, took place on the Bannatyne campus in the Frederic Gaspard Theatre.
Students with questions should contact the International Office to speak with an international advisor (phone 204-474-8501 or email international [at] umanitoba [dot] ca to set up an appointment).
More support is available for students from the Student Counselling Centre and Financial Aid and Awards.