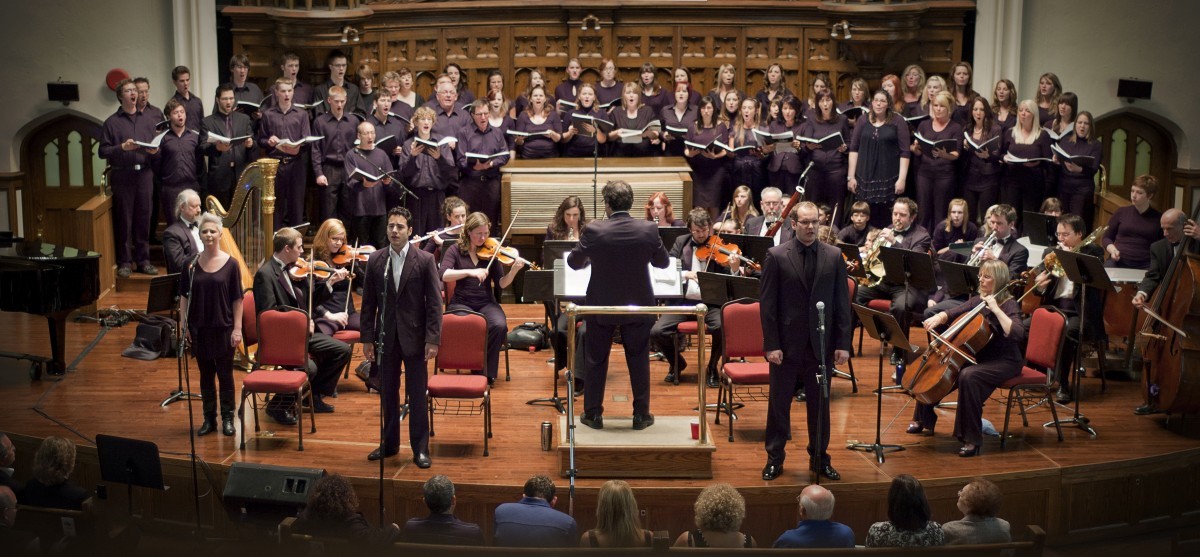 Unique master's thesis to be performed by 60-person choir
'Oratorio for empathetic learning' based on a holocaust story; part of arts-based educational research study
June 30, 2015 —
Most master's theses are presented in a fairly typical manner. Not so for master of education student Zane Zalis, who decided that his should be sung—not just by one person, but by a 60-person choir.
Zalis created a full, 90-minute oratorio entitled i believe, based on a holocaust story of "racism, hatred, destruction and hope" and will be presenting his creative thesis performance July 10 at Crescent Fort Rouge United Church. The piece is both a retrospective and prospective "arts-based educational research study" of his musical creation, which he calls "a modern oratorio for empathetic learning."
He had originally created the i believe overture piece in 2004 and it has since been shown to audiences all over the world including New York, Toronto and Germany. The three-part creative thesis included a retrospective study of i believe as an example of arts-based educational research and a prospective study of i believe via his work on a sequel to the oratorio called Nostos. (During the July 10 concert, the choir will also be singing one song from the sequel called "Home," which will be conducted by Zalis.) The third requirement of Zalis's creative thesis is the public performance itself, which will feature soloists, adult and children's choruses, strings and piano.
Zalis, who is the music director at Miles Macdonell Collegiate in Winnipeg, first created a 12–minute portion of the musical for the opening of the Arthur V. Mauro Centre for Peace and Justice in 2004 and it grew from there.
"I was taken by the Holocaust in a deeply disturbing manner. I am a history major as well [during undergrad at U of M]. I decided to create a new work based on the Holocaust, human rights and genocide and all those pertinent issues that affect and impact our humanity.  I felt compelled to create a large-scale work that told a critically important story about "us" – the human condition. What I did differently was doing it in conjunction with schools and choirs and the Winnipeg symphony orchestra over three years. The premiere sold out."
"That essentially was my thesis."
However, Zalis says he waited several more years—performing the work with the Winnipeg Symphony Orchestra from 2005-07, and after that in cities including Toronto, New York and Germany—before proposing i believe as a creative thesis with Francine Morin, department head of Curriculum, Teaching and Learning in the faculty and a professor of music and arts education.
"It's still not a common type of thesis. I wasn't sure if I was going to come back to U of M. But Francine Morin was there. We had a meeting and I believe she understood me, she advocated for me, guided me. She is simply an outstanding professor and educator."
The piece is sung in 12 movements that depict the arc of "a holocaust story" as seen through the eyes of two young people, says Zalis. It also includes commentary from the chorus, which represents different communities.
"In addition to that, it's seen through the eyes of the perpetrators so you get two sides of a story – the heinous and sublime. A callous disregard for humanity versus those saying 'Oh, why me?'
In one portion, the chorus talks about the horrors of the holocaust.
"What I saw and what I heard

The smell of hell that filled the earth

The cold, the dark, the hunger pains

The cries for help but no one came."
The story also looks at what happens after liberation. "What now? Will I love again?" is part of one of the solos.
"In other words, putting it all into perspective," says Zalis.
He notes that since its inception, 25,000 people have seen it and one of the most common responses is "It changed my life."
"It sounds drastic," he adds, "but it has happened so often that it makes us think there is something missing in our understanding of the arts as a form of inquiry that can enlarge understanding".
He says he created the melody to keep listeners humming the songs long after they leave.
"I felt that if this is going to resonate it had to haunt."
*All proceeds from public ticket sales of i believe will be donated to the Canadian Museum for Human Rights.
---
i believe will be performed Friday, July 10 at 8 p.m. at Crescent Fort Rouge United Church, 525 Wardlaw Ave.
Tickets can be purchased at McNally Robinson,  University Centre Answers Booth  and Winnipeg Youth Chorus or 204-479-6468.