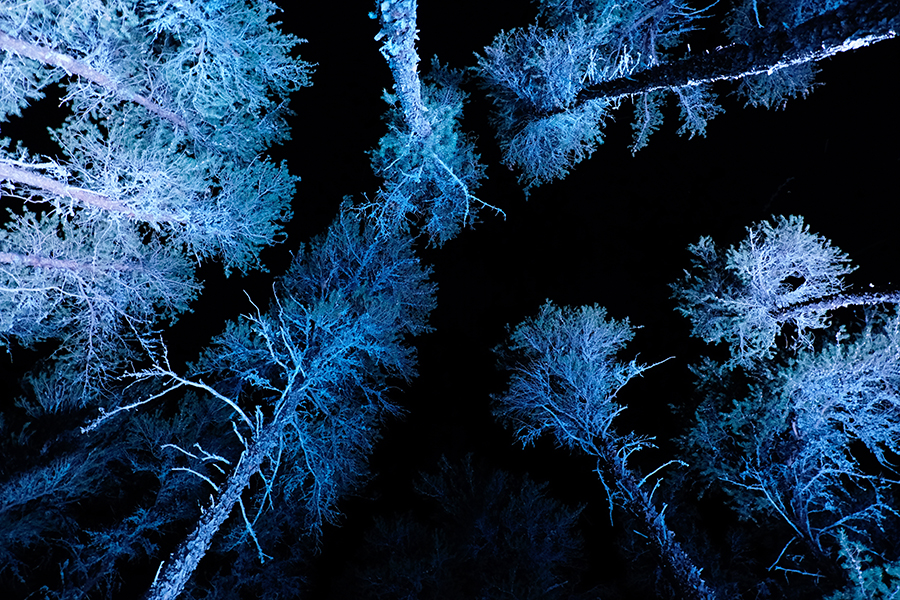 Undergraduate Research: Into the Woods and out to the World
September 2, 2022 —
What do ergonomics, equity, mycelium, the école des Beaux-Arts, e-holographies and esthetic ultrasonics have in common?
The answer: Faculty of Architecture researchers! – and Environmental Design students, whose work over the summer intersected this remarkable range of practical, playful and poetic topics as part of the University of Manitoba's Undergraduate Research Awards program.
Eleven Faculty of Architecture students earned Undergraduate Research Awards this summer. Valued at $7,000 each, these awards enable students to work with researchers of their choice on projects that develop skills, drive discovery, and inspire future studies and career trajectories.
Involving students from all disciplinary streams across the Faculty's Bachelor of Environmental Design Program, URA projects this summer encompassed diverse research areas, including: ergonomic kitchens design for aging populations; archival research on early women architects in Manitoba; site-specific multi-media arts installations; institutional history; digital technologies; biomaterials; and equity in architectural education and practice.
This research is advancing knowledge and impacting more accessible and sustainable design and construction; more inclusive and innovative modes of representation; and more nuanced and provocative ways to apprehend relationships between the built and natural world.
Short interviews with each student winner reflecting on their summer research experience are featured below.
The URA program is supported by the University of Manitoba Office of the Vice-President Research and International. Applications for summer 2023 will be due in January. More information on the program is available here.
_____________________________
Alandra Barairo, ED4-Interior Environments
Aging in place of ergonomic kitchen design
Tell us about the research you have been doing this summer:
Aging in place of ergonomic kitchen design is a multidisciplinary research project that explores the development of design guidelines for kitchens, supporting aging in place and advancing the understanding of the ergonomic fit between older adults and kitchen task zones. The study is being performed within the Smart Suite located on the Bannatyne campus in collaboration with the College of Rehabilitation Sciences and an industry partner. I specifically have been working on a scoping review on standard cabinet heights and kitchen design guidelines and have assisted other research assistants with data collection. Over the summer, I also got the chance to visit our industry partners' factory and learn more about kitchen cabinetry manufacturing.
What have you found most intriguing?
For me, the most exciting aspect of the research project was being able to work with people from multiple disciplines. Through this research project, I was able to work with graduate students from our faculty, an International Globalink student and graduate students from Kinesiology and Occupational Therapy. By working with students from outside the Environmental Design program and from programs that are not traditionally design-related, I have been able to diversify my knowledge and see design from a whole new perspective. Additionally, being able to participate in an industry-academic partnership was very enriching and provided me with insight on working with professionals in the design field.
How is the experience opening ideas for future research, studies or career goals?
By working on this research project, I learned more about the importance of designing for age-friendly environments and how important policy making and creating detailed design guidelines are for accessibility. In the future, I hope to be able to use and develop these ideas further in both future work and my studies.
How can we find out more?
The research project was featured in Warehouse Journal vol. 30, and a news article on the Smart Suite that our project uses will be released in the next few months!
Is there anything else you would like to add?
We are still recruiting older female participants for our project! For more information to participate, please contact Dr. Jacquie Ripat by phone at 204-789-3303 or by email at Jacquie [dot] Ripat [at] umanitoba [dot] ca.
_____________________________
Alina Bilonozhko, ED4-Architecture
Unstacking the Deck: A Game of Change
with Dr. Lisa Landrum
Tell us about the research you have been doing this summer:
This summer, I have been working on a project that focuses on integrating women architects and feminine perspectives into the history of architecture. "Unstacking the Deck: A Game of Change" addresses equity and diversity in architecture through an interactive and creative approach, providing a double deck of playing cards. The playing cards reference a female genealogy of architects and promote a healthy share of social engagement and fun as well as careful study. The project celebrates early architects, graduates, and faculty members, and promotes public engagement, architectural research, and creativity. My work this summer consisted of archival research by reviewing historical books, yearbooks, journal articles and magazines, oral histories, and newspapers. I assisted with the final stages of card designs as well as organizing the exhibits of the decks and research material. The project aims to initiate the conversation within the community and make women architects and their contributions visible.
What have you found most intriguing?
I found the most intriguing going through the archives not knowing what I was going to find. It was exciting to read handwritten letters and correspondence, look at old photographs and records, read old newspapers and books, study architectural drawings and early works of the female students, and learn about their achievements, their personal lives, and careers. I found it fascinating connecting with other scholars and archives across Canada and U.S. to find more clues and records. It was the most exciting to go through the old archives and feel close to the history, emerge into the story of each individual woman, re-imagine her life, and re-tell her story to the community.
How is the experience opening ideas for future research, studies or career goals?
Today, there is strong advocacy for women in architecture and hope for an inclusive future. However, the histories with feminist perspective are starting to be retold and redressed only recently. As a female architecture student, who is also an immigrant, I strive to raise awareness and highlight the female contribution to the history of architecture and design. By assisting with this research, my goal is to educate myself and others and reflect on the role of female architects as well as situate myself and my role in the design industry. I strive to make the histories visible and heard and engage the community in learning and retelling the stories. The experience of being a part of this research project has helped me learn how significant the role of women was in the industry which was often suppressed and ignored. The goal of my future studies and my career is to keep educating myself and others on the topics of equity, diversity, intersectional justice, anti-racism, Indigenous rights, reconciliation, and inclusivity.
How can we find out more?
Is there anything else you would like to add?
An exhibition of Unstacking the Deck – including archival research from this summer's study – will open at the Winnipeg Architecture Foundation (at 266 McDermet) on September 2 as part of First Fridays in the Exchange and be on display until October 14, 2022. The exhibition is also part of Culture Days.
_____________________________
Tengun Bold, ED4-Architecture
An Do Tan (Listen for it and wait to hear it)
with Prof. Shawn Bailey
Tell us about the research you have been doing this summer:
An Do Tan is an audiovisual installation at the "Forest School" in Kenora, Ontario, created in collaboration with ED graduate Max Sandred and professor Shawn Bailey. With professor Bailey's focus on land-based design and education, we aimed to create an installation that would reveal the animacy of nature.
The installation uses accelerometer and ultrasonic-range-finding sensors to map the movement of swaying trees and human/non-human visitors in the forest.
This installation is not the first work of such nature put out by collaborator Max Sandred, who possesses considerable experience in the hardware and software aspects of the setup.
Besides providing technical support to An Do Tan, I've also been looking at AI text-to-image generators – such as Dall-E 2 and Midjourney – that have come into considerable relevance this summer.
What have you found most intriguing?
The biggest lesson from this research project was that design does not have to be complicated to possess profoundness. Our installation involved attaching accelerometers and SONAR sensors on tree branches to translate physical movement and proximity into light and sound. And although the concept was a simple one, it produced profound results.
How is the experience opening ideas for future research, studies or career goals?
It was truly an honour to work with Max, and it has opened me to the world of coding – as another medium of creation. And I will use coding in my future work.
How can we find out more?
If you want to check out the footage from the installation, visit the links below:
https://www.instagram.com/p/ChKNE–usju/?utm_source=ig_web_copy_link https://www.instagram.com/p/ChN4X1vPkFy/?utm_source=ig_web_copy_link
The AI research is still in progress and will be released in some form soon.
Is there anything else you would like to add?
The mosquitoes at the Forest School were very, very bad.
_____________________________
Daniel Guenther, ED4-Architecture
Dennis (Libao) Wang, ED4-Architecture
100 Years of Architecture Student Drawings at the University of Manitoba
with Prof. Terri Fuglem
Tell us about the research you have been doing this summer:
In 2017, Fuglem discovered architectural documents stored in precarious conditions; she was instrumental in their safe transfer to the UM Archives. The materials, mainly drawings (numbering in the hundreds) encompass work from our UM school of architecture's founding in 1913 to the 1960s.
This summer, we have been studying the drawings to chronicle the architectural pedagogy of the UM architecture program's early history from École des Beaux-Arts to early modernism. Research has included examining students and their backgrounds to gain insight into the breadth of the collection and its importance to our early architectural history.
What have you found most intriguing?
Daniel: Studying the astounding layers of detail in each drawing has revealed many of the same processes we still learn at UM today. Even this many years later hand drawings remain captivating and convey depth that can be lost through digital mediums, hand drawing reconnects us with rich architectural tradition.
Dennis: The breadth and quality of the collection has been valuable to better understand the immense history of architecture at UM. When our program was created in 1913, the first faculty member was Arthur Stoughton. After researching his life and education at Columbia University, we discovered he was responsible for architectural works in my home country of China.
How is the experience opening ideas for future research, studies or career goals?
This experience has affirmed the possibilities and modern solutions which can be found within our architectural heritage. We believe architects have a role to play in the adaptation of existing spaces, especially to combat climate change. The research has connected us with new inspiration and skills to be advocates for architectural rehabilitation (and reimagination!).
How can we find out more?
Due to the size of the collection, research is on going. Prof. Fuglem is continuing with further research work on this project and we are looking forward to further collaboration with her.
Is there anything else you would like to add?
The URA program has been an extremely rewarding experience. Working with Prof. Fuglem has highlighted the rich history of both UM's school of architecture, making this history more accessible and connecting us with our student predecessors. We naturally gravitate towards the rapid pace of the future, but many inspiring solutions can be found by revisiting historical work. This is vitally important in Winnipeg, as we envision the city's future and better value the potential which is embodied within current spaces.
_____________________________
Arpan Jeji, ED3-Architecture
Children's Book on Winnipeg Architecture
with Dr. Rae St. Clair Bridgman
Tell us about the research you have been doing this summer:
Over the summer, I had the opportunity to work with Rae on a children's book on Winnipeg architecture. This is an Illustrated alphabetical book, where each alphabet stands for a building/ park/monument in Winnipeg. My work was to look up stories, fun facts, and design characteristics of these buildings.
What have you found most intriguing?
The most intriguing part of this research opportunity was looking at these beautifully complex buildings from a child's perspective. Simplifying the information so that a 6-year-old could understand and foster interest in design at a very young age. As an international student, I learnt so many new things about Winnipeg and its architecture.
How is the experience opening ideas for future research, studies or career goals?
The understanding of architecture that I developed over the summer is invaluable. I also rediscovered my love for creative writing through this research. Upon finishing my education, I would love to consider a career in writing. My mind always steers towards architecture journalism, and I would love to explore more of it. There is so much beauty in writing about architecture!
How can we find out more?
The book is a work in progress, and we will just have to wait for it to be out! 😊
Is there anything else you would like to add?
I am really excited about this book. It has something new to offer to everyone. You might think you know all about Winnipeg, but I can assure that you will be very surprised. I am looking forward to Rae's illustrations because they are going to be phenomenal!
_____________________________
Lena Le, ED4-Interior Environments
Microsoft HoloLens Integration with Interior Design
with Prof. Jason Shields
Tell us about the research you have been doing this summer:
The Microsoft HoloLens is a mixed reality device that allows you to use real life surrounds and place holographic elements into the space. This research project explores the usage of the device within interior design and its potential opportunities.
The experiments consist of exporting interior design models/furniture from programs such as Revit and deploy it through the HoloLens with manipulative properties to grab, scale, and rotate the holographic object in your surrounding space. The ultimate goal of the experiments is to find an application that is free, manipulative, maintain its original texture and materials, and be placed on surfaces in the real-life environment which was done though Unity using the Mixed Reality Toolkit.
What have you found most intriguing?
The most intriguing part of the research is seeing my interior design model be brought into the real world. Instead of staring at my model through a computer screen, I was able to see my model in a different perspective as if it was a real-life scaled model.
How is the experience opening ideas for future research, studies or career goals?
This experience allows for further investigation of advantaged technology within the world of interior design. We have access to technology that can do incredible things and with the integration of interior design, it will bring more opportunities such as decreasing the amount of time and money spent of projects as well as bring about a different perspective and understanding of the design itself.
How can we find out more?
Watch for a more detailed forthcoming UMToday article!
_____________________________
Cole Pymar Marotta, ED4-Architecture
CAFÉ Capital & CAFÉ Poster Gallery
with Dr. Lisa Landrum
Tell us about the research you have been doing this summer:
CAFÉ Capital is a continuation of the Canadian Architecture Forums on Education (CAFÉ), which began in 2019. CAFÉ Capital consists of a collection of events discussing equity in architecture and includes three online workshops (in May 2022), one in-person conference (Sept. 29 to Oct. 2, 2022) and a poster gallery. My work with Lisa spanned these events by generating videos and graphics to inform the public about each workshop, and recording and summarizing the presentations and conversations held in these workshops.
The latest project I am working on is CAFÉ Capital: Gallery, a collection of design posters connecting student groups from across Canada to spread ideas, readings and resources towards equality in Canadian architecture. My work on the project consisted of garnering funding and support from university organizations, including S.I.E.F. (Student Innovation and Enrichment Fund) and C.A.S.A. (Canadian Architecture Student Association), as well as advertising and assisting in developing a poster template for the project.
What have you found most intriguing?
Through my work in the workshops, I could participate in discussions about the field of architecture through the lenses of practice, education and research. Each speaker and group discussion was exciting because it introduced me to new ideas and concepts of architecture and allowed me to view the profession in ways I had not thought possible.
How is the experience opening ideas for future research, studies or career goals?
Being exposed to different perspectives on architecture and architectural education across Canada and North America allowed for understanding the needs and opportunities for future research and career goals. In addition, these workshops allowed me to see the value in a multidisciplinary approach to research that includes different perspectives on architecture. Finally, I was deeply inspired by those who spoke at each workshop for future career goals. Through the Undergraduate Research Award, I was exposed to multiple paths: Educator, Practitioner and Researcher. It's exciting to think about these overlap, as seen by those who work across all areas.
How can we find out more?
Instagram @archcanadacafe
Website (and workshop recordings): https://architecturecanada.ca/schedule/
Café Call for Poster Postcard.
Resources on equity have been assembled here.
Is there anything else you would like to add?
CAFÉ Capital: Gallery is accepting student posters until September 9th. These posters will be exhibited virtually through the CASA website and in person at the CAFÉ Capital event hosted by Carleton University from September 29th to October 2nd. By facilitating more interaction across Canada, students, practitioners, and researchers can work together to improve equity in Canadian architecture!
_____________________________
Dominico Obmerga IV, ED4-Architecture
Vyas Gopal, ED3-Interior Environments
Designing with biomaterials: A pathway towards resilient architecture in Northern Canada with Dr. Mercedes Garcia-Holguera
Tell us about the research you have been doing this summer:
"Designing with biomaterials: A pathway towards resilient architecture in Northern Canada" resulted in the formation of a biomaterial-oriented research group called the BIOM_Lab. Our studies revolve around principles of biomimicry and biomaterial explorations with a current focus on the growth and cultivation of materials such as bacterial cellulose and mycelium, the root system formed by fungi. In studying these materials, the BIOM_Lab aims to integrate organic materials properties within the artificial realm of architecture and design.
Throughout the summer our responsibilities ranged from material production and growth observation to mould design, sample documentation, and publication preparation. We have also honed our physical modelling, creating a focus on highlighting the integration of biomaterials in design projects.
What have you found most intriguing?
Dominico: As my second term in the URA program comes to a close I've really enjoyed seeing the growth of the BIOM_Lab as the research group begins to reach a larger audience. This growth has led to the inclusion of international students through Mitacs Global Link and the publishing of various articles and social media posts on the work conducted by the team. I've also enjoyed our shift from growth and production towards the implementation of materials within real-world settings. Overall, it has been a gratifying experience to learn from colleagues and friends with various backgrounds within the faculty and from abroad, as they have opened my mind to new opportunities concerning materiality and design.
Vyas: Researching at the BIOM_Lab has been one of the most incredible things I have done this summer. Through my time here, I've had many opportunities to collaborate with people from various disciplines working across the world. For me, the most interesting part of the research has been the production of luminaires from bacterial cellulose and studying their performances in interior and exterior environments as the material is manipulated.
How is the experience opening ideas for future research, studies or career goals?
Dominico: Throughout my term with the BIOM_Lab, I have become more conscious about the available opportunities that lay within the vast scope of nature and the environment. I hope to continue seeking interdisciplinary practices where I can work with individuals from different fields to grow my own wealth of knowledge as a designer. Seeing the amount of growth the BIOM_Lab has undergone in a year, I'm excited to see how the research group will continue to expand its audience as it tackles broader issues using biomaterials and their respective properties in the realm of architecture.
Vyas: Working with BIOM_Lab has given me a chance to explore green design in different aspects including product development. With so much new knowledge and understanding of biomaterials, I am looking forward to exploring the use of such materials in studio projects.
How can we find out more?
Our work will be featured in the forthcoming 31th volume of the Warehouse Journal, edited by Dave Castillo, Alieha Pascua, and Joanna Babadilla.
The BIOM_Lab will also be featured in Nuit Blanche Winnipeg on September 24, 2022, at Stephen Juba Park. https://culturedays.ca/en/events/473b201c-626a-426d-96d7-bef3087943c3
Feel free to keep updated on everything BIOM_Lab by following our Instagram @biom_lab
Is there anything else you would like to add?
Dominico: I'd like to thank Dr.Mercedes for all the opportunities she has provided me throughout my two terms with her as a research assistant. It has been a pleasure to see the growth of the BIOM_Lab and to work alongside her as we tackle the various unknowns of working with biomaterials like mycelium and bacterial cellulose.
Vyas: Gracias Dr. Mercedes and the research group at SiAF for making this summer full exciting new projects that emerged through our collaboration.
_
URA recipients from the Faculty of Architecture in 2022 also included Joy (Junping) Zhang.