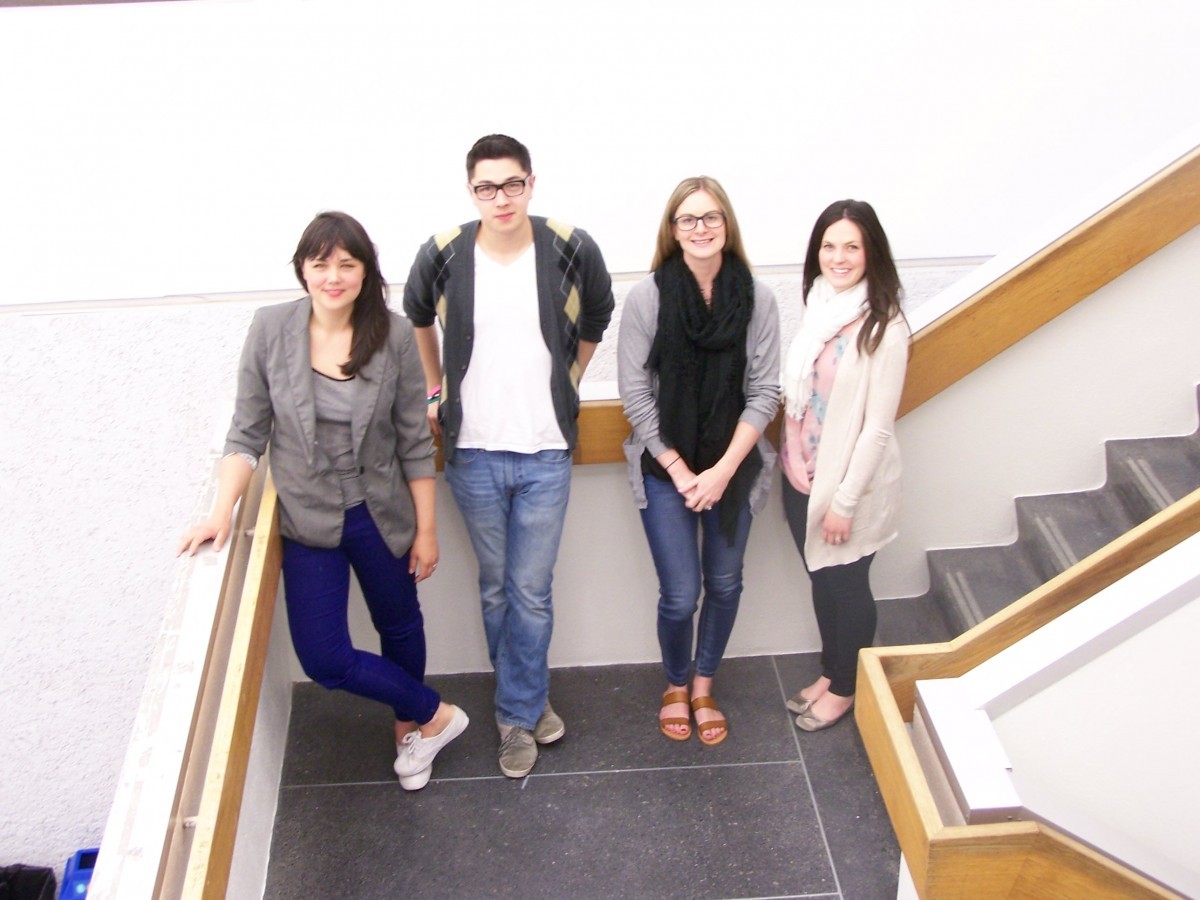 Undergraduate Research Award Winners thrive on educational research
Spent summer investigating art, literature & science teaching; student teachers' practicum experiences
September 27, 2015 —
This year's Faculty of Education's Undergraduate Research Award winners spent the summer working diligently with their respective professors–both assisting with research and getting the opportunity to do some of their own.
The 2015 group included Kaitlin Downs (working with professor Richard Hechter), Andrew Wu (working with professor Michelle Honeyford), Caitlyn Arnould (working with professor Melanie Janzen) and Shawna McLeod (working with professor Joanna Black).
Several of the students shared their thoughts on their research. Here they are, in their own words:
Shawna McLeod
This summer, I assisted professor Joanna Black with historical research on two well-known Canadian artists, Arthur Lismer (1885-1969), and Anne Savage (1896-1971), focusing on the relationship between their art and teaching careers in order to gain insight into the contemporary artist/teacher dichotomy. This research has personal significance, as I am a practicing visual artist who is entering the teaching field (my subject area is Senior Years Art, with an English minor, and a special interest in both contemporary art practices and arts in the community). It has helped me to gain perspective on my experience, as I begin to understand the complex negotiation it takes to maintain both an artistic practice and a teaching practice at the K-12 level.
The URA was a great experience for many reasons. It was rewarding to work independently and also to have input on the goals and direction of the project. Black provided me with insight into the subject area and was generous with her time and energy. This project had enough flexibility for me to explore some areas of my own interest, as well as discover different and emerging research methodologies in the field of education. I also had a chance to hone my research techniques, with the support of Black and Donna Masson, the Education librarian at the U of M.
Our work has led to a paper and a presentation at the Faculty of Education Research Day entitled: Navigating the Artist/Teacher Duality: Past and Present. For this part of the project, Black served as editor and advisor, while the research and analysis are my own. I will also present our findings to the 'Teaching Art in the Senior Years' class in the winter term.
In addition to gathering and organizing a collection of data for further research by  Black — whose interest in the artist/teacher practices of Lismer and Savage has been longstanding — I have also found materials that will be relevant to my own future research. This ongoing investigation into the artist/teacher dichotomy will help to provide context for my work as I enter the teaching field.
Kaitlin Downs
I spent this summer as a URA student with professor Richard Hechter investigating a common issue amongst elementary teachers (i.e reluctance to teach science). Through this research, our long term vision for a professional development program for this cohort of teachers was conceived. Subsequently, I researched what constitutes effective professional development. This information was used to apply for several research grants which we will continue to pursue in the fall.
To investigate reluctance to teach science, I researched the literature on this area extensively. We found that many teachers, primarily those in early years education, face various challenges when it comes to teaching science. Using this cohort as our main audience, I spent a great deal of time investigating the elements of effective professional development in an effort to determine how we can support/help this group of teachers. Based on the literature, we felt that a sustained, teacher-led program, where teachers share their best practices with each other, would be effective for helping teachers to overcome their reluctance to teach science. Right now, we are in the process of applying for funding from various sources to begin the preliminary stages of our program.
Caitlyn Arnould
As an Undergraduate Research Assistant for professor Melanie Janzen in the summer of 2015, I worked on a variety of tasks which expanded my understanding of the content explored as well as the nature of academic research itself. At the beginning of the summer, I was able to assist in participant recruitment for a large study  Janzen is conducting. Afterwards, I focused on our main study: exploring teacher candidates' experiences in Northern practicums. This involved a literature review, contacting universities and colleges across Canada about northern practicum programs offered, analyzing Teacher Candidate practicum request data, and the development of an ethics proposal. The study I helped develop with  Janzen will involve phenomenological interviews with teacher candidates who have participated in the Northern Practicum at the U of M.
The Faculty of Education's 2nd annual Faculty Research Day will be Sept. 28, 2015. The URAs will be making presentations during that time. For more information, click here.