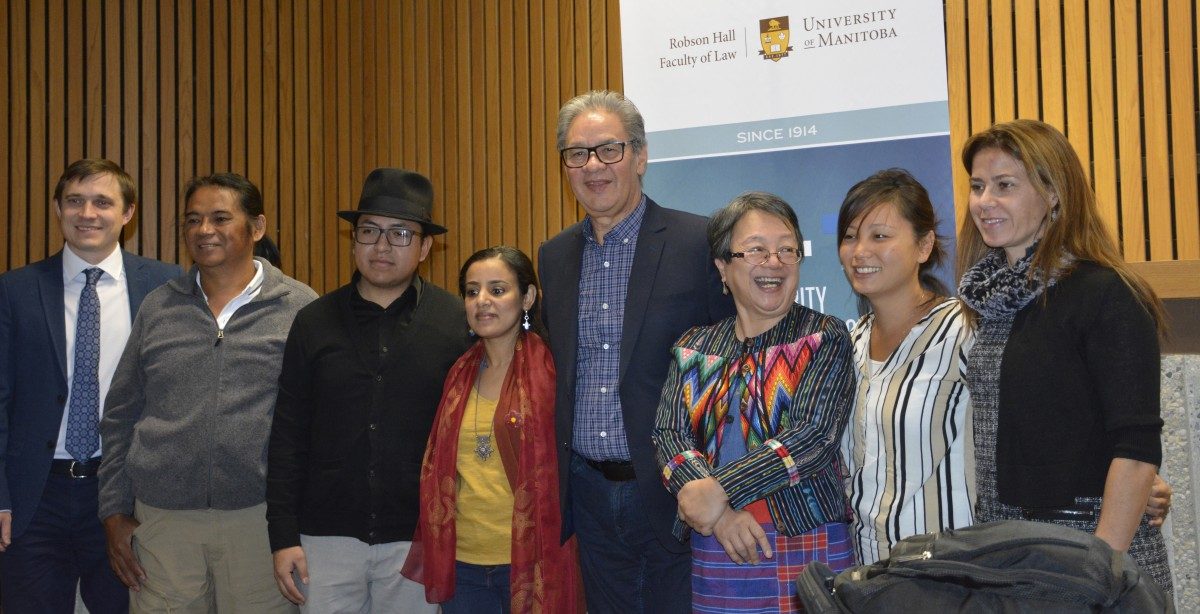 UN Indigenous declaration starting to change lives
January 22, 2019 —
Indigenous nations around the world face strikingly similar challenges as they fulfill their responsibility to protect their homelands, participants at a Robson Hall conference were reminded Jan. 18-19.
"We're not alone in the fight," said Mi'gmaq law Prof. Naiomi Metallic. "This is a global trend."
The Kiskinohamatowin forum organized by University of Manitoba law Prof. Brenda Gunn shared research on how to use the United Nations Declaration on the Rights of Indigenous Peoples more effectively to address common challenges.
Victoria Tauli-Corpuz, the UN special rapporteur on the rights of Indigenous peoples, told more than 100 forum participants that Indigenous people continue to be arrested or jailed, including for trespassing on their own lands. She was labelled a terrorist by her own government last year after she criticized the Philippine military's forced displacement of Indigenous people.
The Philippines and Latin America are among the places where Indigenous activists have been killed but Canada is not innocent, conference participants said. They pointed to recent arrests of Wet'suwet'en protesters in British Columbia and invasion of Indigenous lands around the world by Canadian mining companies, which implicate any of us whose pension funds invest in those companies.
Conference participants also spoke of barriers to passing on their languages or accessing health care near home, ongoing removal of children from Indigenous communities and attempts by Pentecostal missionaries to assimilate them.
"Sometimes my heart aches and despairs. But then I listen to Indigenous leaders and they say 'we have resisted for more than 500 years,'" said Brazilian lawyer Erika Yamada. "For humankind to live, we all need Indigenous peoples," in part because they are guarding the forests that moderate climate change, she said.
Indigenous experts from as far away as Ecuador, Alaska, Mali, Aotearoa and Russia joined the Winnipeg forum because of their common belief that the UN Declaration is a powerful tool for improving conditions on the ground. Some forum participants helped draft the decade-old document.
Gunn and forum co-organizer Celeste McKay, who are both Métis, often work with these experts at UN meetings in Geneva or New York but wanted to give Canadian students and professors a chance to learn from case studies on early efforts to implement the declaration.
Alexey Tsykarev spoke about language nests for young children – an idea born in New Zealand that made its way to his Karelia region of Russia via Finland. He also suggested that impact assessments for resource projects should address compensation for loss of language and culture. Yamada pointed to Mexico City supporting urban Indigenous people to live communally. American Indian law Prof. Kristen Carpenter described the fight to prevent sewage water from being used to make snow on sacred mountains in Arizona. Canadian and U.S. courts have failed to interpret religious freedom in a way that's consistent with the UN Declaration, she said. All three speakers are members of the UN's Expert Mechanism on the Rights of Indigenous Peoples, which is inviting contributions to its next timely study on Indigenous Peoples' rights in the context of borders, migration and displacement.
While courts around the world are increasingly considering the UN declaration in their decisions, University of Auckland Prof. Claire Charters said judges are rarely aware of how the same provisions are being interpreted by courts in other countries.
Al Benoit, chief of staff at the Manitoba Metis Federation, said academics are pushing the envelope on Indigenous rights. "Please work with us as partners."
The forum ended with a unanimous resolution calling on the United Nations to proclaim an international decade of Indigenous languages.
The main financial sponsors of the Kiskinohamatowin conference were the Native Law Centre at the University of Saskatchewan, the Social Sciences and Humanities Research Council of Canada and the University of Manitoba. Conference presentations and videos will be posted online at law.robsonhall.com/kiskinohamatowin-forum/ and a report will be prepared in partnership with the Centre for International Governance Innovation.