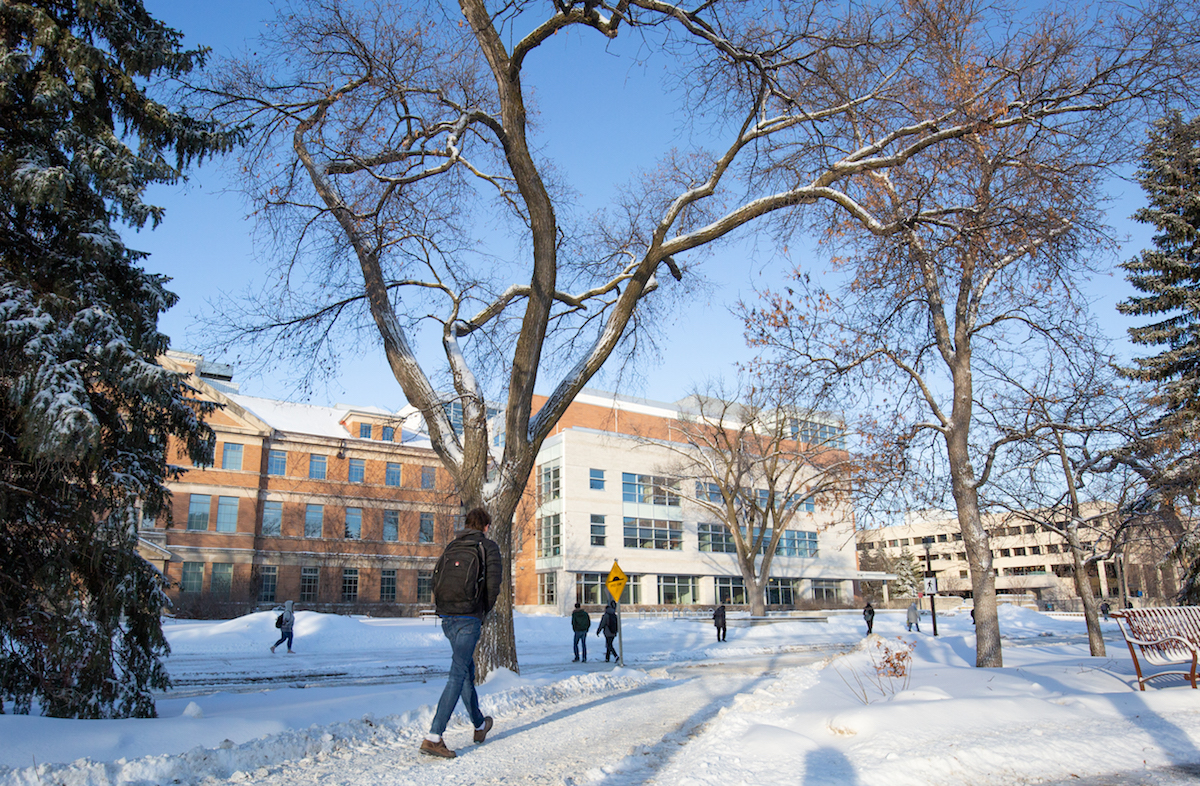 UM will close for this holiday season at 4:30 p.m. on Friday, Dec. 23
December 20, 2022 —
The University will close for this Holiday Season at 4:30 p.m. on Friday, December 23, 2022 and resume full operations on Wednesday, January 4, 2023 at both Fort Garry and Bannatyne Campuses. University buildings will be locked during this period with exceptions and special circumstances as noted .
Staff and students should all ensure doors and offices are locked over this period in order to reduce the risk of theft and vandalism. Door opening requests over the holidays should be sent to Security Services by December 20, 2022. These requests should be approved in advance by the Dean/Director or Unit Head.
During the holiday closure period, please be advised of the following:
there will be no routine trades, caretaking, grounds or delivery services
elevators will remain in operation as all passenger elevators are equipped with an emergency telephone
lights and computers should be turned off for the break
all windows must be closed before leaving offices, labs and classrooms, in order to prevent the freeze up of radiators and plumbing systems

all taps/faucets should be in the closed/off position

any unnecessary lab equipment should be shut down

all chemicals should be secured and stored in a safe manner

all small appliances/space heaters should be unplugged
all extension cords should be unplugged
Central Energy Plant (Fort Garry) and Power Engineers (Bannatyne) will be staffed at all times, 24/7.
Safety and building emergencies
Should a Safety or Security emergency arise, please call:
(204) 474-9341 Security Services, Fort Garry Campus or dial 911
(204) 789-3330 Security Services, Bannatyne Campus or dial 911
Should a Building emergency arise, please call:
(204) 474-6281 Customer Service Desk, Fort Garry Campus
(204) 789-3330 Security Services, Bannatyne Campus
Additional building closure information
Please inform the Customer Service Desk, O&M at 204-474-6281 of any special requirements relating to animals or research equipment during this period. Every effort will be made to accommodate those special needs.
Architectural and Engineering Services has shared a list of active projects with Risk Management Office and Security Services during the holiday break, with arrangements for any shutdowns or service interruptions during this time.
Other business hours and closures
INFORMATION SYSTEMS AND TECHNOLOGY
The IST Service Desk will close Friday, December 23, 2022, at 8:00 p.m. and reopen on Wednesday, January 4, 2023, at 8:00 a.m.
IST Open Area Computer Labs will be closed for the holidays starting at 1:00 p.m., Friday, December 23, 2022 and reopen Wednesday, January 4, 2023 at 8:30 a.m.
To request urgent support or to report a major system outage, call 204-474-8600 and press 2. An on-call staff member will respond.
Unplanned interruptions of major systems such as UM Learn, Email, and the University of Manitoba website will be restored as soon as possible.
ACTIVE LIVING CENTRE (INCLUDING FRANK KENNEDY CENTRE & JOYCE FROMSON POOL) & JOE DOUPE RECREATION CENTRE
Check Sharepoint for scheduled facility use of ALC, MBC, IGAC, and JDC (Bannatyne) during this year's 2022-23 winter break. Emergency contacts are listed by building (tab). Note that you must be logged in with your @umanitoba.ca email address to access employee content on UM Intranet.
LIBRARIES
All Libraries will be closed during the holiday closure from December 24th to January 3rd.
UNIVERSITY CENTRE
Some renovation work will occur in University Centre during the Holiday Break from December 24, 2022 to January 3, 2023. UMFM will work directly with Security Services for DJ and staff access.
UM Bookstore will reopen on January 4, 2023.
DINING SERVICES
Fresh Food Company will be open from 5-7pm from December 24th – January 2nd. They will resume regular hours of operation on January 3rd (7:30am-10pm).
The Maxbell Canteen will be operational on December 30th for a game at 6pm and December 31st for a game at 5pm.
All other operations will be closed from December 24th – January 3rd. Reopening on January 4th.
STUDENT RESIDENCES
Student Residences will remain open during the holiday break. This includes Arthur Mauro, Mary Speechly, University College, and Pembina Hall residences. During this time, approximately 300 students will remain in residence, but University services and staff are limited. Residence security staff remain on duty, 24 hours a day from Dec. 24 – Jan. 3 inclusive and the AVM customer service desk will be staffed most days for limited daytime hours.
Caretaking staff will be present 8:00 am – 8:00 pm daily throughout the break ensuring general cleanliness and executing room turnover. The Fresh Food Company will also be open daily from
5:00 pm – 7:00 pm for dinner service nightly. Several Dining Services staff will be present to accommodate meals for residents staying over the break.