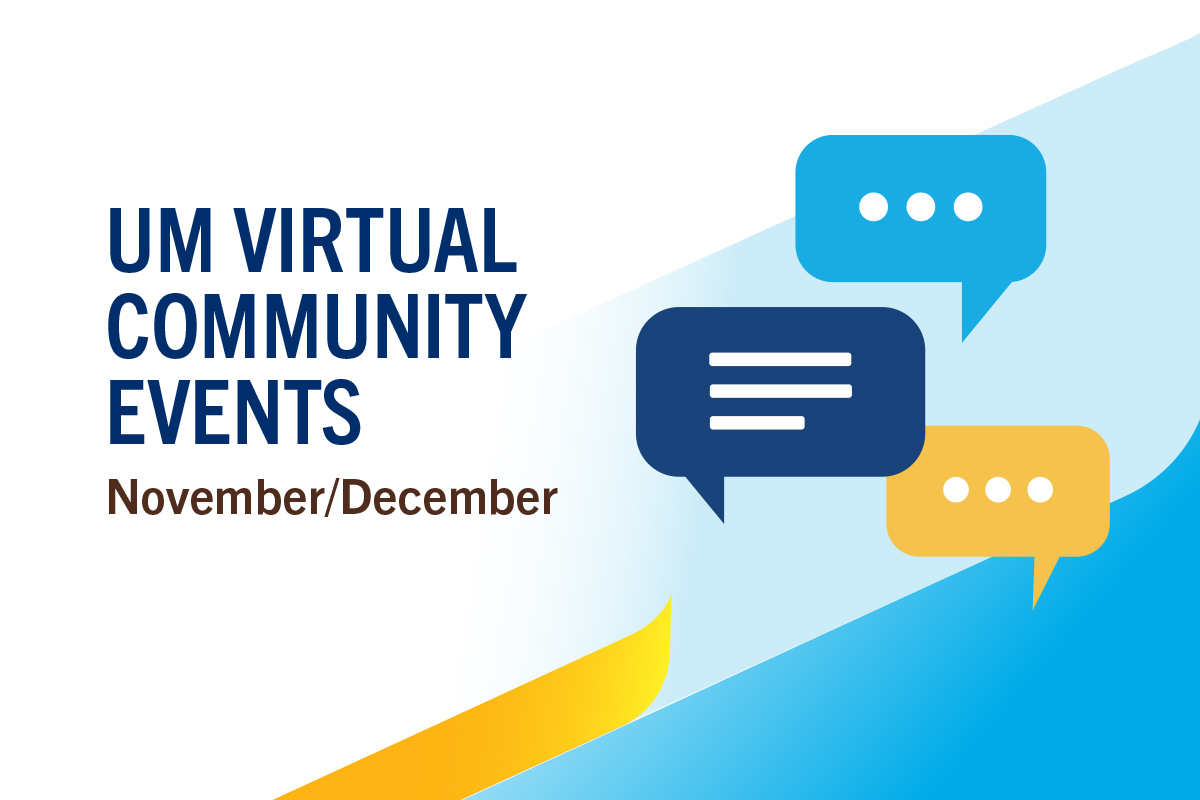 UM Virtual Community Events – November and December 2020
October 30, 2020 —
The University of Manitoba offers a wide range of virtual events for the community. We have something for everyone: from conversations to presentations, competitions to celebrations, health discussions and book clubs. Explore our events listing below and share it with your neighbours, friends and family and join in – online – to learn, to enjoy and to connect.
Métis Awareness Mondays
University of Manitoba campuses are located on the homeland of the Métis Nation. Hear about the rich history and culture of the Métis Nation in this weekly video series.
Videos posted every Monday | Free
Watch video
Virtual Fireside Chats
Learn from Elders and community members every second Tuesday as they come together to share Indigenous knowledges in this long-running series.
November 3, 17, December 1, 11:30 a.m. – 12:30 p.m. | Free
Attend event
Virtual Learning for Life
Join us Wednesdays for online lectures and engaging discussions presented by UM researchers and experts. We'll explore innovative ideas in health, infectious disease, anthropology and more. Sponsored by iA Financial
November 4, 18, 25, December 2, 9, 1-2 p.m. | Free
Register for event
Brown Bag Lecture: Dr. Lisa McLean
"Searching for the Disappeared: Vulnerability and Resistance on the Migrant Route"
Hear how strategies to find missing Central American migrants have become a form of grassroots peacebuilding in this Facebook live lecture by peace and conflict studies alumna Dr. Lisa McLean, Visiting Research Fellow, Kroc Institute for International Peace Studies, Keough School of Global Affairs, University of Notre Dame. A discussion will follow. Presented by the Arthur V. Mauro Institute for Peace & Justice
November 6, 11:30 a.m. | Free
Attend event
Responding to Gender-based Violence Across the Prairies Webinar
Hear about the impact of COVID-19 on gender-based violence services and survivors and gain a better understanding about the sexual exploitation and sex trafficking of Indigenous women and girls and hear about the Clan Mothers' Healing Village project. Presentations by Dr. Erin Whitmore and Dr. AnnaLise Trudell and Elder Mae Louise Campbell, Laurie Mackenzie (Great White Owl Woman) and Kim Trossel. Presented by RESOLVE Network and Circling Buffalo Inc.
November 6, 1-4 p.m. | Free
Register for event
Panel Discussion on the Results of the US 2020 Presidential Election
Listen in as our expert panelists examine the results of the 2020 United States presidential election. Moderated by Dr. Andrea Rounce, associate professor, political studies. Panelists include: Dr. Christopher Adams, adjunct professor, political studies and rector, St. Paul's College; Dr. Royce Koop, head and associate professor, political studies; Dr. Karine Levasseur, associate professor, political studies and Dr. Mark Jendrysik, professor, political studies and public administration, University of North Dakota.
November 6, 3-4:30 p.m. | Free
Attend event
Centre on Aging Student Awards Ceremony and Presentations
Cheer in support as we recognize the Centre on Aging student award and acknowledge the Alzheimer Society of Manitoba Fellowship recipients at this special presentation. Hear the award recipients and members of the Students Targeting Aging Research (STAR) group present their current aging research.
November 17, 1:30-3:00 p.m. | Free, registration required
Register for event
Café Scientifique
"Eating the Whole Grains in Canada's Food Guide"
How healthy are whole grains? Find out this answer and more from our expert panelists as they detail the health qualities of whole grains and provide tips on how to include more in our daily diet.
November 18, 7–8:30 p.m. | Free
Attend event
Unsettling Ideas Book Club
Watch Driftpile Cree Nation author Billy-Ray Belcourt discuss his latest book, A History of My Brief Body. A Q-and-A will follow. Unsettling Ideas is intended to engage our community in discussions around anti-racism, decolonization and reconciliation.
November 19, 6:30 p.m. | Free
Attend event
School of Art Gallery presents: "One Queer City – Artists in Conversation"
Join artists Jean Borbridge, Mahlet Cuff, Dayna Danger, Shawna Dempsey & Lorri Millan, Ally Gonzalo, and curator Blair Fornwald online as they discuss One Queer City, a city-wide public art installation that presents transit shelter ads previously denied display in 1997 due to gay content along with new ads created by Winnipeg photo-based queer artists. Presented in partnership with PLATFORM centre for photographic + media arts.
November 19, 7-8:30 p.m. | Free
Register for event
Watch livestream
The University Singers POPs Concert: "Physically Apart but Musically Together"
Be entertained by the UM Choral Ensembles singers as they perform a repertoire of classical pop ballads and original arrangements of classic songs during this Facebook live fundraising performance. The University Singers will be joined by UM alumni, the UM Women's Chorus, and UM Concert Choir. Funds raised will go toward a future University Singers' European music tour.
November 21, 7 p.m. | Tickets $10/students, $15/adults, $25/families
Purchase tickets
Indigenous Scholars Speaker Series: Dr. Michael Yellow Bird
"Molecular decolonization: Healing through traditional Indigenous practices"
Tune in as Dr. Michael Yellow Bird, dean, social work, discusses how using neuroscience, movement, contemplative, fasting and adaptive stress research to examine how mindfulness approaches and traditional Indigenous contemplative practices can train the mind and positively change the structure and function of the brain, genetic, molecular and cellular processes. A Q-and-A will follow.
November 26, 12–1 p.m. | Free
Attend event
"Who Are You in the Democracy?"
Be inspired by this timely and engaging panel discussion on the roles that youth and the media play in democracy today. Panelists include Kevin Chief, principal, Chief Partnerships Manitoba Inc. and former Point Douglas MLA and UM alumna Lisa Kassenaar, senior editor, Voice of America, and co-founder of Bloomberg News' global women's project. Moderated by Dr. Suzanne Gagnon, associate professor and director, James W. Burns Leadership Institute and Canada Life Chair in Leadership Education.
Presented by the James W. Burns Leadership Institute.
December 2, 5-6 p.m. | Free
Register for event
Centre on Aging Speaker Series
"Changes in outdoor walking and physical activity in older adults during COVID-19 restrictions"
Hear Dr. Ruth Barclay, associate professor, health sciences, explain how outdoor walking and physical activity during COVID-19 social distancing restrictions effected participants in the 'Getting Older adults OUTdoors' (GO-OUT) study. This multi-centre trial evaluated interventions to improve outdoor walking in older adults with self-described limitations when walking outside.
December 3, 2:30-3:30 p.m. | Free, registration required.
Register for event
Honouring our Mother Speaker Series: Sheila Watt-Cloutier
"Humanizing the Issue of Climate Change"
Listen in as Sheila (Siila) Watt-Cloutier, a respected Inuit leader, human rights and Indigenous rights activist, Nobel Peace Prize nominee and Order of Canada recipient, discusses how the Arctic can lead the way to a more sustainable world by realigning economic values to Indigenous values.
Presented by the Indigenous Design and Planning Student Association and Faculty of Architecture.
December 3, 6 p.m. | Free, registration required
Register for event
Live Discussion: Truth and Reconciliation Commission – 5 Year Anniversary
Watch live as Truth and Reconciliation Commission of Canada commissioners Senator Murray Sinclair, Dr. Marie Wilson and Chief Wilton Littlechild, come together for the fifth anniversary of the final report release to discuss the Calls to Action, what has been accomplished to date and what work is left to do. This event will be broadcast on APTN and as a Facebook Live.
December 15, 2 p.m. | Free
Attend event
For more events: University of Manitoba events calendar.